Therapeutic Antibodies and Immunologic Conjugates
In 1997, the anti-CD20 chimeric antibody rituximab became the first MAb approved by the FDA for the treatment of cancer (Table 32-2). It was based on a single-arm multicenter study of 166 patients with relapsed or refractory, low-grade, or follicular non-Hodgkin lymphoma (NHL).66 Chemosensitization of rituximab when combined with cyclophosphamide, doxorubicin, vincristine, and prednisone was later demonstrated in diffuse large B-cell NHL.67,68 The addition of rituximab to induction chemotherapy improved survival of patients with follicular lymphoma compared with induction chemotherapy alone, but most patients were not cured and experienced a relapse after a median of 4 years.69 Rituximab maintenance improved progression-free survival (PFS)70 and overall survival (OS) in a meta-analysis.71
Table 32-2
Naked Monoclonal Antibody for Cancer Therapy
| | | | | | |
| --- | --- | --- | --- | --- | --- |
| Antibody | Antigen | Antibody Form | Cancer | Effector Function/Molecule | Drug Status |
| Alemtuzumab191 | CD52 | huIgG1 | CLL, PLL | ADCC, CDC | Campath: licensed |
| Bevacizumab349 | VEGF | huIgG1 | CRC | Neutralizing VEGF | Avastin: licensed |
| Centuximab74 | EGFR | chIgG1 | CRC, H&N | ADCC, CMC; receptor blockade | Erbitux: licensed |
| Rituximab108 | CD20 | chIgG1 | NHL, CLL | ADCC, CMC; interrupts signaling pathways | Rituxan: licensed |
| Trastuzumab58 | HER2 | huIgG1 | Breast cancer | ADCC, CMC; receptor blockade | Herceptin: licensed |
| Ofatumumab55 | CD20 | huIgG1 | CLL | ADCC, CMC | Arzerra: licensed |
| Ipilimumab39 | CTLA4 | huIgG1 | Melanoma | Interrupts inhibitory signal in T cells | Yervoy: licensed |
| Pertuzumab108 | HER2 | huIgG1 | Breast cancer | Inhibits HER2 dimerization | Omnitarg: licensed |
| Blinatumomab93 | CD19 | Tandem-scFv | NHL | Bispecific T-cell engaging MAb | Phase 3 |
| ch14.1862 | GD2 | chIgG1 | NB | ADCC, CMC | Phase 3 |
| Epratuzumab46 | CD22 | huIgG1 | NHL | ADCC, CMC | Phase 3 |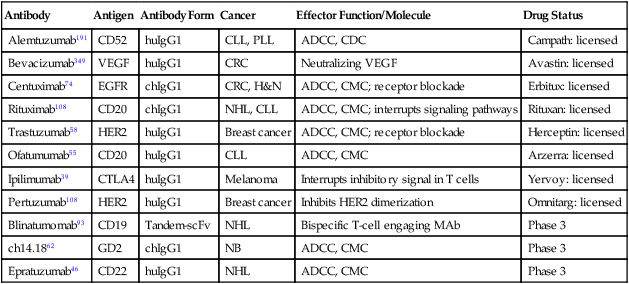 ADCC, Antibody-dependent cell-mediated cytotoxicity; CMC, complement-mediated cytotoxicity; CRC, colorectal cancer; ch, chimeric; CLL, chronic lymphocytic leukemia; EGFR, epidermal growth factor receptor; H&N, head and neck cancer; hu, humanized; Ig, immunoglobulin; licensed, licensed by the Food and Drug Administration; MAb, monoclonal antibody; NB, neuroblastoma; NHL, non-Hodgkin lymphoma; PLL, prolymphocytic leukemia; VEGF, vascular endothelial growth factor.
For most patients, rituximab was well tolerated.72 Severe adverse events thought to be a result of complement activation often occurred with the first infusion,73 especially if the patient had high numbers of circulating tumor cells. These infusion-related reactions usually appeared 30 to 120 minutes after MAb injection, and they typically were associated with severe cardiopulmonary events with deaths (<0.1%) occurring within 24 hours. B-cell depletion occurred in most patients, although hypogammaglobulinemia appeared in only 14% of all cases, and it was not associated with clinical morbidity.66 Severe mucocutaneous reactions occurred rarely (0.07%), resulting in some fatalities. Late-onset neutropenia after rituximab therapy has been reported in 5% to 27% of patients and has been correlated with high-affinity FcγRIIIA polymorphism.74
Poor tumor response to rituximab occurs when a low-affinity FcγRIII polymorphic allele is found in the patient's white blood cells and when the patient has a low density of CD20 molecules or the presence of complement inhibitory molecules (CD55 and CD59) on tumor cells.75 Ofatumumab is a next-generation humanized anti-CD20 antibody with more potent cytolytic potential partly because of membrane proximity of its epitope,55 and it is now approved for fludarabine-refractory chronic lymphocytic leukemia that is resistant to alemtuzumab or for bulky lymphadenopathy. Ocrelizumab, Veltuzumab, GA101, AME-133v, and PRO131921 are all humanized anti-CD20 antibodies with enhanced binding to low-affinity FcR that currently are undergoing clinical testing.75
Campath-1H (Alemtuzumab), a humanized rat IgG1 anti-CD52 MAb, demonstrated antitumor activity against patients with recurrent B-cell chronic lymphocytic leukemia who had not responded to fludarabine therapy in an international phase 2 trial involving 21 centers (n = 93 patients), and it was approved by the FDA.76,77 Grade 3 or 4 infections were reported in 26.9% of patients.78 Opportunistic infections including bacterial sepsis and viral infections, as well as marrow aplasia, have since been reported.77,79 Its utility for eradicating minimal residual disease (MRD) and T-cell malignancies are being explored.80,81
Epratuzumab is a humanized IgG1 antibody directed at CD22, a cell surface antigen expressed in B-precursor acute lymphoblastic leukemia (ALL)84–84; it shows modest activity among patients with NHL, as a single agent85,86 or in combination with rituximab.87,88 Most clinical efforts have been focused on its immunotoxins.89 SGN-30 (chIgG1 anti-CD30), XmAb2513 (humanized SGN-30), and MDX-060 were developed for patients with Hodgkin disease,90 with modest clinical activity as a naked MAb.
Blinatumomab, a tandem single-chain variable fragment (scFv) bispecific antibody (bispecific T-cell engaging antibody), retargets cytolytic T cells onto tumor cells by transiently inducing a cytolytic synapse between a cytotoxic T cell and the cancer target cell. Granules containing granzymes and the pore-forming protein perforin fuse with the T-cell membrane and discharge their toxic content, leading to target cell apoptosis. At extremely low doses of 60 µg/m2/day × 4 to 8 weeks given as continuous intravenous injection, major responses among 82% of patients with mantle cell lymphoma, follicular lymphoma, and diffuse large B-cell lymphoma,91,92 as well as molecular complete remission (CR) in 80% of patients with adult B-ALL,92,93 were observed. Together with CD20, CD22, and CD52, the possibilities for antibody-based immunotherapy of ALL have now greatly expanded, although details for the optimal combination, such as the required level of antigen expression, timing, schedule, dosage, and stage of disease, still need to be defined.94 In patients with myeloid leukemia, the addition of lintuzumab (huM195, IgG1, and anti-CD33) to salvage induction chemotherapy was found to be safe, but it did not result in a statistically significant improvement in response rate or survival in patients with refractory/relapsed acute myeloid leukemia (AML).95