Once diagnosis is established, patients should undergo imaging for staging, including contrasted chest, abdominal and pelvic computed tomography (CT), often in conjunction with positron emission tomography (PET) scan. HIV testing should be performed in patients with established risk factors. Staging, as with most tumors, involves determining local extent of the primary disease, whether or not nodal metastases are present, and whether or not there is evidence for distant spread of disease (outside of the pelvis). PET and PET-CT are now also routinely integrated into the staging algorithm for patients (Fig. 79-4).38–38 In one series, PET-CT appeared to have a higher sensitivity than conventional imaging (CT and/or magnetic resonance imaging [MRI]) for detecting regional lymph node metastases (89% vs. 62%), although for practical reasons not all nodes could be biopsied for a true measure of sensitivity and specificity. PET was found to change planned radiation therapy fields in 13% of patients and thus was worthy of inclusion in the staging process.38 In other reports, PET-CT upstaged 17% to 38% and downstaged 19% to 25% of patients; similarly, there was also change in management in 13% to 29% of patients.39,40 Of note, HIV-positive patients may have falsely positive fluorodeoxyglucose–avid lymph nodes. Biopsy may be necessary in these situations to determine whether or not there is true nodal metastatic disease versus a benign inflammatory process. Table 79-2 outlines the American Joint Commission on Cancer (AJCC) staging system.
Table 79-2
AJCC Staging System for Anal Cancer, Seventh Edition (2010)
PRIMARY TUMOR (T)
TX
Primary tumor cannot be assessed
T0
No evidence of primary tumor
Tis
Carcinoma in situ (Bowen' disease, high-grade squamous intraepithelial lesion (HSIL), anal intraepithelial neoplasia II to III (AIN II to III))
T1
Tumor 2 cm or less in greatest dimension
T2
Tumor more than 2 cm but not more than 5 cm in greatest dimension
T3
Tumor more than 5 cm in greatest dimension
T4
Tumor of any size invades adjacent organ(s), e.g., vagina, urethra, bladder*
REGIONAL LYMPH NODES (N)
NX
Regional lymph nodes cannot be assessed
N0
No regional lymph node metastasis
N1
Metastasis in perirectal lymph node(s)
N2
Metastasis in unilateral internal iliac and/or inguinal lymph node(s)
N3
Metastasis in perirectal and inguinal lymph nodes and/or bilateral internal iliac and/or inguinal lymph nodes
DISTANT METASTASIS (M)
M0
No distant metastasis
M1
Distant metastasis
ANATOMIC STAGE/PROGNOSTIC GROUPS
0
Tis
N0
M0
I
T1
N0
M0
II
T2
N0
M0
T3
N0
M0
IIIA
T1
N1
M0
T2
N1
M0
T3
N1
M0
T4
N0
M0
IIIB
T4
N1
M0
Any T
N2
M0
Any T
N3
M0
IV
Any T
Any N
M1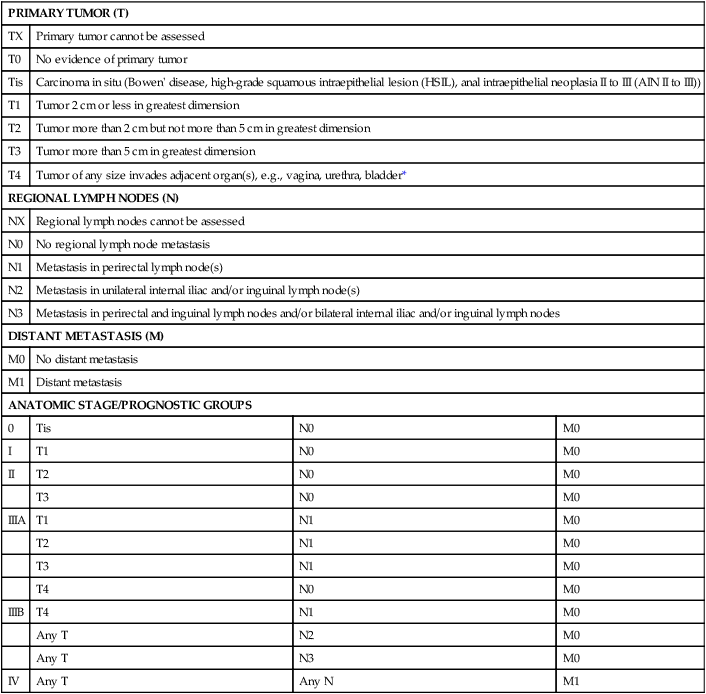 Note: cTNM is the clinical classification, pTNM is the pathological classification.
*Direct invasion of the rectal wall, perirectal skin, subcutaneous tissue, or the sphincter muscle(s) is not classified as T4.
Used with permission of the American Joint Committee on Cancer (AJCC), Chicago, Illinois. The original source for this material is the AJCC Cancer Staging Manual, Seventh Edition (2010) published by Springer, New York, Inc.