Postpartum Headache
Alison Macarthur BMSc, MD, FRCPC, MSc
Chapter Outline
Postpartum headache is the complaint of cephalic, neck, or shoulder pain occurring during the first 6 weeks after delivery. The incidence of postpartum headache throughout the 6-week postpartum period has not been followed in a prospective manner. However, information is available from an evaluation of women during the first week postpartum,1 from a database that recorded symptoms during pregnancy and in the first week after delivery,2 and from a survey of women at 5 months and 1 year postpartum.3 Goldszmidt et al.1 evaluated 985 women during the first week postpartum and found a 38.7% incidence of headache. The median time to onset of symptoms was 2 days, and the median duration of headache was 4 hours. Benhamou et al.2 examined information collected on pregnant women who delivered at their institution during a 2-year period; exclusion criteria included recognized dural punctures, preterm deliveries, multiple gestation, and/or elective cesarean delivery. Headache was reported by 12% of 1058 patients who had epidural anesthesia without dural puncture and by 15% of 140 patients who delivered without epidural anesthesia. Saurel-Cubizolles et al.3 surveyed 1,286 postpartum women and found the incidence of headache was 22% and 42% at 5 and 12 months, respectively.
Post–dural puncture headache (PDPH) is one of the most common postpartum complications of neur­axial anesthesia. However, physicians and nurses should be aware that a dural puncture is only one of many causes of postpartum headache (Table 31-1). Most headaches are benign or do not require immediate attention; however, the timely diagnosis of some headaches (e.g., cortical vein thrombosis, subdural hema­toma) is critical to good outcomes. Knowledge of both benign and nonbenign headaches is important for the anesthesiologist who is frequently the first physician to evaluate the patient with postpartum headache. Difficult diagnostic problems may require the opinion of a neurologist. The purpose of this chapter is to discuss the differential diagnosis of postpartum headache and PDPH in particular.
TABLE 31-1
Differential Diagnosis of Postpartum Headache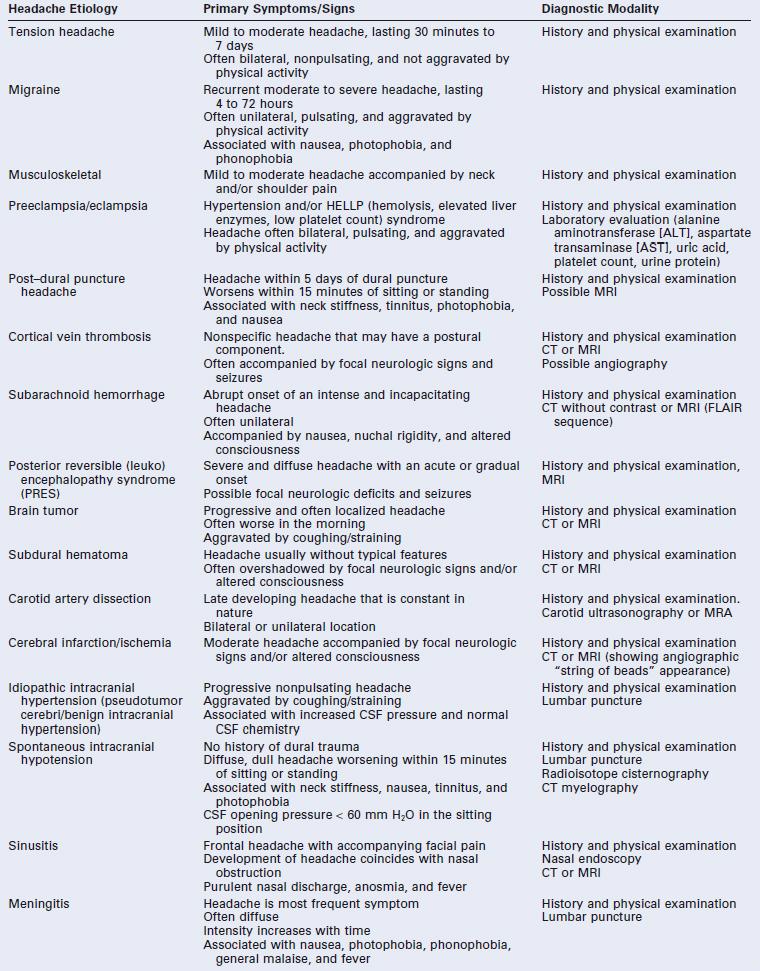 * The International Classification of Headache Disorders-II criteria state that caffeine-withdrawal headache occurs on cessation of ≥ 200 mg daily caffeine consumption for more than 2 weeks.4 However, others have suggested that caffeine-withdrawal headache may occur after as little as 3 days' exposure to 300 mg/day or 7 days' exposure to 100 mg/day.35
CSF, cerebrospinal fluid; CT, computed tomography; FLAIR, fluid-attenuated inversion recovery; MRA, magnetic resonance angiogram; MRI, magnetic resonance imaging.
Differential Diagnosis of Postpartum Headache
The classification of headaches follows the International Classification of Headache Disorders (ICHD), created in 1988 by the Headache Classification Subcommittee of the International Headache Society. This classification system, which has been updated (ICHD-II), identifies two broad categories of headaches: primary and secondary (Box 31-1).4 Primary headaches are classified as migraine, tension-type headache, cluster headache and trigeminal autonomic cephalalgia, or other. Secondary headaches are attributable to a specific underlying pathologic process. Primary headaches are 20 times more common than secondary headaches among women in the first week postpartum.1
After delivery, women frequently suffer from headache. Stella et al.5 retrospectively reviewed 5 years of hospital records to identify women who had postpartum headaches between 24 hours and 6 weeks after delivery. Ninety-five women met these criteria, and although the incidence of postpartum headache could not be calculated, the study did identify some important features of postpartum headache. Most women (82%) were still in the hospital at time of onset of the headache. Additionally, the demographics of the study population largely reflected the general obstetric population; the mean age was 25 years, 87% of the women had received some type of neuraxial analgesia/anesthesia, and 29% had a cesarean delivery.
The postpartum patient can present with a recurrence of her known primary disorder or with the first manifestation of a primary condition. Patients with a history of headache disorders typically are diagnosed with one of the four major types of primary headaches. The most common postpartum headaches are tension-type and migrainous headaches, which account for almost two thirds of headaches during this period.1,2 Tension-type headaches are often circumferential and constricting, can be associated with scalp tenderness, and are usually of mild to moderate severity.
Migraine
Migrainous headaches (or migraines) are defined as recurring cranial pain lasting 4 to 72 hours, often with typical features such as pulsating pain in a unilateral location, nausea, and photophobia.4 Headache with aura is a subtype of migraine that is characterized by focal neurologic symptoms preceding the headache. The prevalence of migraine is approximately 17% in the female population (three times more common than in men) and is more common in patients between 30 and 50 years or age.6 Pregnancy has an ameliorating effect on migraine frequency in the majority of sufferers. However, symptoms may recur soon after delivery, with reports of 34% within the first week postpartum and 55% within the first month.7 Generally, the symptoms are similar to their typical pattern, although often milder and less often unilateral. It is rare for a migraine to manifest for the first time during the postpartum period. There appears to be an association between migraines and preeclampsia, which may reflect an underlying predisposition to cerebral ischemic injury.8
Secondary Headaches
A common secondary headache in the postpartum period is the musculoskeletal headache, exacerbated by the maternal physical exertion of labor and associated sleep deprivation. This headache has accompanying neck and shoulder pain without a history of dural puncture. Approximately 11% to 14% of postpartum headaches are diagnosed as musculoskeletal.1 Other causes of secondary headache are discussed in the following paragraphs.
Post–Dural Puncture Headache