Figure 26-1
Kaplan-Meier analysis of overall survival in 2628 children with newly diagnosed acute lymphocytic leukemia (ALL). The patients participated in 15 consecutive studies conducted at St. Jude Children's Research Hospital from 1962 to 2005. The 5-year overall survival estimates (± SE) are shown, except for Study 15, for which preliminary results at 4 years are provided.
(From Pui CH, Evans WE. Treatment of acute lymphoblastic leukemia.

N Engl J Med.

2006;354:166-178, with permission.)
Abnormalities of Chromosome Number (Ploidy)
Ploidy can be assessed either by chromosome number or by flow cytometry using the DNA index (DI), the ratio of fluorescence in leukemic blasts compared to normal cells. Normal diploid cells have 46 chromosomes and a DI of 1.0, hyperdiploid cells have higher values, and hypodiploid cells lower. Hyperdiploidy is further classified as "low" and "high" (greater than 50 chromosomes).
Hypodiploid cases constitute approximately 6% of pediatric and 2% to 8% of adult ALL.
5
Those with fewer than 45 chromosomes have significantly worse outcome, with the worst outcome occurring in near-haploid cases (24 to 28 chromosomes).
5
The adverse prognostic impact in adults is somewhat weaker. "Pseudodiploid" cases, with normal chromosome number but structural abnormalities, also do relatively poorly. Rare cases with near triploidy or near tetraploidy (more than 80 chromosomes) have traditionally been associated with poor outcome. However, more recent reports analyzed from studies using modern therapies refute this claim, showing that these lesions should be classified prognostically as neutral
6
or even favorable.
7
Hyperdiploidy occurs in about 35% of pediatric and 25% of adult ALL cases.
8
In children, ALL with more than 50 chromosomes, or simply the simultaneous trisomies of 4 and 10 (and less importantly 17), is an independent positive prognostic indicator. In adults, the prognostic implications are less clear. Although the biologic basis of hyperdiploidy is poorly defined, it often co-occurs with other favorable risk factors as well as
Ras
and
FLT3
mutations and
FHIT
hypermethylation.
Genetic Abnormalities in ALL
B-ALL
Abnormalities of Chromosome Structure
Intrachromosomal Amplification of Chromosome 21 (iAMP21)
Recently, a novel recurrent chromosomal abnormality, the intrachromosomal amplification of chromosome 21 (iAMP21), has been identified in a rare (1.5% to 2% of ALL) and very poor prognostic subgroup of patients with ALL. In childhood ALL, iAMP21 patients tend to be older, with lower initial white blood cell and platelet counts. Clinical outcomes are poor, with relapse rates ranging from 38% to 61% depending on the treatment regimen.
22
Most known abnormalities take place in a 5.1-Mb common region of amplification (CRA) on the long arm of chromosome 21 that includes
RUNX1
, miR-802, and genes mapping to the Down syndrome critical region (DSCR). ALL with iAMP21 consistently has multiple copies of
RUNX1
identified in array-based comparative genomic hybridization and FISH assays (
Figure 26-3
,
A
). However, gene expression assays fail to show either overexpression of
RUNX1
RNA or a unique iAMP21 signature as compared to other ALL samples. Although the basis for the increased risk of relapse in this subgroup remains unclear, iAMP21 is now used to stratify patients to receive intensified chemotherapy on several current ALL treatment protocols.
23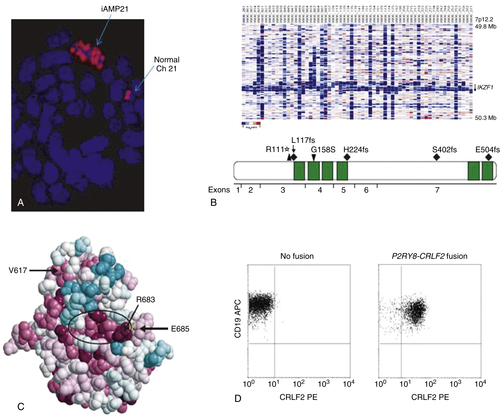 Figure 26-3
Recently identified chromosomal aberrations in ALL
(A)

iAMP21: Metaphase FISH demonstrates multiple RUNX1 signals (

red

) on the chromosome 21 with the iAMP21 aberration (

top

), whereas a single signal is noted on each normal chromosome 21

(right)

.
(Modified from Harrison CJ. Cytogenetics of pediatric and adolescent acute lymphoblastic leukemia.

Br J Haematol.

2009;144:147-156, with permission.)
(B)

IKZF1 deletions and mutations: DNA copy number heatmap

(top)

demonstrating deletions

(blue)

at the IKZF1 locus in a cohort of ALL cases, and primary protein structure of IKAROS

(bottom)

showing the location of the six zinc fingers

(green)

and missense

(downward-pointing arrowhead)

, frameshift

(diamonds),

and nonsense

(upward-pointing arrowhead)

mutations observed in six ALL cases.
(From Mullighan C, et al. Deletion of IKZF1 and prognosis in acute lymphoblastic leukemia.

N Engl J Med.

2009;360:470-480, with permission.)
(C)

JAK2 mutations: Amino acid structural model showing that R683, the amino acid most frequently affected by point mutations in ALL, is situated on a rim of highly conserved

(red)

, exposed amino acids that make up an apparent binding pocket (encircled by

ellipse

) that is distinct from the V617 amino acid commonly mutated in myeloproliferative neoplasms.
(From Bercovich D, et al. Mutations of JAK2 in acute lymphoblastic leukemias associated with Down's syndrome.

Lancet.

2008;372:1484-1492, with permission.)
(D)

CRLF2 overexpression: Flow cytometric analysis of cell surface expression of CRLF2 demonstrates CRLF2 overexpression in ALL cases with the

P2RY8-CRLF2

fusion and not in fusion-negative cases; CD19 co-staining was performed to demonstrate selectivity for the leukemic cell population.
(Modified from Mullighan C, et al. Rearrangement of CRLF2 in B-progenitor and Down syndrome associated acute lymphoblastic leukemia.

Nat Genet.

2009;41:1243-1246, with permission.)
Submicroscopic Abnormalities
PAX5

and

EBF1

In a landmark study, Mullighan and colleagues performed genome-wide analysis of 242 pediatric ALL patient samples using high-resolution single-nucleotide polymorphism arrays and genomic DNA sequencing. They discovered that precursor B-cell ALL samples on average carried 6.63 copy number alterations, indicating relative genomic stability, but confirming the presence of additional subchromosomal cooperating lesions in ALL cases with known leukemogenic karyotypic abnormalities. Notably, about 40% of cases carried aberrations in genes that regulate B lymphocyte development, including

EBF1

and

PAX5

.

24

EBF1

(early B-cell factor) is known to be a master regulator for B-cell development, as

Ebf1

-deficient mice produce only B-biased progenitor cells but not mature B cells. In addition,

EBF1

, by remodeling chromatin at the

PAX5

locus, is required for

PAX5

expression; in turn,

PAX5

controls the commitment of the common lymphoid progenitor to the B-cell pathway by repressing genes inappropriate for the B lineage and by activating genes required for B-cell maturation

25

. All known

PAX5

aberrations were shown to reduce the transcriptional activity of

PAX5

and its downstream targets. However, neither

EBF1

nor

PAX5

lesions demonstrate prognostic significance.

26
IKZF1

,

CRLF2

,

JAK

,

IL7R,

and the "

BCR-ABL1

-like" Signature

Recurrent deletions and inactivating mutations in the B-cell development gene

IKZF1

were also identified by Mullighan and associates.

24,26

IKZF1

encodes the zinc finger lymphoid transcription factor IKAROS (see

Figure 26-3

,

B

). Isoforms of

IKZF1

, which lack N-terminal zinc fingers but retain the ability to dimerize, act as dominant negative inhibitors of IKAROS function and have been shown in murine models to be leukemogenic. Although thought to exist in only 7% of pediatric and 19% of adult ALL patients, the incidence is higher in high-risk ALL populations (29%)—especially in those carrying the t(9;22) Philadelphia chromosome, where they are present in over 80% of pediatric and 63% of adult patients.

27

In addition,

IKZF1

deletions are observed at the progression of CML to lymphoid blast crisis (but not in CML chronic phase) and are therefore thought to be central in the pathogenesis of

BCR-ABL1

lymphoid leukemia. It was also noted that

IKZF1

mutations were highly correlated with (but not pathognomonic for) a "

BCR-ABL1

-like" gene expression signature even in

IKZF1

mutant ALL lacking the t(9;22).

26,28,29

Several other recently identified mutations also give rise to a "

BCR-ABL1

-like" signature:

CRLF2

alterations,

JAK

mutations (see

Figure 26-3

,

C

), and

IL7R

mutations.

29

CRLF2

forms part of a heterodimeric complex with the interleukin-7 receptor alpha (IL7RA) to serve as the type I cytokine receptor for thymic stromal lymphopoietin (TSLP), a ligand that mediates B-cell precursor proliferation and survival through its activation of downstream JAK/STAT and PI3K/mTOR pathways. Several alterations of

CRLF2

have been noted in ALL, all of which lead to

CRLF2

overexpression, including a focal interstitial deletion of the pseudoautosomal region of the sex chromosomes that creates the

P2RY8-CRLF2

fusion, a translocation of

CRLF2

to the immunoglobulin heavy-chain transcriptional enhancer (

IGH@-CRLF2

) and the

CRLF2

F232C point mutation (see

Figure 26-3

,

D

).

30–32

CRLF2

alterations have been noted in 5% to 8% of pediatric

29

and 10% to 15% of adult ALL, and with a higher incidence in high-risk ALL, in patients of Hispanic/Latino ethnicity, and in patients with Down syndrome (DS).

IL7R

gain-of-function mutations are seen in 6% to 10% of ALL and are noted in both B and T phenotypes.

33

CRLF2

Buy Membership for Hematology, Oncology and Palliative Medicine Category to continue reading.

Learn more here