Genetic Factors
Hereditary Cancer Predisposition Syndromes
Kasmintan A. Schrader, Ravi Sharaf, Shaheen Alanee and Kenneth Offit
During the past decade, the availability of clinical testing for inherited mutations of cancer predisposition genes has had a major impact on the practice of clinical oncology.1 As these genes were identified and characterized, guidelines for the responsible clinical translation of this information were developed by medical and surgical subspecialty societies, for example, the statements of the American Society of Clinical Oncology in 19962 and 20033 and related educational materials.6–6 These guidelines emphasized that in the process of offering a predictive genetic test to a patient or family that is affected by cancer, the provider and the individual who is being tested must be prepared to deal with all the medical, psychological, and social consequences of a positive, negative, or ambiguous result. These guidelines define the form and content of genetic counseling as a component of cancer risk assessment and management.
A selected set of syndromes of cancer predisposition, listed in Table 12-1, is reviewed in this chapter. More detailed discussions of breast, colon, gastric, pancreatic, and renal cancer susceptibility are found in the chapters that discuss these tumors. A more comprehensive list of syndromes is provided in Table 12-2. Whether offered by a physician, genetic counselor, or other health care professional, genetic testing for inherited cancer risk requires careful informed consent. The elements of informed consent for genetic testing are summarized in Box 12-1. With the recent advent of genomic screening of tumors, as well as gene panel testing and genomic screening in the germline, these elements of informed consent must also include the eventuality of "incidental" findings associated with risk of cancer or noncancer diseases.7,8
Table 12-1
Selected Cancer Predisposition Syndromes
| | |
| --- | --- |
| Syndrome | Gene |
| Hereditary breast and ovarian cancer | BRCA1, BRCA2 |
| Cowden syndrome | PTEN |
| Lynch syndrome | MSH2, MLH1, MSH6,PMS2 |
| Familial adenomatous polyposis | APC |
| MUTYH-associated polyposis | MUTYH |
| Hereditary diffuse gastric cancer | CDH1 |
| Carney complex | PRKAR1A |
| Hereditary paraganglioma-pheochromocytoma syndromes | SDHB, SDHC, SDHD, SDHAF2 |
| Multiple endocrine neoplasia (type II) | RET |
| Gorlin syndrome | PTCH |
| Hereditary leiomyomatosis and renal cell cancer syndrome | FH |
| von Hippel–Lindau disease | VHL |
| Birt-Hogg-Dubé syndrome | FLCN |
Table 12-2
Syndromes of Inherited Cancer Predisposition in Clinical Oncology
Syndrome (OMIM* Entry)
Component Malignancies
Mode of Inheritance
Genes
HEREDITARY BREAST CANCER SYNDROMES
Hereditary breast and ovarian cancer syndrome 113705, 600185, 605724-BRCA2
Breast cancer, ovarian cancer
Dominant
BRCA1
Prostate cancer, pancreatic cancer, melanoma
Dominant
BRCA2
Fanconi anemia (BRCA2) in biallelic carriers, medulloblastoma
Recessive
BRCA2
Partner and localizer of BRCA2 610355
See BRCA2 above
Dominant
PALB2
BRCA1-interacting protein 1 605882, 609054-BRIP1
See BRCA1 above; Fanconi anemia (BRIP1) in biallelic carriers
Recessive
BRIP1
Li-Fraumeni syndrome 151623, 604373-CHK2
Soft tissue sarcoma, osteosarcoma, premenopausal breast cancer, brain tumor, adrenocortical carcinoma, leukemia, or lung bronchoalveolar cancer
Dominant
p53 CHK2
Cowden syndrome 158350, 612105-Killin, 615106-SDHD, 612359-SDHB,
Breast cancer, thyroid cancer, Lhermitte-Duclos disease, other cancers
Dominant
PTEN, KLLN, SDHB, SDHD
Bannayan-Riley-Ruvalcaba syndrome 153480
Breast cancer meningioma, thyroid follicular cell tumors
Dominant
PTEN
Ataxia telangiectasia 208900
Leukemia, lymphoma, ovarian cancer, gastric cancer, brain tumors, thyroid cancer, parotid cancer, colon cancer, other cancers
Recessive
ATM
HEREDITARY GASTROINTESTINAL MALIGNANCIES 
Lynch syndrome (also known as hereditary nonpolyposis colon cancer (HNPCC), 120435, 613244-EPCAM/TACSTD1
Colon, endometrial cancers; gastric, hepatobiliary, ovarian, pancreatic renal pelvis, small bowel, and ureteral cancers
Dominant
MLH1, MSH2 (including EPCAM), MSH6, PMS2
Turcot syndrome 276300
Glioblastoma
 
 
Familial adenomatous polyposis, including attenuated phenotype (175100)
Colon, gastric, duodenal, ampullary cancers
Dominant
APC
Turcot syndrome 276300
Medulloblastoma
 
Turcot syndrome 276300
Colon cancer, basal cell carcinoma, ependymoma, medulloblastoma, glioblastoma, papillary thyroid carcinoma, leukemia
Dominant
MLH1, APC, PMS2
Mismatch repair cancer syndrome (276300)
Colon, central nervous system, hematologic and other cancers
Recessive
MLH1, MSH2, MSH6, PMS2
MUTYH-associated polyposis (604933)
Colon, duodenal, ovarian, bladder cancers
Recessive
MUTYH

Hereditary diffuse gastric cancer 137215

Stomach cancers, lobular breast carcinomas, colon cancer
Dominant
CDH1
Juvenile polyposis 174900
Gastrointestinal cancers, pancreatic cancer
Dominant
SMAD4, BMPR1A
Peutz-Jeghers syndrome 175200
Colon cancer, small bowel cancer, breast cancer, ovarian cancer, pancreatic cancer
Dominant
STK11
Hereditary mixed polyposis syndrome 603054
Colon cancer
Dominant
GREM1
Hereditary pancreatic cancer (600185, 260350)
Pancreatic cancer; breast and ovarian cancers
Dominant
BRCA2, PALB2
Hereditary melanoma pancreatic cancer syndrome 606719
Pancreatic cancer, melanoma
Dominant
CDKN2A/p16
Hereditary pancreatitis 167800
Pancreatic cancer
Dominant
PRSS1, SPINK1, CFTR
Familial gastrointestinal stromal tumor 606764, 173490
Gastrointestinal stromal tumors
Dominant
c-KIT, PDGFRA
Oligodontia-colorectal cancer syndrome 608615
Colon cancer
Dominant
AXIN2
GENODERMATOSES WITH CANCER PREDISPOSITION 
Melanoma syndromes 155600, 155601, 156845, 603089
Malignant melanoma
Dominant
CDKN2, (p16),CDK4, CMM, MITF, BAP1
Basal cell cancers (Gorlin syndrome) 109400
Basal cell cancers; medulloblastoma, ovarian cancer
Dominant
PTCH
Cowden syndrome
See above
Dominant
PTEN
Neurofibromatosis 1 162200
Neurofibrosarcoma, pheochromocytoma, optic gliomas, meningiomas
Dominant
NF1
Neurofibromatosis 2 101000
Vestibular schwannomas
Dominant
NF2
Tuberous sclerosis 191100
Renal cancer, multiple bilateral renal angiomyolipoma, myocardial rhabdomyoma, ependymoma, giant cell astrocytoma
Dominant
TSC1, TSC2
Carney complex 160980, 605244
Myxoid subcutaneous tumors, primary adrenocortical nodular hyperplasia, testicular Sertoli cell tumor, atrial myxoma, pituitary adenoma, mammary fibroadenoma, thyroid carcinoma, schwannoma
Dominant
PRKAR1A
Muir-Torre syndrome 158320
Sebaceous neoplasia (adenoma, keratoacanthoma, carcinoma); see Lynch syndrome above for other component tumors
Dominant
MLH1, MSH2, MSH6
Xeroderma pigmentosum 278730, 278700, 278720, 278760
Skin cancer, melanoma, leukemia
Recessive
XPA, ERCC3, XPC, ERCC2, DDB2, ERCC4, ERCC5, ERCC1, POLH
Rothmund-Thomson syndrome 268400
Basal cell carcinoma, squamous cell carcinoma, osteogenic sarcoma
Recessive
RECQL4
LEUKEMIA/LYMPHOMA PREDISPOSITION SYNDROMES 
Bloom syndrome 210900
Leukemia, carcinoma of the tongue, esophageal carcinoma, Wilms tumor, colon cancer
Recessive
BLM
Fanconi anemia 607139, 300515, 227645, 605724, 227646, 600901, 602956, 605882, 608111, 603467, 609644, 610832
Leukemia, esophagus cancer, skin carcinoma
Recessive
FANCA, FANCB, BRCA2, FANCC, FANCE, FANCD2, FANCL, BRIP1, FANCM, PALB2, RAD51C, SLX4
Schwachman-Diamond syndrome 260400
Myelodysplasia, acute myelogenous leukemia
Recessive
SBDS
Nijmegen breakage syndrome 251260
Lymphoma, glioma, medulloblastoma, rhabdomyosarcoma
Recessive
NBN
Canale-Smith syndrome 601859
Lymphoma
Dominant
FAS FASLG
Hodgkin lymphoma (236000)
Hodgkin lymphoma
Recessive
KLHDC8B
IMMUNODEFICIENCY SYNDROMES 
Wiskott-Aldrich syndrome 301000
Hematopoietic malignancies, lymphomas
X-linked recessive
WAS
Severe combined immune deficiency 102700, 300400, 312863, 601457, 600802, 602450
B-cell lymphoma
X-linked recessive, recessive
IL2RG, ADA, JAK3, RAG1, RAG2, IL7R, PTPRC, DCLRE1C
X-linked lymphoproliferative syndrome 308240
Lymphoma
X-linked recessive
SH2D1A
GENITOURINARY CANCER PREDISPOSITION SYNDROMES 
Hereditary prostate cancer 176807, 601518
Prostate cancer
Dominant
HPC1, HPCX, PCAP, EPHB2, RNASEL
Simpson-Golabi-Behmel syndrome 312870
Embryonal tumors, Wilms tumor
X-linked recessive
GPC3
von Hippel–Lindau disease 193300
Hemangioblastomas (retinal and central nervous system), renal cell cancer (clear cell), pheochromocytomas, endolymphatic sac tumors
Dominant
VHL
Beckwith-Wiedemann syndrome 130650
Wilms tumor, hepatoblastoma, adrenal carcinoma, gonadoblastoma
Dominant
CDKN1C, NSD1
Wilms tumor syndrome 194070
Nephroblastoma
Dominant
WT1
WAGR (Wilms tumor, aniridia, growth retardation) 194072
Wilms tumor
Dominant
WT1
Birt-Hogg-Dubé syndrome 135150
Renal tumors
Dominant
FLCN
Papillary renal cancer syndrome 605074 164860
Papillary renal cancer
Dominant
MET, PRCC
Constitutional t(3;8) translocation 603046
Renal cell cancer
Dominant
RNF139
Rhabdoid predisposition syndrome 601607
Rhabdoid tumors (see below)
Dominant
SMARCB1
Hereditary testicular cancer 273300
Seminoma, embryonal carcinoma, teratoma, choriocarcinoma, endodermal sinus tumor
Dominant
KIT, STK11, FGFR3
CENTRAL NERVOUS SYSTEM/VASCULAR CANCER PREDISPOSITION SYNDROMES
Hereditary paraganglioma 185470, 115310
Paraganglioma, pheochromocytoma
Dominant
SDHD, SDHC, SDHB, SDHAF2
Retinoblastoma, 180200
Retinoblastoma, osteosarcoma
Dominant
RB1
Rhabdoid predisposition syndrome 601607
Rhabdoid tumors, medulloblastoma, choroid plexus tumors, primitive neuroectodermal tumors
Dominant
SMARCB1
SARCOMA/BONE CANCER PREDISPOSITION SYNDROMES 
Multiple exostoses 133700, 133701
Chondrosarcoma
Dominant
EXT1, EXT2
Leiomyoma/renal cancer syndrome 605839
Papillary (type II) renal cell carcinoma, uterine leiomyosarcomas
Dominant
FH
Carney complex
See above
Dominant
PRKAR1A
Werner syndrome 277700
Sarcoma/osteosarcoma, meningioma
Recessive
WRN
Li-Fraumeni syndrome 151623, 609266
Dominant
TP53, CHEK2
ENDOCRINE CANCER PREDISPOSITION SYNDROMES 
MEN1 131100
Pancreatic islet cell tumors, pituitary adenomas, parathyroid adenomas
Dominant
MEN1
MEN2 171400
Medullary thyroid cancers, pheochromocytoma, parathyroid hyperplasia
Dominant
RET
Hereditary papillary thyroid cancer 188500
Papillary thyroid cancer
Dominant
RET
Hyperparathyroidism (145000, 145001, 610071)
Parathyroid carcinomas, Wilms tumor, pancreatic adenocarcinoma, renal cortical adenoma, papillary renal cell carcinoma, Hurthle cell thyroid carcinoma
Dominant
CDC73
MISCELLANEOUS SYNDROMES 
Chordoma 215400
Chordomas, skull (sphenooccipital, nasopharyngeal), and spine (sacrococcygeal, vertebral)
Dominant
T
Costello syndrome/Faciocutaneoskeletal syndrome 218040
Epithelioma, bladder carcinoma, rhabdomyosarcoma, vestibular schwannoma
Dominant
HRAS
Dyskeratosis congenita 127550
Squamous cell carcinoma
Dominant
TERC, TERT, TINF2
Mosaic variegated aneuploidy 257300
Wilms tumor, nephroblastoma, rhabdomyosarcoma, leukemia
Recessive
BUB1B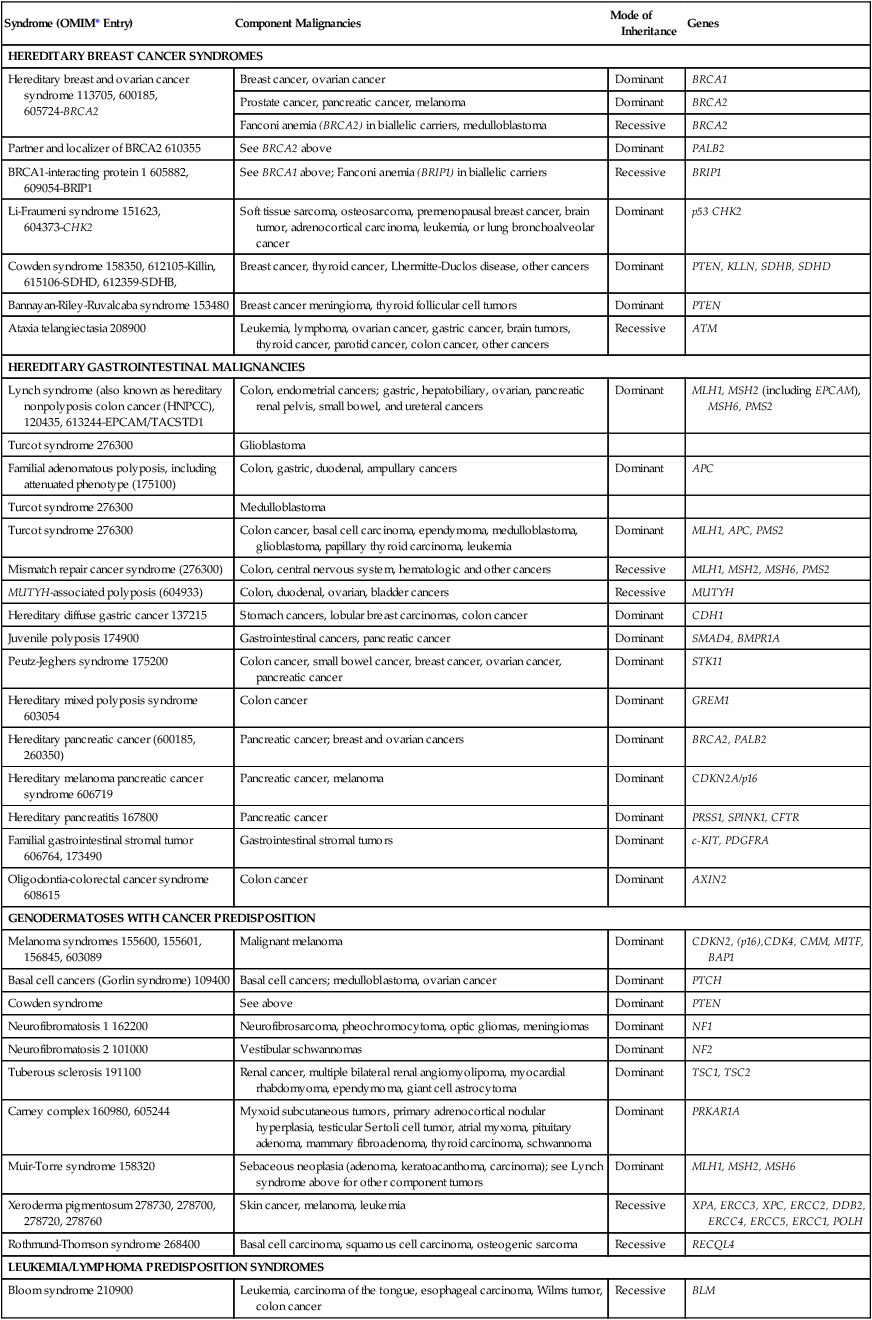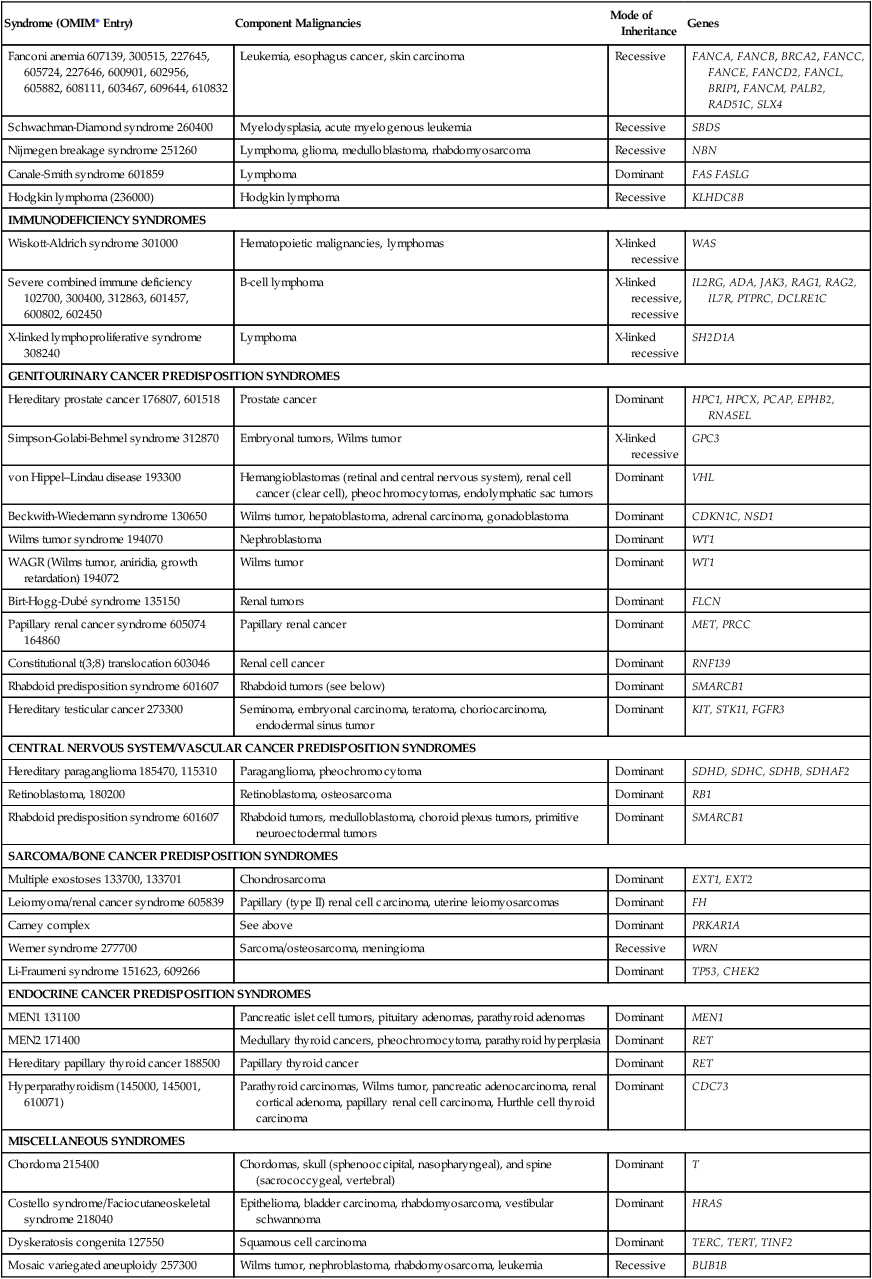 *OMIM, On-Line Mendelian Inheritance in Man, <www.ncbi.nlm.nih.gov/Omim/>; 2013 [accessed 12.02.13].
Mutations (or pathogenic changes) in genes whose alterations result in susceptibility to cancer may be inherited, whereby a family history usually includes multiple individuals diagnosed with cancer, or they can occur seemingly sporadically (or de novo) in families in which the history of cancer may be unremarkable. In many instances, the same genes found to be recurrently mutated in specific sporadic cancers, if mutated in the germline, are also susceptibility genes for the same types of tumors. This phenomenon reflects the genotype-phenotype relationships that arise as a result of aberration of particular biological pathways and thus define the patterns that characterize hereditary cancer syndromes (see Table 12-2). It is now widely accepted that cancer is a disease of the genome, whereby particular genetic changes ("drivers") set the stage for abnormal cellular function, resulting in uncontrolled cell division and generally loss of the normal fidelity of DNA repair and replication. This process results in accumulation of further mutations, which either contribute to tumor survival or are merely "passengers" (or collateral damage) in the neoplastic process. With the advent of massively parallel sequencing, a rapid gain in the understanding of tumor genetics has occurred, whereby these "driver" and "passenger" mutations are now being identified and cataloged. The importance of identifying the "driver" mutations, their genes, and respective biological pathways not only relate to the development of therapies targeted toward relevant pathways that likely are integral for that tumor's survival, but also with regard to prognostication and the potential relevance to cancer susceptibility.
The syndromes included in this chapter are those that are most commonly encountered in oncologic practice, as well as several recently defined entities, some of which have recently been associated with targeted therapies. The most common of these syndromes, predisposing to cancers of the breast, ovary, colon, and pancreas, affect tens of thousands of Americans who are diagnosed with these cancers each year in the United States and result in increased risk for a second neoplasm for millions of cancer survivors.
Inherited cancer predisposition should be considered as a spectrum, arising from single or combined low-, moderate-, and high-risk genetic variants for which the timing of disease onset is likely modified by the type of genetic variant and its effect on normal cellular function and the responses to environmental factors. Highly penetrant hereditary cancer syndromes generally account for about 5% to 10% of most types of cancer and are caused by rare genetic variants. Genes associated with hereditary cancer syndromes have traditionally been found by studying the DNA of large families with multiple affected individuals and linking the disease phenotype to regions of the genome to determine candidate genes from within the linkage region. These genes are then sequenced to look for a causative mutation. Although linkage studies were successful in identifying most of the known hereditary cancer syndromes, a large proportion of recognized familiality within certain cancer types remained unaccounted for and was thought to be due to more common inherited factors. This situation led to large-scale association studies of common genetic factors (polymorphisms) across the entire genomes of thousands of unrelated persons with more common types of cancer, resulting in lists of single nucleotide polymorphisms that marginally increase or decrease risk for these cancers,9 although unexplained excess familiality still remained. In the wake of new and more efficient sequencing technologies, the focus has shifted back toward studying families segregating multiple cases of cancer. Sequencing of all of the protein coding regions of the genome or the entire genome itself has led to the discovery of novel cancer susceptibility genes (Box 12-2). Together the knowledge of rare and common variation has the potential to inform the clinician about the combined effect of genetic factors that lead to cancer, extending beyond risks conferred by single genes. Ultimately, assessing a person's risk of cancer will relate to understanding his or her inherent combination of genetic factors within the context of environmental exposures, which also may include exposures to cancer therapies.