PMS2, MSH6
Peutz-Jeghers syndrome
Hamartomatous polyps throughout the gastrointestinal tract; mucocutaneous pigmentation; estimated 9-to 13-fold increased risk of gastrointestinal (GI) and non-GI cancers
LKB1/STK11
Cowden disease
Multiple hamartomas involving breast, thyroid, skin, central nervous system (CNS), and GI tract; increased risk of breast, uterus, and thyroid cancer; risk of GI cancer unclear
PTEN
Juvenile polyposis syndrome
Multiple hamartomatous/juvenile polyps with predominance in colon and stomach; variable increase in colorectal and stomach cancer risk; facial changes
DPC4
BMPR1A
PTEN
MYH-associated polyposis (MAP)
Multiple adenomatous gastrointestinal polyps, autosomal recessive often associated with somatic K-Ras mutations
MYH
Multiple adenoma and colorectal cancer
Multiple colorectal adenomas and colorectal cancer; endometrial cancer and brain tumors in some individuals and families
POLD1, POLE
Hereditary mixed polyp syndrome
Multiple types of colorectal polyps (e.g., Peutz-Jeghers polyps, juvenile polyps, serrated lesions, conventional adenomas) and colorectal cancer
GREM1
Hereditary Colorectal Cancer Syndromes and Molecular Pathways of Colorectal Carcinogenesis
It is now generally accepted that the accumulation of somatic mutations and epigenetic defects drives the initiation and progression of tumor development. The constellation of somatic mutations that commonly accumulate in a clonal fashion in CRCs has largely been defined.
17–20
However, only a limited subset of this collection of gene defects is usually present in any individual tumor. Thus far, the somatic mutations of greatest initial interest to the field have been those that are recurrent and clonal (i.e., present in all, or nearly all, neoplastic cells of a primary tumor at a given stage, but not present in the normal cells of the patient). It is inferred that such recurrent, clonal mutations are causal in promoting further tumor outgrowth/progression, because somatic mutations can only become clonal by a limited number of mechanisms. The genetic alteration itself could have been selected for because it provided the cell with a growth advantage, allowing it to become the predominant cell type in the tumor (clonal expansion). Alternatively, the specific alteration detected might have arisen coincident with another, perhaps undetected, alteration that was the crucial change underlying clonal outgrowth.
As noted previously, only about 5% of all CRC cases are associated with defined highly penetrant cancer syndromes. The bulk of these cases are attributable to hereditary nonpolyposis colorectal cancer syndromes (HNPCCs), with another significant subset associated with the familial adenomatous polyposis (FAP) syndrome (
Table 34-1
). A few other syndromes comprise the remaining highly penetrant CRC syndrome cases.
Adenomatous polyposis coli

Gene: Gatekeeper in Familial Adenomatous Polyposis and Sporadic Cancer
DNA Mismatch Repair Deficiency and Lynch Syndrome
Hereditary nonpolyposis colorectal cancer (HNPCC) was arguably the first inherited cancer syndrome to be well described in the literature. In 1913, Warthin presented a particularly striking example of a three-generation family with CRC and other cancers, including gastric cancer and tumors of the female reproductive tract.
42
Following Warthin's lead, Lynch and others described kindreds with autosomal dominant patterns of CRC, not accompanied by extensive polyposis.
43
In such families, CRCs of early onset were seen, often along with cancers in some other organs including gastric, uterine endometrial, ovarian, small bowel, renal, and hepatobiliary cancers.
44
In recognition of Dr. Henry Lynch's major contributions to the field, HNPCC is often referred to as
Lynch syndrome.
Criteria for the diagnosis of Lynch syndrome in families have often included the following: affected families must show Lynch syndrome–typical tumors in three relatives (one being a first-degree relative to the other two) in at least two successive generations, with one of the tumors occurring before age 50 (so-called 3-2-1 rule). The sensitivity of these diagnostic criteria is considerably less than 100% for identifying those affected by Lynch syndrome, and the specificity of the criteria is also an issue.
4
However, the diagnostic criteria proved critical for the initial discovery of the germline mutations underlying Lynch syndrome, and the criteria have also been useful in clinical assessment over the past 15 to 20 years since the genetic bases of Lynch syndrome were uncovered. By way of a brief background, the early genetic work indicated genetic heterogeneity for Lynch syndrome, with mapping of the predisposing gene to chromosome 2p in some families
45
and to chromosome 3p in other families.
46
In yet other families with Lynch syndrome, no evidence for linkage to chromosome 2p or 3p was found.
To explore the relevance of Knudson's two-hit hypothesis for Lynch syndrome genes, investigators initially sought to demonstrate loss of parental heterozygosity for chromosome 2p in cancers from individuals carrying a defect in
that particular predisposition gene.
45
However, not only was there no LOH of chromosome 2p sequences in the cancers, but microsatellite DNA sequences examined in the analyses demonstrated marked length variations in tumor tissues compared with the patient's normal tissue. Microsatellite changes were seen at many different loci scattered throughout the genome and in all tumors from patients with Lynch syndrome.
45
The phenotype was termed the
microsatellite instability
" (MSI) or
replication error
(RER) phenotype. Cancers with evidence of microsatellite instability at more than 40% of a panel of mononucleotide and dinucleotide sequences are termed
high-frequency MSI
(MSI-H) cancers. Although most CRCs display no instability when a panel of microsatellite tracts are studied—so-called microsatellite stable (MSS) cases—a subset of cancers show low-frequency instability of the microsatellite markers, termed
MSI-L
.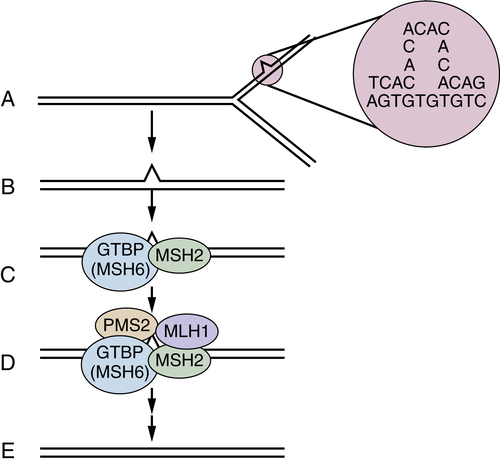 Figure 34-3
Mismatch repair pathway in human cells
(A, B)

During DNA replication, DNA mismatches may arise, such as from strand slippage (shown) or misincorporation of bases (not shown).

(C)

The mismatch is recognized by MutS homologues, perhaps most often MSH2 and GTBP/MSH6, although MSH5 may substitute for GTBP/MSH6 in some cases.

(D, E)

MutL homologues, such as MLH1 and PMS2, are recruited to the complex, and the mismatch is repaired through the action of a number of proteins, including an exonuclease, helicase, DNA polymerase, and ligase.
A-E

with permission from Kinzler KW, Vogelstein B. Lessons from hereditary colorectal cancer.

Cell.

1996;87:159-170.
The finding of MSI-H in the cancers was noteworthy because similar DNA instability phenotypes had previously been seen in mutant yeast strains with defective DNA mismatch repair genes. The prediction that defects in one or more DNA mismatch repair genes might underlie Lynch syndrome was quickly borne out (
Figure 34-3
). A human homologue of the bacterial
mutS
mismatch repair gene, designated
MSH2,
was mapped to chromosome 2p, and one allele was found to be mutated in the germline of a subset of Lynch syndrome patients, with the remaining allele inactivated in cancers arising in the mutation carriers. Other genes involved in DNA mismatch repair were studied and found mutated in other groups of Lynch syndrome patients, including the
MLH1
gene on chromosome 3p, the
PMS2
gene on 7q, and the
GTBP/MSH6
gene on chromosome 2p.
47
Mutations in the
MSH2
and
MLH1
genes are a far more common cause of Lynch syndrome than mutations in the other mismatch repair genes, with
MSH2
and
MLH1
mutations together accounting for about 70% to 75% of the known mutations in Lynch syndrome patients.
47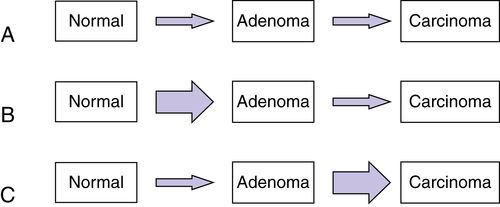 Figure 34-4
Relative effects of germline mutations on tumor initiation and progression
(A)

In sporadic cancers, both initiation of a neoplastic lesion (e.g., the adenoma) and progression to an advanced lesion (i.e., the carcinoma) are rate-limiting events because two somatic mutations are required for inactivation of tumor suppressors such as adenomatous polyposis coli (APC) (initiation of adenoma) and p53 (tumor progression).

(B)

In the case of familial adenomatous polyposis (FAP), germline inactivation of one APC allele markedly increases the formation of adenomas, because inactivation of both APC alleles is a critical (rate-limiting) event in adenoma formation, and those with inactivation of one allele in all colonic cells need only inactivate the remaining APC allele to initiate adenoma formation.

(C)

In the case of Lynch syndrome (hereditary nonpolyposis colorectal cancer [HNPCC]), germline inactivation of one of the mismatch-repair genes (e.g.,

MSH2

or

MLH1

) coupled with somatic inactivation of the remaining allele in an initiated lesion (e.g., an early adenoma) greatly increases the mutation rate, and subsequently the rate and speed of progression to more advanced lesions.
With permission from Bettingon et al. The serrated pathway to colorectal cancer: current concepts and challenges. Histopathology. 2013; 62:367-386.
In the normal cells of a patient with Lynch syndrome, DNA repair is rarely impaired, because the cells have a wild-type copy of the gene (i.e., the copy inherited from the nonaffected parent). However, during cancer development, the remaining wild-type allele is inactivated by a somatic mutation. Following inactivation of the wild-type allele, full mismatch repair activity is lost (see
Figure 34-3
). Then, affected cells manifest a mutator phenotype and accumulate mutations in a much more rapid fashion. Lynch syndrome is, therefore, a disease with more rapid tumor progression from a benign, initiated clone to frank malignancy (
Figure 34-4
).
Although germline mutations in the known mismatch repair genes have been detected in only 2% to 4% of CRC patients, roughly 15% of all CRCs display the MSI-H phenotype.
47
The somatic inactivation of
MLH1
via epigenetic mechanisms, including hypermethylation of its promoter, seems to be responsible for most MSI-H CRC cases outside of Lynch syndrome families.
47
Many of the mutations that arise in cells with the MSI-H phenotype may be detrimental to cell growth or may exert no positive selection pressure. However, a subset of mutations could potentially activate oncogenes or inactivate tumor suppressor genes. An example of a gene containing a mononucleotide tract in its coding sequence that is frequently mutated in MSI-H CRCs is the TGF-β type II receptor.
47
Some other genes commonly altered in MSI-H CRCs are described later.
Inflammation and Colon Cancer
Chronic inflammatory bowel disease (IBD), especially ulcerative colitis, confers an increased risk of CRC. In the case of UC, the risk of CRC is associated with both the duration and extent of the inflammatory disease. From a pathogenetic standpoint it is notable that UC-associated CRCs often develop without the formation of a polyp as a precursor lesion, although dysplasia is a common factor.
15,48
Reducing the degree of inflammation in IBC seems to reduce the risk for CRC.
49
Some insights into the factors and pathways by which inflammation contributes to colitis-associated CRC (CAC) have begun to emerge
50
and likely include important roles for NF-κB signaling in both immune cells and epithelial cells and local activation of various cytokines and lymphokines, including tumor necrosis factor, interleukin 1 (IL-1), IL-6, IL-17, and IL-23.
50
The responses of the innate and cellular immune systems to variations in intestinal microbial communities as well as inflammatory mediators all seem to have important and potentially much broader contributing roles in intestinal neoplasia beyond the setting of CAC. For instance, a human colonic commensal—enterotoxigenic
Bacteroides fragilis
—can affect tumor progression in the
Apc(Min)
mouse model of intestinal tumorigenesis in part via inflammation and the generation of IL-17–expressing T helper 17 [T(H)17] cells.
51
Recent studies have further highlighted the role of microbes and microbial products, along with IL-23 and T(H)17 cells in
Apc
-mutation–dependent colon tumor progression in the mouse.
52
Future studies are likely to further clarify the likely complex relationships among the intestinal microbiota, host immune cells, and epithelial cells in the initiation and progression of colon neoplasia in mouse models and in humans.
Recurrent Somatic Alterations in Colorectal Cancer
Somatic alterations have key roles in the initiation and progression of colorectal tumors, in patients with inherited predispositions to CRC as well as in the majority of CRC patients whose tumors are apparently sporadic. A sizeable number of mutational alterations in CRCs were identified over the past 30 years, largely by various combinations of genetic and genomic approaches.
18
Among the major targets for somatic mutations in CRCs identified before whole genome sequence-based approaches included oncogenic (activating) point mutations affecting
KRAS
(about 40% of CRCs),
NRAS
(about 5%),
PIK3CA
(20%), and
BRAF
(5% to 10%), as well as amplifications of the
EGFR
(5% to 10%),
CDK8
(10% to 15%),
CMYC
(5% to 10%), and
ERBB2
(5%) genes.
18
Similarly, among the tumor suppressor genes known to be frequently affected by somatic mutations in CRCs as a result of the "old-school," focused sequencing approaches were the following:
APC
(80%),
TP53
(60%),
FBXW7
(20%),
SMAD4
(10% to 15%),
PTEN
(10%),
SMAD2
(5% to 10%),
ACVR2A
(10%), and
TGFBR2
(10%).
18
Over the past few years, comprehensive sequencing approaches have allowed for expansive analyses of the nature and spectrum of mutational alterations in CRCs.
17,19,20
One of the major advances of the comprehensive sequencing-based approaches has been knowledge of the variation in total somatic mutations among CRCs. For example, in an exome-sequence analysis of 224 tumor and normal pairs from CRC patients, it was found that 84% of the tumors had a median number of nonsilent (predicted to change protein-coding sequence) somatic mutations of 58 per tumor; the remaining 16% of the tumors were reported to manifest a "hypermutated" phenotype, with a median of 728 somatic nonsilent mutations per tumor.
19
These findings that about 16% of CRCs had a hypermutated phenotype was not entirely unexpected. As described earlier in the discussion of mismatch repair gene defects in Lynch syndrome and also apparently sporadic CRCs, about 15% of all CRCs manifest the MSI-H phenotype, in the majority of MSI-H CRCs because of epigenetic silencing of the
MLH1
gene.
18,47
As a result of their defective mismatch repair pathway function, the MSI-H CRCs were known to have a hypermutable phenotype. However, what was a bit unexpected about the hypermutated CRCs identified via the comprehensive sequencing approaches was that about 25% of the hypermutated tumors lacked the MSI-H phenotype and had intact function of
MLH1
. Instead, the hypermutated non-MSI-H cases had somatic mutations in other mismatch repair genes (e.g.,
MSH2
,
MSH3
,
MLH3
,
MSH6
,
PMS2
) or in the
POLE
gene encoding DNA polymerase ε.
19
One somewhat puzzling issue is why somatic mutations in certain mismatch repair genes do not invariably lead to demonstrable instability in the microsatellite sequences that define the MSI-H phenotype, whereas epigenetic silencing of MLH1 does apparently lead to the MSI-H phenotype in almost all cases.
Perhaps part of the explanation might be the relative timing of the defects in mismatch repair function in the natural history of a given CRC.
Besides clarifying the mutation rate in CRCs and illuminating the molecular basis for the markedly increased mutation rate in the roughly 16% of CRCs that are hypermutated, comprehensive molecular characterization efforts have yielded additional insights, such as refinements in the estimated frequencies for known oncogene and tumor suppressor gene defects in CRC, the identification of some new oncogene and tumor suppressor gene defects contributing to CRC, and some initial insights into how epigenetic changes and gene expression patterns may be associated with certain mutation patterns as well as biologic and clinicopathologic subsets of CRC.
Table 34-2
summarizes some of the genes most frequently affected by somatic mutations in nonhypermutated and hypermutated CRCs.
19,20
In addition to the extensive data on localized mutation frequencies, comprehensive molecular characterization efforts have begun to further inform understanding of recurrent gene amplification, deletion, and translocation in CRCs. Besides largely confirming the gene amplification events previously uncovered in CRCs, such as
CDK8
Buy Membership for Hematology, Oncology and Palliative Medicine Category to continue reading.
Learn more here