The Older Adult Patient
Advancing age has many effects on the cardiovascular system (Table 41-1). Age-related anatomic and cellular changes in the myocardium and peripheral vasculature have significant impact on the critically ill older adult.2 Age is a major risk factor for cardiovascular disease in older adults, leading to more cardiovascular events in this population when admitted to the critical care unit.8 Cardiac and arterial system changes include atherosclerosis, hypertension, myocardial infarction, and stroke. Pathologic alterations of aging include hypertrophy, altered left ventricular (LV) function, increased arterial stiffness, and impaired endothelial function.8
Early stages of atherosclerosis
↑ Vascular stiffness
↑ LV wall thickness
↑ Left atrial size
↑ Left atrial pressure/volume
↑ Prevalence of lone atrial fibrillation and other atrial arrhythmias
Cardiovascular Functional Changes
Altered regulation of vascular tone
↓ NO production/effects
Reduced threshold for cell Ca2+ overload
Changes in gene expression of proteins that regulate Ca2+ handling; ↑ PUFA ration in cardiac membranes
↑ Cardiovascular reserve
Lower threshold for increased severity of heart failure
Reduced physical activity
Learned lifestyle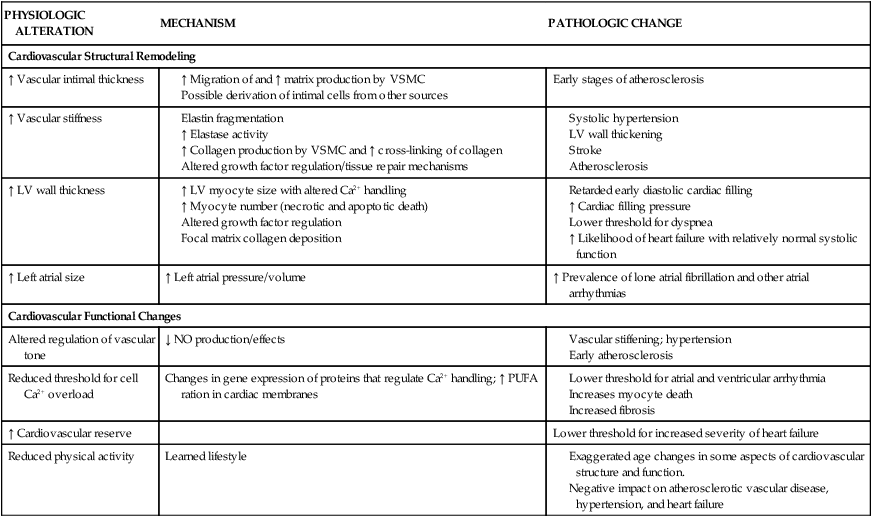 LV, Left ventricular; PUFA, polyunsaturated fatty acids; VSMC, vascular smooth muscle cells.
Adapted from Strait JB, Lakatta EG. Aging-associated cardiovascular changes and their relationship to heart failure. Heart Failures Clinic. 2012;8(1):143.
Adapted from Bonomo L, et al. Aging and the respiratory system. Radiologic Clin North Am. 2008;46(4).
Maximum inspiratory and expiratory pressures may decrease by as much as 50% because of decline in respiratory muscle strength, resulting in a decrease in thoracic wall excursion.2 The age-related reductions in maximal inspiratory pressure and maximal expiratory pressure are likely a consequence of impaired respiratory mechanics and sarcopenia.21 Sarcopenia describes reduced muscle mass and function, which may be related to decreased muscle protein synthesis, increased muscle proteolysis, motor neuron loss, and increased muscle fat content.21 Respiratory muscle strength is related to nutritional status, often deficient in older adults.20 Additionally, prevalence of vertebral fractures increases with age, particularly in women.20 The accessory inspiratory muscles (sternocleidomastoid, scalene, and trapezius) facilitate inspiration during exercise. Reports have described that ventilatory muscle strength improved after older adult men and women received ventilatory muscle training.2
There is an age-associated decrease in effectiveness of the cough reflex and decrease in ciliary responsiveness and motion that predisposes older adult patients to aspiration and hospital-acquired infections.2 These changes emphasize the importance of dysphagia screening, deep breathing, and coughing for the older patient in the critical care unit.
Age-associated changes in pulmonary function do not alter the older adult's ability to breathe effortlessly, although a decrease in respiratory muscle strength may be a limiting factor during exercise. The application of conventional quality control standards to objective assessment of pulmonary function in older subjects may prove difficult because of mood alterations, fatigability, lack of cooperation, or cognitive impairment.21