Chapter 37 The Difficult Airway in Obstetric Anesthesia
Difficult laryngoscopy, failed intubation, and inability to ventilate or oxygenate after induction of general anesthesia (GA) for cesarean delivery (C/D) are major contributory factors leading to maternal morbidity and mortality. In Western countries, the recognition of adverse maternal and neonatal outcomes associated with difficult airway (DA) management has led to a dramatic decline in the use of GA for both elective and emergency C/D.1–3
The overall general anesthesiology practice in industrialized countries in the last 2 decades has undergone a dramatic change. Management of the DA has emerged as one of the most important patient safety issues. Guidelines and strategies for management of the DA have been published by the American Society of Anesthesiologists (ASA),4 the Difficult Airway Society (DAS) in the United Kingdom,5 and the Canadian,6 French7 and Italian8 national societies' work groups on difficult airway management. These guidelines are applicable to the general surgical population. However, none of the guidelines address management of the DA in an obstetric situation, especially in the context of urgency in delivering the baby.
There are differences among these standards, guidelines, algorithms, recommendations, and protocols, but in practice and in medicolegal cases, the distinction between terminologies can be blurred (Table 37-1).9 Published literature shows that the guidelines from the ASA Task Force on Management of the Difficult Airway have been discussed in 18% of nonobstetric medicolegal cases and were useful both in defending care (defense, 8%) and in criticizing care (plaintiff, 3%).10 Expert witnesses also have used these guidelines in litigated obstetric DA management cases.
| Terms | Definitions | Degree of Obligation |
| --- | --- | --- |
| Standards | Generally accepted principles for patient management; exceptions are rare, and failure to follow is often difficult to justify | Mandatory |
| Strategy | A well-planned series of steps for achieving a goal | Voluntary |
| Guidelines | Systematically developed statements to assist practitioners for specific clinical circumstances; incorporates the best scientific evidence with expert opinion | Voluntary |
| Practice policies | Describe present recommendations issued to influence practitioners in reaching decisions about interventions | Voluntary |
| Recommendations | Suitable and useful strategy; not as strict as standards or guidelines | Voluntary |
| Options | Different possibilities are available; neutral assessment | Voluntary |
| Protocols and algorithms | Stepwise procedures or decision trees to guide practitioners through diagnosis and treatment of various clinical problems | Voluntary |
From Henderson JJ, Popat MT, Latto IP, Pearce AC: Difficult Airway Society guidelines for management of the unanticipated difficult intubation. Anaesthesia 59:675–694, 2004.
Although the total number of maternal deaths has been decreasing steadily in the last few decades both in the United States and United Kingdom (Table 37-2),12,13 anesthesia-related complications rank seventh among the leading causes of maternal death, in both countries (Fig. 37-1).14,15 Even in the developing countries, anesthesia is emerging as an additional risk for maternal mortality and remains largely under-reported.16,17 Failures in airway management are a primary cause of anesthesia-related maternal deaths in the underdeveloped countries.18
| Year of Death | United States* | United Kingdom† |
| --- | --- | --- |
| 1979-1981 | 4.3 | 8.7 |
| 1982-1984 | 3.3 | 7.2 |
| 1985-1987 | 2.3 | 1.9 |
| 1988-1990 | 1.7 | 1.7 |
| 1991-1993 | 1.4 | 3.5 |
| 1994-1996 | 1.1 | 0.5 |
| 1997-1999 | 1.2 | 1.4 |
| 2000-2002 | 1.0 | 3.0 |
* Maternal deaths per million live births.
† Maternal deaths per million maternities (live births, stillbirths, pregnancy terminations, ectopic pregnancies, and abortions).
(From Hawkins JL, Chang J, Palmer SK, et al: Anesthesia-related maternal mortality in the United States: 1979-2002. Obstet Gynecol 117:71, 2011.)
The first national study of anesthesia-related maternal mortality in the United States between 1979 and 1990 was published in 1997.19 Most of these deaths (82%) took place during C/D. Death rates for GA during C/D increased from 20 per million in 1979-1984 to 32.3 per million in 1985-1990. Conversely, the death rate for regional anesthesia (RA) during the same periods declined from 8.6 to 1.9 per million, respectively. The relative risk for GA increased to 16.7 from 1985 to 1990. The case fatality risk ratio for GA was. 2.3 times that of RA from 1979 to 1984 and increased to 16.7 times from 1985 to 1990.19 The majority of maternal deaths were related to difficult or failed intubation, pulmonary aspiration, or respiratory complications.
A follow-up study examined 12 years of anesthesia-related maternal deaths between 1991 and 2002 and compared them with data from 1979 to 1990 to estimate trends over time and to compare the risks of GA and RA during cesarean delivery.13 Results showed that 86 pregnancy-related deaths were associated with complications of anesthesia, accounting for 1.6% of the total. Case-fatality rates for GA declined from 16.8 per million in 1991-1996 to 6.5 per million in 1997-2002 (Table 37-3).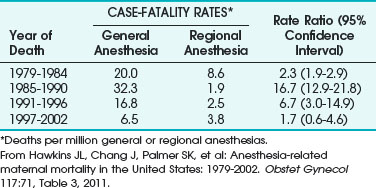 Complications related to anesthesia still occur, despite the decrease of almost 60% in anesthesia-related maternal mortality between 1979-1990 and 1991-2002. Although deaths from GA during C/D declined, about two thirds of the anesthesia-related deaths were caused by intubation failure or induction problems.13 The decline in GA-related case fatalities was explained by improvements in management of the DA and failed intubation and by increased expertise of anesthesiologists with the laryngeal mask airway (LMA) and other airway devices.13
A review of maternal mortality in Michigan from1985 to 2003 identified eight anesthesia-related deaths.20 Seven of these deaths were due to anesthesia-related factors. Interestingly, there were no deaths during induction of GA. The deaths were caused by airway obstruction or hypoventilation during emergence, lapses in monitoring, or lack of supervision in the postoperative period. Other risk factors included African-American race and obesity. This study highlighted the importance of airway-related problems during emergence, particularly in obese patients and in the African-American population, as well as the importance of vigilance in monitoring and management in the postoperative period for prevention of airway-related complications.
In the United Kingdom, despite the decline in the total number of maternal deaths, anesthesia-related causes consistently accounted for approximately 10% of the total direct deaths. During the period 1982-1984, anesthesia was the third leading cause of maternal death, resulting in 19 of 243 deaths, of which 15 were due to airway-related difficulties.21 The confidential enquiry spanning 1994-1996 showed that anesthesia was responsible for only 1 of 268 maternal deaths. In the Confidential Enquiry into Maternal and Child Health (CEMACH) 2000-2002 study, there were six direct deaths, all related to GA.15 Maternal deaths from complications of GA included a risk of 1 maternal death in 20,000. These cardiopulmonary arrests and deaths were related to difficult or failed intubation, difficult pulmonary ventilation resulting in failure to oxygenate, pulmonary aspiration, or acute respiratory distress syndrome (ARDS). In all of these cases, the anesthesia care was considered substandard.15