Skin and Lacrimal Drainage System
Skin
Lid skin is quite thin.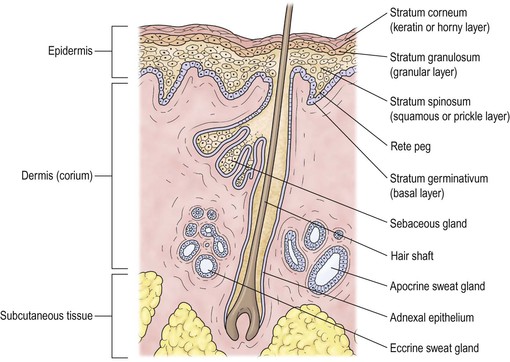 Dermis
The dermis is sparse, composed of delicate collagen fibrils, and contains the vasculature and epidermal appendages, sebaceous glands, apocrine and eccrine sweat glands, and hair complexes.
Subcutaneous Tissue
The subcutaneous layer is mostly composed of adipose tissue.
Terminology
Atypical Cell
I. An atypical cell (see Fig. 6.4B) is one in which the normal nucleus-to-cytoplasm ratio is altered in favor of the nucleus, which stains darker than normal (hyperchromasia), may show an abnormal configuration (giant form or multinucleated form), may have an abnormal nuclear configuration (e.g., indented, cerebriform, multinucleated), or may contain an abnormal mitotic figure (e.g., tripolar metaphase). If sufficiently atypical, according to generally accepted criteria, the cell may be classified as cancerous.
II. Isolated atypical cells may be found in benign conditions such as actinic keratosis and pseudoepitheliomatous hyperplasia. Atypical cells may be abundant in malignant conditions such as carcinoma in situ and squamous cell carcinoma.
Aging
See subsection Atrophy, earlier, under Terminology.