Pulmonary Disorders
Understanding the pathology of the disease, the areas of assessment on which to focus, and the usual medical management allows the critical care nurse to more accurately anticipate and plan nursing interventions. This chapter focuses on pulmonary disorders commonly seen in the critical care environment.
Decreased Sv

o

2
Widening alveolar-arterial gradient
Decreased functional residual capacity
Increased work of breathing
Interstitial fibrosis
Worsening hypercarbia and hypoxemia
Increased dead space ventilation
Lactic acidosis (related to aerobic metabolism)
Alteration in perfusion:
End-organ dysfunction: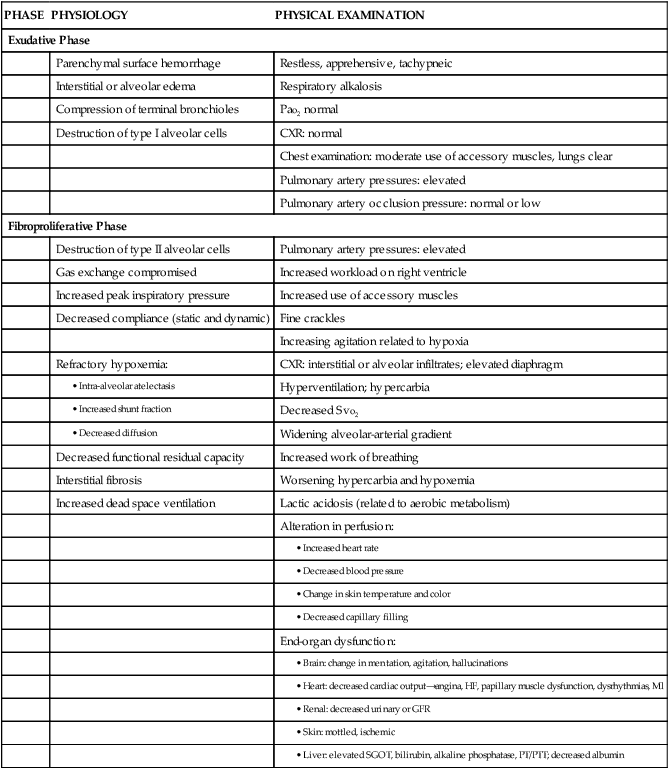 ARDS, acute respiratory distress syndrome; Pao2, arterial oxygen pressure; CXR, chest radiograph; Svo2, venous oxygen saturation; HF, heart failure; MI, myocardial infarction; GFR, glomerular filtration rate; SGOT, serum glutamate oxaloacetate transaminase; PT, prothrombin time; PTT, partial thromboplastin time.
Modified from Phillips JK. Management of patients with acute respiratory distress syndrome. Crit Care Nurs Clin North Am.1999;11(2):233.
Arterial blood-gas analysis reveals a low Pao2, despite increases in supplemental oxygen administration (refractory hypoxemia).40 Initially the Paco2 is low as a result of hyperventilation, but eventually the Paco2 increases as the patient fatigues. The pH is high initially but decreases as respiratory acidosis develops.40,41
Initially the chest x-ray film may be normal, because changes in the lungs do not become evident for up to 24 hours. As the pulmonary edema becomes apparent, diffuse, patchy interstitial and alveolar infiltrates appear. This progresses to multifocal consolidation of the lungs, which appears as a "whiteout" on the chest x-ray film.40
Pneumonia is an acute inflammation of the lung parenchyma that is caused by an infectious agent that can lead to alveolar consolidation. Pneumonia can be classified as community-acquired pneumonia (CAP), hospital-acquired pneumonia (HAP), or health care-associated pneumonia (HCAP).50 Pneumonia is referred to as community-acquired when it occurs outside of the hospital or within 48 hours of admission to the hospital.51 Severe CAP requires admission to the critical care unit and accounts for about 22% of all patients with pneumonia. The mortality for this patient group is approximately 18% to 56%, with increasing age as a major risk factor.52 Pneumonia is referred to as hospital-acquired when it occurs while in the hospital for at least 48 hours.50 Ventilator-associated pneumonia (VAP) is a subgrouping of HAP that refers to development of pneumonia after the insertion of an artificial airway.50 VAP is the most common critical care unit-acquired infection.53 Pneumonia is referred to as health care-associated when it is acquired in health care environments outside of the traditional hospital setting.54