Prion diseases
The designation of prion diseases as a distinct nosologic category is based on the elucidation of a novel molecular pathology that is common to several disorders previously known as spongiform encephalopathies, unconventional viral infections, or transmissible dementias. These include the following human diseases:
Common to all of these diseases are:
Prion diseases occur in several mammalian species in addition to man, the most notable being scrapie in sheep and bovine spongiform encephalopathy (BSE) in cattle.
In approximately 85% of cases, human prion diseases are sporadic. Rarely, prion disease is transmitted by accidental inoculation during a therapeutic procedure (iatrogenic CJD), or by endocannibalism (Kuru). In about 15% of cases, prion diseases are inherited in an autosomal dominant fashion.
The commonest phenotype of prion disease is CJD. Patients typically present with subtle motor signs, which herald severe cerebellar ataxia, and progress to global dementia in under 1 year. Criteria for the clinical diagnosis of CJD have been proposed and widely adopted (Table 32.1).
Several phenotypes of prion disease other than CJD have been identified (Table 32.2). In all of these, the mainstay of diagnosis is clinical examination supplemented by additional radiologic, electrophysiologic and neuropathologic investigations (Table 32.3).
Table 32.2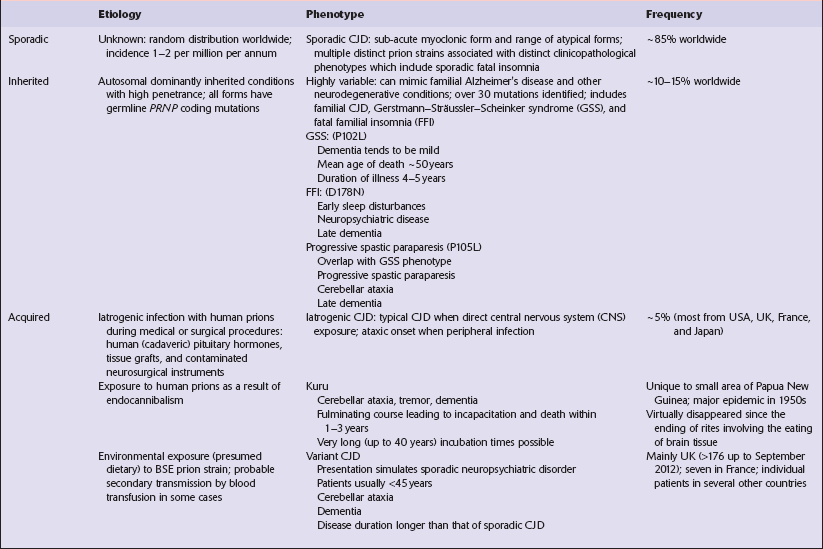 Table 32.3
Investigations in human prion disease

Many patients in the late stage of neurodegenerative disease develop myoclonus, but the length of the history usually contrasts with the rapid progression of classic CJD. Some patients who have dementia with cortical Lewy bodies deteriorate rapidly and develop myoclonus, in which case CJD enters the clinical differential diagnosis. The possibility that many cases of dementia of uncertain etiology or dementia with atypical features may be due to undiagnosed prion disease is not supported by comprehensive necropsy studies.