Nutrition Alterations and Management
Nutrition support is an essential component of providing comprehensive care to the critically ill patient. Nutrition screening must be conducted on every patient, and a more thorough nutrition assessment completed on any patient screened to be nutritionally at risk. Malnutrition can be related to any essential nutrient or nutrients. A serious type of malnutrition found frequently among hospitalized patients is protein-calorie malnutrition (PCM). Malnutrition is associated with a variety of adverse outcomes, such as wound dehiscence, infections, pressure ulcers, respiratory failure requiring ventilation, longer hospital days, and death. The purpose of this chapter is to provide an overview of nutrient metabolism, nutritional status assessment, and implications of undernutrition for the sick or stressed patient. Specifically, nutrition for each of the system alterations will be discussed along with nursing management.
Nutrition support is an important aspect of the care of critically ill patients. Maintenance of optimal nutritional status may prevent or reduce the complications associated with critical illness and promote positive clinical outcomes.3 Critical care nurses play a key role in the delivery of nutrition support and must work closely with dietitians and physicians in promoting the best possible outcomes for their patients.
Nutrition support is the provision of oral, enteral, or parenteral nutrients. It is an essential adjunct in the prevention and management of malnutrition in critically ill patients.3 The goal of nutrition support therapy is to provide enough support for body requirements, to minimize complications, and to promote rapid recovery. Critical care nurses must have a broad understanding of nutrition support, including the indications, prevention, and management of associated complications.
Enteral nutrition or tube feedings are used for patients who have at least some digestive and absorptive capability but are unable or unwilling to consume enough by mouth. When possible, the enteral route is the preferred method of feeding over total parenteral nutrition (TPN). The proposed advantages of enteral nutrition over TPN include lower cost, better maintenance of gut integrity, and decreased infection and hospital length of stay.3 A review of the literature comparing enteral nutrition and TPN indicates that enteral nutrition is less expensive than TPN and is associated with a lower risk of infection.3,24
The gastrointestinal (GI) tract plays an important role in maintaining immunologic defenses, which is why nutrition by the enteral route is thought to be more physiologically beneficial than TPN. Some of the barriers to infection in the GI tract include neutrophils; the normal acidic gastric pH; motility, which limits GI tract colonization by pathogenic bacteria; the normal gut microflora, which inhibit growth of or destroy some pathogenic organisms; rapid desquamation and regeneration of intestinal epithelial cells; the layer of mucus secreted by GI tract cells; and bile, which detoxifies endotoxin in the intestine and delivers immunoglobulin A (IgA) to the intestine. A second line of defense against invasion of intestinal bacteria is the gut-associated lymphoid tissue (GALT).25 The systemic immune defenses in the GI tract are stimulated by the presence of food within it. In animal models, resting the GI tract by providing TPN contributes to bacterial translocation, whereby bacteria normally found in the GI tract cross the intestinal barrier, are found in the regional mesenteric lymph nodes, and give rise to generalized sepsis. However, there is insufficient evidence in humans that TPN causes atrophy of the intestinal mucosa or that enteral nutrition prevents bacterial translocation.26,27
Patients who are experiencing severe stress that greatly increases their nutritional needs (caused by major surgery, burns, or trauma) often benefit from tube feedings. Table 8-4 lists different enteral formula types and the nutritional indications for using each one. Individuals who require elemental formulas because of impaired digestion or absorption or the specialized formulas for altered metabolic conditions usually require tube feeding because the unpleasant flavors of the free amino acids, peptides, or protein hydrolysates used in these formulas are very difficult to mask if taken in orally.
TABLE 8-4
FORMULA TYPE
NUTRITIONAL USES
CLINICAL EXAMPLES
EXAMPLES OF COMMERCIAL PRODUCTS (MANUFACTURER)
Formulas Used When GI Tract Is Fully Functional
Polymeric (standard): Contains whole proteins (10%-15% of calories), long-chain triglycerides (25%-40% of calories), and glucose polymers or oligosaccharides (50%-60% of calories); most provide 1 calorie/mL
Inability to ingest food
Inability to consume enough to meet needs
Oral or esophageal cancer
Coma, stroke
Anorexia resulting from chronic illness
Burns or trauma
High-nitrogen: Same as polymeric except protein provides >15% of calories
Same as polymeric plus mild catabolism and protein deficits
Trauma or burns
Sepsis
Concentrated: Same as polymeric except concentrated to 2 calorie/mL
Same as polymeric but fluid restriction needed
Heart failure
Neurosurgery
COPD
Liver disease
Formulas Used When GI Function Is Impaired
Elemental or predigested: Contains hydrolyzed (partially digested) protein, peptides (short chains of amino acids), and/or amino acids, little fat (<10% of calories) or high MCT, and glucose polymers or oligosaccharides; most provide 1 calorie/mL
Impaired digestion and/or absorption
Short bowel syndrome
Radiation enteritis
Inflammatory bowel disease
Diets for Specific Disease States
*
Renal failure: Concentrated in calories; low sodium, potassium, magnesium, phosphorus, and vitamins A and D; low protein for renal insufficiency; higher protein formulas for dialyzed patients
Renal insufficiency
Dialysis
Predialysis
Hemodialysis or peritoneal dialysis
Hepatic failure: Enriched in BCAA; low sodium
Protein intolerance
Hepatic encephalopathy
Pulmonary dysfunction: Low carbohydrate, high fat, concentrated in calories
Respiratory insufficiency
Ventilator dependence
Glucose intolerance: High fat, low carbohydrate (most contain fiber and fructose)
Glucose intolerance
Individuals with diabetes mellitus whose blood sugar is poorly controlled with standard formulas
Critical care, wound healing: High protein; most contain MCT to improve fat absorption; some have increased zinc and vitamin C for wound healing; some are high in antioxidants (vitamin E, beta-carotene); some are enriched with arginine, glutamine, and/or omega-3 fatty acids
Critical illness
Severe trauma or burns
Sepsis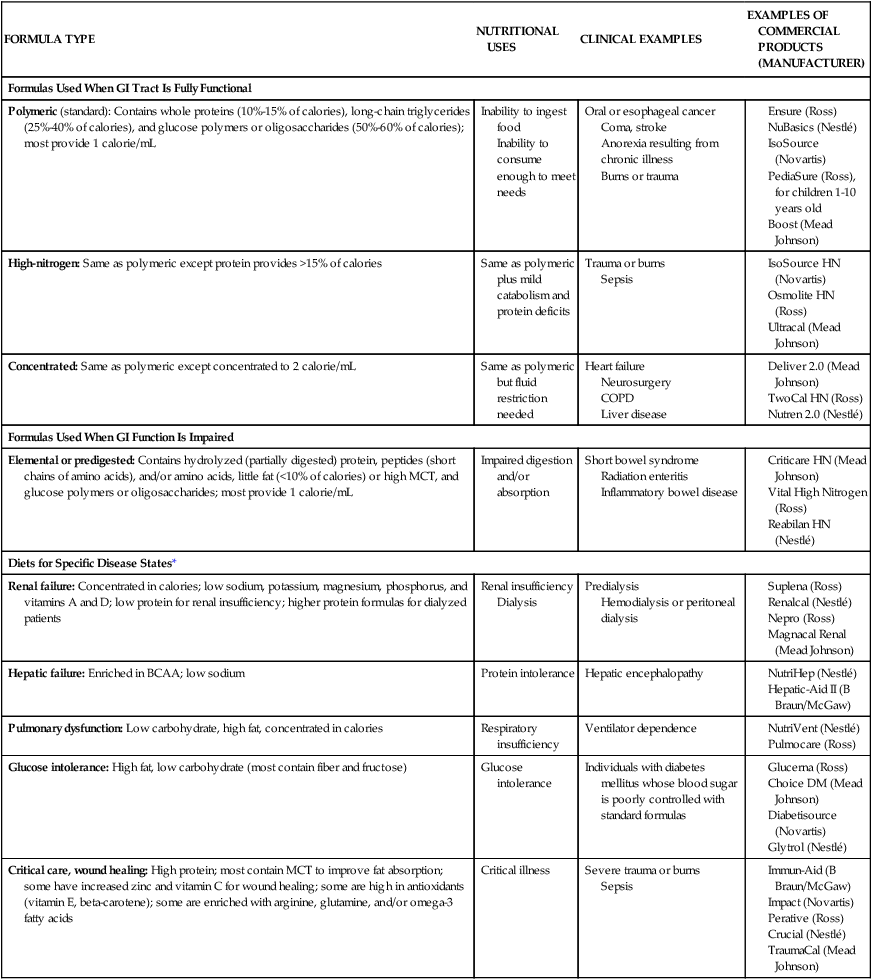 BCAA, Branched chain–enriched amino acid; COPD, chronic obstructive pulmonary disease; GI, gastrointestinal; MCT, medium-chain triglyceride.
*These diets may be beneficial for selected patients; costs and benefits must be considered.