Harold N. Lovvorn III, Joshua Brian Glenn, Annette S. Pacetti and Brian S. Carter
Congenital malformations may be found in up to 3% of all newborns and are an important cause of morbidity, early infant death, and chronic disability. Although overall infant mortality has declined, the mortality attributable to birth defects has increased, and up to 22% of neonatal deaths have been attributed to congenital malformations.
12
In the past decade, improvements in prenatal imaging and perinatology have allowed earlier diagnosis and intervention for surgically correctable malformations. Because of the complexity of accurate prenatal imaging and diagnosis, many anomalous conditions continue to escape early detection and present to the neonatology and surgical teams with advanced developmental consequences. The care of a neonate with a major congenital malformation therefore may be resource intensive and costly. In a study of one regional neonatal intensive care unit (NICU), newborns with major congenital malformations accounted for 27% of NICU referrals, 32% of total NICU days, and 40% of NICU costs. Moreover, surgery was more frequent in newborns with major malformations, and one third required ongoing medical support at the time of discharge.
47
Early diagnosis, comprehensive neonatal care, and a multidisciplinary approach are necessary to ensure an optimal outcome for both parent and child.
This chapter briefly describes the embryology, clinical history, diagnostic evaluation, and therapeutic intervention of common neonatal surgical conditions.
DIAPHRAGMATIC HERNIA
ESOPHAGEAL ATRESIA AND TRACHEOESOPHAGEAL FISTULA
Physiology and Etiology
Esophageal atresia (EA) occurs between 1 in 3000 and 1 in 4500 live births and represents
a spectrum of anomalies
that arise early in gestation (3 to 6 weeks) when the trachea normally buds from the primitive foregut. Failure in the normal development of the esophagus and in complete separation of the trachea from the esophagus gives rise to EA and distal tracheoesophageal fistula (TEF) in 85% of cases, isolated EA in 8%, TEF without EA in 5%, and EA with proximal or proximal and distal fistulas in 2%. Etiologies for this collection of defects remain unclear, but it is suspected that genetic alterations in and environmental insults on rapidly proliferating foregut stem cells during this critical period of organogenesis account for such diverse yet predictable esophageal malformations. Aberrations at the cellular level in muscle fibers of the distal esophagus may help explain the nearly universal symptoms of dysmotility and gastroesophageal reflux after operative repair.
46
Because other developing organs are vulnerable to the same insults in this critical period of gestation,
associated anomalies are common
(50% to 70%), particularly vertebral, anorectal, cardiac, genitourinary, limb, and gastrointestinal (e.g., duodenal atresia).
80
In 11% to 33% of infants with EA and distal TEF, concurrent and severe tracheomalacia is present. Although EA, with or without TEF, has not been associated with a single gene defect, a high incidence has been observed in children with trisomy 21, or Down syndrome.
12,
24
Data Collection
CONGENITAL CHEST MASSES
Physiology and Etiology
The most common congenital chest masses requiring surgical intervention in the newborn period are
congenital pulmonary airway malformations (CPAMs, also known as cystic adenomatoid malformations), pulmonary sequestrations (both intralobar and extralobar types), bronchogenic cysts, and congenital lobar emphysema.
Each of these malformations may exist alone or in combination with other anomalies.
7,
44
CPAM lesions are believed to arise from focal interruption in coordinated pulmonary progenitor cell growth, resulting in abnormal development of pulmonary tissues and structural distortion. Histologically, CPAM is associated with increased cell proliferation and decreased apoptosis when compared with normal lung tissue. The CPAM lesion receives its blood supply from the pulmonary system but does not communicate with normally formed bronchial structures.
Anomalous development of the foregut is the accepted underlying etiology of both the bronchogenic cyst and pulmonary sequestration. Bronchogenic cysts are lined by ciliated columnar and/or cuboidal epithelium. The surrounding tissues resemble those of the normal bronchus and are generally, although not exclusively, located within the mediastinum along the tracheobronchial tree. Extralobar sequestrations are masses of primitive pulmonary parenchyma with no bronchial connection and are supplied by the systemic, not pulmonary, vasculature. Congenital lobar emphysema presents in the newborn period as a fluid-filled over-distended lobe that, under positive-pressure ventilation, may trap air and generate tension physiology. In many cases, though not all, congenital lobar emphysema is associated with the absence or hypoplasia of cartilaginous rings of the major and segmental bronchi. These structurally underdeveloped bronchi are prone to collapse on expiration, thereby trapping air.
Data Collection
HISTORY/SIGNS AND SYMPTOMS
Although rare, congenital lung malformations may lead to considerable morbidity, such as infection, hemorrhage, respiratory failure, and pulmonary hypoplasia, and may even prove lethal. Some lesions may escape prenatal detection and so appear later in development. Failure to recognize a malformation may lead to inappropriate intervention. For example, placement of a chest tube to manage suspected tension pneumothorax in a baby with congenital lobar emphysema may lead to lung injury and loss of tidal volume through the thoracostomy tube instead of into the remaining healthy lung.
Congenital Pulmonary Airway Malformation
CPAMs are usually detected prenatally and are nicely characterized on ultrasound but, if not, may be further delineated by fetal magnetic resonance imaging (MRI), as indicated.
42,
81
In utero, these lesions may cause a variety of problems, from pulmonary hypoplasia (both ipsilateral and contralateral) to non-immune
hydrops fetalis
with congestive heart failure.
Polyhydramnios
may also be present if the lesion compresses the esophagus and compromises fetal swallowing of amniotic fluid. Fetal intervention may be indicated if the gestation has not yet reached 34 weeks, in which case premature delivery might be planned. Large, fluid-filled cystic lesions may be amenable to thoracoamniotic shunt placement while in utero to relieve compression of intrathoracic structures and to restore hemodynamic status. Solid CPAM lesions arising early in gestation and causing similar complications have been resected in fetuses with promising results. If these lesions do not manifest with in utero pathophysiology (yet are of sufficient size), the neonate may develop
respiratory distress
shortly after birth. This process is responsible for the cystic appearance on radiographs. Babies may have mediastinal shift and a large air space, easily confused with a pneumothorax or diaphragmatic hernia. Sonography may be helpful to delineate a solid or cystic mass and should establish the diagnosis. CPAM may result in recurrent infections because mucociliary clearance is poor. Rarely, malignancy may arise in a CPAM in the form of pulmonary blastoma, rhabdomyosarcoma, or bronchoalveolar carcinoma.
42
Pulmonary Sequestration
Pulmonary sequestration accounts for fewer than 10% of all congenital lung malformations and mostly occurs in the
lower lobes.
7,
44
A sequestration represents a mass of disorganized bronchopulmonary tissue without a normal bronchial communication and may have either a pulmonary or systemic vascular supply. The abnormal sequestered lung may be intralobar or extralobar and is classified according to pleural coverage, either within the pleural investment of the whole lung itself (intralobar) or outside of this normal pleural lining (extralobar). Sequestrations rarely may have some sort of communication with the foregut. Infants with an intralobar sequestration not detected prenatally may present outside of the newborn period and often with recurrent respiratory problems, such as
chronic cough,
or with
recurrent pneumonias,
either in the lesion or in the surrounding normal but compressed lung tissue. Plain radiographs may show simple consolidation. Anomalies associated with extralobar sequestration include diaphragmatic hernia and eventration and may share a similar dysregulated embryologic event, as approximately 95% of extralobar lesions are left-sided. Extralobar lesions may reside either above or below the left diaphragm. Older children may have exercise intolerance if a large systemic arteriovenous shunt exists. Systemic arterial flow through the lesion may produce a murmur and may lead to congestive cardiac failure. Squamous cell carcinoma, adenocarcinoma, and rhabdomyosarcoma may rarely arise in the sequestration.
Bronchogenic Cyst
Bronchogenic cysts may be considered a foregut duplication and arise from an abnormal budding of the ventral foregut. Approximately 85% are mediastinal and 15% are intrapulmonary. Bronchogenic cysts may be filled with air or fluid and may show air-fluid levels on plain radiographs.
77
As a result, bronchogenic cysts may become infected or simply grow over time and so may behave as a space-occupying and compressive lesion. Many cysts are asymptomatic or have vague symptoms and are discovered on routine chest radiographs. Infection, hemorrhage, and, in rare cases, late malignancy may occur. Associated respiratory symptoms include
stridor or wheezing.
Chronic air trapping may lead to emphysema, atelectasis, or both. Dysphagia, chest pain, and epigastric discomfort may also occur.
Congenital Lobar Emphysema
Although generally not discovered
in utero,
congenital lobar emphysema typically manifests in neonates as
hyperinflation
of one or more lung lobes. Causes include intrinsic absence or abnormality (bronchomalacia) of cartilaginous rings or external compression of a segmental bronchus by a large pulmonary artery.
44,
65
Hyperinflation of a pulmonary lobe develops after birth as inspired air enters the affected lobe but cannot exit, because the positive pressure of expiration collapses the poorly structured airway.
Congenital lobar emphysema most commonly involves the upper lobes.
The left upper lobe is involved in roughly 41% of patients, the right middle lobe in 34%, and the right upper lobe in 21%. Involvement of the lower lobes is rare, occurring in fewer than 5% of patients. Neonates may present with mild to moderate
respiratory distress.
Mediastinal shift may develop with progressive air trapping, and decreased breath sounds are noted on the involved side. Infants who have a milder form of lobar emphysema will present with nonspecific findings, including cough, wheezing, respiratory distress, and cyanosis. Older children may present with recurrent chest infections. On plain radiographs obtained in neonates, the affected lobe may be hyperlucent or slightly opacified if alveoli remain fluid-filled. Associated cardiac anomalies may occur in as many as 10% of patients.
LABORATORY DATA
Routine chest radiograph is the initial evaluation tool in distinguishing congenital chest masses and is the principle study to establish the diagnosis of diaphragmatic hernia and congenital lobar emphysema in newborns. Sonography and/or computed tomography (CT) scan of the chest are useful means to evaluate CPAM, sequestrations and bronchogenic cysts, and lobar emphysema in older infants and children. The differential diagnosis of a hyperlucent hemithorax with mediastinal shift on chest x-ray in the newborn includes tension pneumothorax, cystic CPAM, diaphragmatic hernia with air-filled stomach or intestine in the chest, and congenital lobar emphysema.
Treatment
Surgical resection
of these congenital chest masses is curative. Some small, asymptomatic lesions of sequestration or CPAM may be followed expectantly, as reports of spontaneous regression may be found in the literature. However, most lesions may be removed with little morbidity in an effort to minimize long-term complications of the various lesions. Operative approach to these lesions may be either via thoracotomy or thoracoscopy, depending on the suitability of the baby and the skill of the surgeon (
Figures 28-4
and
28-5
).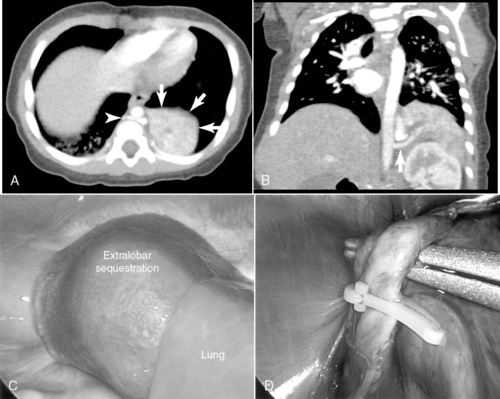 FIGURE 28-4
(Courtesy Dr. H. Lovvorn, Vanderbilt University Medical Center.)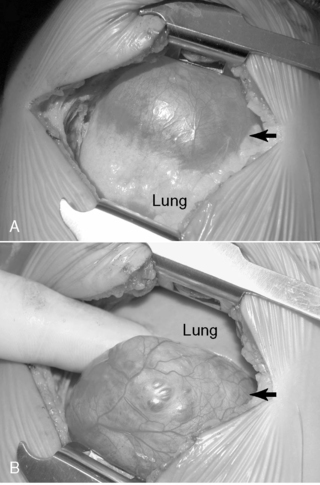 FIGURE 28-5
(Courtesy Dr. H. Lovvorn, Vanderbilt University Medical Center.)
Special consideration to resection of the pulmonary lobe involved with congenital lobar emphysema should be given (
Figure 28-6
). Extreme caution must be followed upon induction of general anesthesia and endotracheal intubation with positive-pressure ventilation. Because of the collapsible airway and the propensity for air-trapping in congenital lobar emphysema, rapid development of tension physiology may ensue, compromising the well-being of the baby and necessitating emergent decompressive thoracotomy. Such pathophysiology is possible in any neonate with congenital lobar emphysema and requiring positive-pressure ventilation.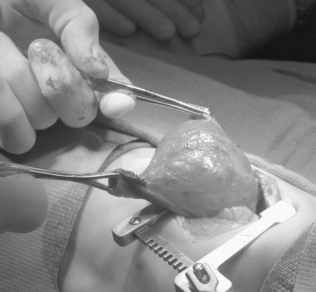 FIGURE 28-6
(Courtesy Dr. H. Lovvorn, Vanderbilt University Medical Center.)
MALROTATION AND VOLVULUS
Physiology and Etiology
In the 4th week of gestation, the midgut exists as a straight tube deriving its blood supply from the superior mesenteric artery (SMA). The proximal limb of primitive intestine, representing the future duodenum, jejunum, and proximal ileum, lies in the midline and anterior to the SMA. The distal limb, destined to become the terminal ileum, ascending colon, and transverse colon, lies posterior to the SMA. During the 6th week of gestation, these segments of bowel, known collectively as the midgut, can lengthen rapidly by herniating through the incompletely closed abdominal wall and into the umbilical stalk. While lengthening outside of the coelomic cavity, the midgut undergoes a 270° counterclockwise rotation around the SMA axis. On return to the abdominal cavity, the duodenojejunal junction comes to rest in the left upper quadrant and becomes fixed in this location by the ligament of Treitz. At the end of the 11th week of gestation, midgut rotation is completed and the cecum now resides anterior and to the right of the SMA and is fixed in the right lower quadrant. Because of the counterclockwise nature of this intestinal rotation, the ascending colon and transverse colon lie to the right of the SMA. The hindgut (splenic flexure of the colon to the rectum) then fixes in the left hemi-abdomen and derives its blood supply largely from the inferior mesenteric artery (IMA).
Failure of this rotation and fixation results in the clinical condition termed malrotation, which covers a wide spectrum of rotational anomalies.
Complete nonrotation is characterized by the entire small bowel existing on the right side of the abdomen and the colon principally to the left. Partial malrotation involves the improper fixation of a single segment. Complete malrotation is thought to occur from a lax umbilical ring allowing the gut to return en masse to the abdomen. Because proper rotation does not occur, the root of the mesentery is not anchored in the left upper quadrant and the superior mesenteric artery and vein loosely suspend the entire bowel without fixation. This unfixed, narrow mesenteric pedicle predisposes the midgut and its tenuous blood supply to twisting or
volvulus.
If volvulus occurs, the blood supply to the midgut may be compromised, leading rapidly to ischemia and bowel infarction. The majority of patients with midgut malrotation are diagnosed in the first month of life but may be seen with decreasing frequency in the older child or, rarely, the adult.
50,
88
By definition, malrotation also exists in several anomalies, including gastroschisis, omphalocele, and congenital diaphragmatic hernia, because the midgut is trapped and cannot rotate and fix properly in these conditions.
Data Collection
HISTORY
Malrotation may manifest in the newborn simply as a proximal mechanical bowel obstruction caused by abnormal attachments, or Ladd's bands,
between the cecum and porta hepatis. These babies typically show some degree of
feeding intolerance
early on with or without bilious emesis. A more worrisome presentation of malrotation may arise should the bowel volvulize around its unfixed, narrow vascular pedicle. These babies present with an acute, high-grade proximal bowel obstruction. In a neonate who develops
midgut volvulus,
the first few days of life usually are unremarkable but then the baby develops
acute feeding intolerance and bilious emesis
in the absence of abdominal distention. If diagnosis is delayed, intestinal ischemia sets in and
the symptoms may progress rapidly to an acute abdomen and profound shock as a result of gangrenous bowel. Abdominal wall erythema and distention are usually present in advanced stages of intestinal ischemia and are ominous findings.
50,
78
Malrotation and Volvulus
The following are critical assessment findings for malrotation and volvulus:
• Abdominal radiograph suggestive of intestinal obstruction
• Acidosis, leukocytosis, and shock, suggestive of volvulus
SIGNS AND SYMPTOMS
The symptoms of nonvolvulized malrotation mimic those of duodenal stenosis or atresia, proximal jejunal atresia, or other conditions resulting in proximal intestinal obstruction. These babies develop
feeding intolerance
followed by
bilious emesis
and typically have a
scaphoid abdomen
on examination.
Midgut volvulus presents with a more sudden onset of signs, suggesting acute proximal intestinal obstruction.
If diagnosis is delayed, signs of intestinal ischemia become evident and include abdominal distention, lethargy, hypovolemic shock, and anuria.
The presence of bloody emesis or stools suggests intestinal ischemia with mucosal injury or necrosis.
In this setting, rapid diagnosis and prompt surgical intervention are essential to avoid extensive bowel loss or death. (See the
Critical Findings box
above.)
LABORATORY DATA
Plain abdominal radiographs
may show a dilated stomach and proximal duodenum or, rarely, pneumoperitoneum in the presence of advanced intestinal necrosis. However
, the definitive study is an upper gastrointestinal (UGI) series,
which shows both abnormal rotation of the duodenum (malrotation) and partial obstruction (from Ladd's bands) or complete obstruction with a bird's beak suggesting midgut volvulus. A contrast enema may show an abnormal location of the cecum but is not diagnostic alone of malrotation and provides no information about the presence or absence of midgut volvulus.
75
Laboratory data are generally unremarkable unless bowel ischemia is present, as suggested by leukocytosis, anemia, and metabolic acidosis.
Treatment
PREOPERATIVE CARE
Although distinguishing between symptomatic malrotation with obstruction (Ladd's bands) and volvulus in its early stages may be difficult, these conditions should be managed similarly. Gastric decompression, fluid resuscitation, correction of electrolyte and acid-base abnormalities, and parenteral antibiotics are instituted in the preoperative period. Emergent abdominal exploration should be considered in any infant with suspected or confirmed volvulus, because the bowel will be irreparably damaged in as little as 4 hours. In this setting, prompt surgical intervention with continued intraoperative resuscitation is indicated to maximize the chances for bowel salvage and survival.
OPERATIVE INTERVENTION
Operative correction of malrotation without midgut volvulus includes division of Ladd's bands (to relieve duodenal obstruction), correction of the malrotation (by placement of the small bowel in the right of the abdominal cavity and the colon on the left), broadening the base of the mesentery by dividing its peritoneum, and appendectomy (the appendix and cecum will reside in the left upper quadrant). This procedure is best performed via laparotomy, and a laparoscopic approach has limited utility in the newborn.
9
The long-term results of the laparoscopic approach remain to be elucidated.
50
Cases of nonrotation in the older child may be amenable to laparoscopic techniques.
If volvulus is present, the bowel is detorsed and allowed to reperfuse (
Figure 28-7
). Necrotic segments of bowel are resected and stomas created as indicated. In select instances, substantial resection may result in short bowel syndrome. In these cases, marginal intestine may be left in place rather than removed and a planned reoperation performed within 24 to 36 hours to reevaluate the need for additional bowel resection. The objective of a
second-look laparotomy
is to allow continued resuscitation and marginally viable intestine the necessary time to recover. Bowel that is not salvageable will become more obviously nonviable but should not have perforated in this short period. This approach is designed to minimize the amount of total intestine resected.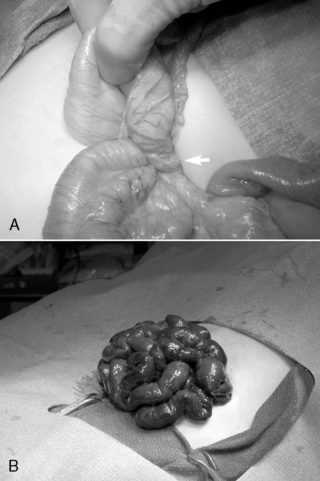 FIGURE 28-7
(Courtesy Dr. H. Lovvorn, Vanderbilt University Medical Center.)
Complications and Prognosis
Proximal obstruction related to Ladd's bands is corrected by the Ladd's procedure, and recurrent obstruction is rare. The risk for subsequent volvulus is greatly reduced with Ladd's procedure but is not entirely eliminated. Adhesive small bowel obstruction may occur later in life at the same rare incidence as after any other laparotomy.
The immediate postoperative care consists of nasogastric decompression and intravenous (IV) fluid therapy until the return of gastrointestinal function (4 to 6 days).
23
Conversely, the outcome after malrotation with midgut volvulus is predicated on the degree of intestinal resection.
48,
50
Midgut volvulus is a leading cause of
short bowel syndrome
in infants and may render the infant dependent on TPN if extensive intestinal necrosis has occurred.
INTESTINAL ATRESIA
Physiology and Etiology
Any segment of the bowel may be narrowed
(stenosis)
or become discontinuous
(atresia).
Duodenal atresia is the most commonly involved bowel segment, followed by ileum, jejunum, colon, and stomach.
17
Duodenal atresia
results from failure of vacuolization (5th to 6th week of gestation) and recanalization (8th to 10th week of gestation). A vascular accident or segmental volvulus occurring later in utero is thought to give rise to jejunal, ileal, or colonic atresia.
47,
66
Because duodenal atresia results from an early in utero event, a high incidence (30%) of anomalies may be associated and include trisomy 21, congenital heart disease, and VACTERL association.
24,
27,
61
Conversely,
intestinal atresia
occurs later in gestation and so is rarely associated with significant anomalies. Atresias are classified as membranes, fibrous cords, gap defect including mesentery, and "apple-peel" atresia.
84
Data Collection
HISTORY AND PHYSICAL EXAMINATION
Commonly, a history of maternal polyhydramnios may be provided and the affected neonate may appear small for gestational age (SGA). The more proximal the site of intestinal atresia, the more likely the history of maternal polyhydramnios. Newborns with a proximal atresia (duodenum or jejunum) present with early feeding intolerance and emesis and a scaphoid abdomen. Bilious emesis is present when the obstruction is distal to the ampulla of Vater, as is the case in approximately 85% of duodenal atresias. However, in 15% of cases, duodenal atresia occurs proximal to the ampulla of Vater and therefore the baby does not show bile-stained emesis or gastric aspirates.
The more distal the site of atresia and obstruction, the more likely that the infant will manifest significant
abdominal distention.
Babies with a distal intestinal atresia (ileum or colon) show typical features of a distal intestinal obstruction and develop abdominal distention often with visible intestinal loops.
66
If the atresia occurs early in gestation, the infant fails to pass meconium and only mucus is passed after birth. (See the
Critical Findings box
above.)
Intestinal Atresia
The following are critical assessment findings for intestinal atresia:
• Maternal polyhydramnios
• Emesis (nonbilious vs. bilious depending on location of atresia)
• Abdominal radiograph suggestive of intestinal obstruction
• Abdominal radiograph with "double bubble" suggestive of duodenal atresia
LABORATORY DATA
Initial evaluation of suspected duodenal atresia begins with a plain abdominal radiograph (flat and left lateral decubitus views), which classically shows a dilated, air-filled stomach and proximal duodenum in a pattern called the "double bubble" sign. A contrast study is not indicated unless air is present in the distal bowel, in which case malrotation with midgut volvulus cannot be excluded.
Abdominal radiographs that show multiple distended loops of bowel suggest a distal intestinal obstruction. In the setting of atresia of the small intestine or colon, abdominal radiographic images demonstrate dilation of intestinal segments proximal to the site of obstruction with absence of air in the distal bowel. For intestinal atresia distal to the duodenum, a contrast enema is generally performed and typically shows a microcolon or unused colon and no reflux of the contrast agent into the proximal bowel is observed.
Treatment
PREOPERATIVE CARE
Preoperative care includes orogastric tube decompression to reduce the risk of vomiting and aspiration, fluid resuscitation, and correction of electrolyte abnormalities. Preoperative antibiotics will be initiated.
OPERATIVE INTERVENTION
All forms of intestinal atresia require surgical correction to restore gastrointestinal tract continuity.
Duodenal atresia is repaired through a diamond-shaped end-to-end anastomosis of the proximal and distal duodenum, and care must be exercised to prevent injury to the bile and pancreatic ducts. Repair of duodenal atresia may be performed either through a standard transverse right upper quadrant incision or laparoscopically (
Figure 28-8
). Other intestinal atresias are generally repaired by a standard end-to-end anastomosis. The size disparity between the dilated proximal loop and the decompressed distal loop may require that the proximal bowel be tapered or partially resected or the distal bowel may be cut obliquely to allow anastomosis (
Figure 28-9
Buy Membership for Neonatal and Perinatal Medicine Category to continue reading.
Learn more here