CHAPTER 36 Motor Proteins
Molecular motors use ATP hydrolysis to power movements of subcellular components, such as organelles and chromosomes, along the two polarized cytoskeletal fibers: actin filaments and microtubules. No motors are known to move on the apolar intermediate filaments. Motor proteins also produce force locally within the network of cytoskeletal polymers, which transmits these forces to determine the shape of each cell and, ultimately, the architecture of tissues and whole organisms. Chapters 37 to 39 and 44 illustrate how motors move cells and their parts.
Just three families of motor proteins—myosin, kinesin, and dynein—power most eukaryotic cellular movements (Fig. 36-1 and Table 36-1). During evolution myosin, kinesin, and Ras family GTPases appear to have shared a common ancestor (Fig. 36-1), whereas dynein is a member of the AAA ATPase family (Box 36-1). Although the ancestral genes appeared in prokaryotes, and prokaryotes have homologs of both actin and tubulin, none of these motor proteins has been found in prokaryotes. Over time, gene duplication and divergence in eukaryotes gave rise to multiple genes for myosin, dynein, and kinesin, each encoding proteins with specialized functions. Even the slimmed down genome of budding yeast includes genes for five myosins, six kinesins, and one dynein. Table 36-1 lists other protein machines that produce molecular movements during protein and nucleic acid synthesis, proton pumping, and bacterial motility.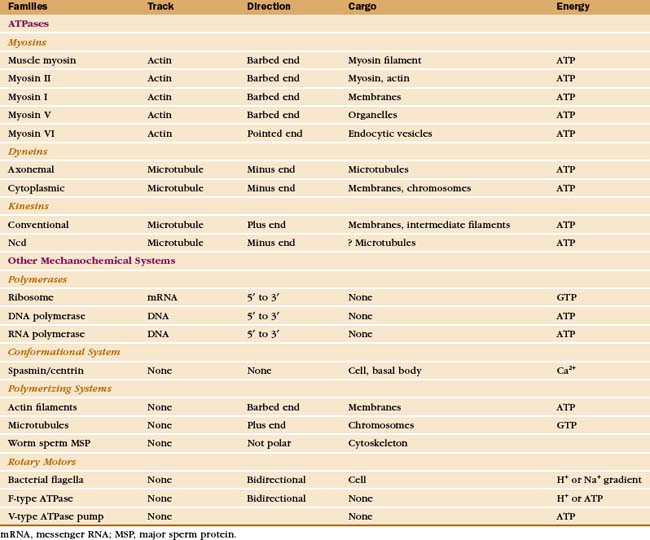 Motor proteins have two parts: a motor domain that utilizes adenosine triphosphate (ATP) hydrolysis to produce movements and a tail that allows the motors to self-associate or to bind particular cargo. Within the three families, the tails are more diverse than the motor domains, allowing for specialized functions of each motor isoform.
All motor proteins are enzymes that convert chemical energy stored in ATP into molecular motion to produce force upon an associated cytoskeletal polymer (Fig. 36-2). If the motor is anchored, the polymer may move. If the polymer is anchored, the motor and any attached cargo may move. If both are anchored, the force stretches elastic elements in the molecules transiently, but nothing moves, and the energy is lost as heat. Cells use all of these options (see Chapters 37to3839).
Biochemists originally discovered and purified these motors by means of enzyme activity or in vitro motility assays (Fig. 36-11). With the prototype enzymes identified, investigators found further examples and variant isoforms of each motor by purification of the proteins, molecular cloning of DNAs, genomewide DNA sequencing, or genetic screening.