Intravenous Regional Anesthesia*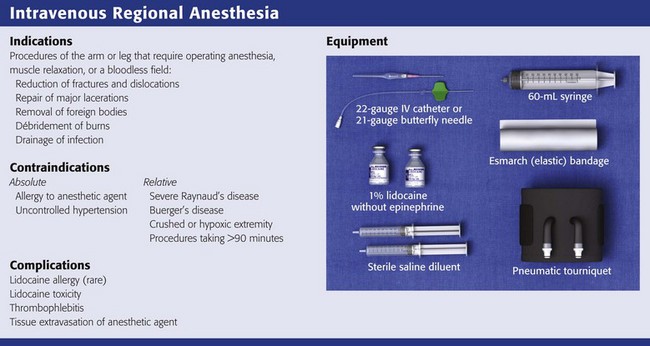 Review Box 32-1 Intravenous regional anesthesia: indications, contraindications, complications, and equipment. A double cuff tourniquet is shown. Not shown is a device required to provide continuous cuff pressure (see Fig. 32-2). Do not use a standard blood pressure cuff.
Clinical use of intravenous regional anesthesia (IVRA) has been well established as a safe,1–3 quick, and effective alternative to general anesthesia in selected cases requiring surgical manipulation of the upper and lower extremities. Though historically relegated to the operating room, the procedure is readily applicable to outpatient use. Because of its reliability, safety, and ease of use, it is now commonly used in the emergency department (ED) and clinic. In the ED, the technique provides quick and complete anesthesia, muscle relaxation, and a bloodless operating field. The procedure is free from the troublesome side effects associated with other regional blocks, such as the axillary block. The procedure is easily mastered and has a very low failure rate; consistently good results can be expected. Although not a standard requirement of ED personnel, this technique can be safely used by trained ED clinicians, including physician's assistants and nurse practitioners, and does not have to be administered by an anesthesiologist.3 The first practical use of analgesia associated with the intravenous (IV) injection of a local anesthetic agent was described by August Gustav Bier in 1908.4 Colbern has since proposed the eponym Bier block.5 Although the procedure has been in existence for many years, the need for special equipment and a safe anesthetic agent limited its use. However, the Bier block has now gained wide acceptance as a safe and effective procedure, and several papers extol its virtues.6–9 Even though complications do exist, no reported fatalities directly attributable to use of the Bier block with lidocaine have been reported. In this chapter the techniques and complications are discussed according to their application in the ED.