10
Early pregnancy care
Miscarriage is common, occurring in as many as 20% of all pregnancies. It is very upsetting for the parents and considerable sensitivity is required. Clinical management should ideally take place in an early pregnancy unit and be founded on two important principles:
1. Until the diagnosis of a non-continuing pregnancy is confirmed, a wait and see approach should be adopted, remembering that dates may be incorrect.
2. There should be a low threshold of suspicion for ectopic pregnancy. The absence of an ectopic pregnancy on ultrasound scanning does not mean that there is not an ectopic pregnancy.
Miscarriage can be defined according to the gestation or the weight of the fetus. The World Health Organization (WHO) definition is, 'the expulsion from its mother of an embryo or fetus weighing 500 g or less' (500 g is approximately the 50th centile for 20 weeks' gestation). The term 'abortion' has connotations of induced abortion and should not be used in connection with spontaneous pregnancy loss, where 'miscarriage' is appropriate.
In the UK, any pregnancy loss before 24 weeks is regarded as a miscarriage, and any fetus born dead at or after 24 weeks' gestation is registered as a stillbirth. If a fetus shows signs of life after delivery at any gestation but subsequently dies, the loss is registered as a live birth and subsequent neonatal death.
There is therefore a discrepancy between the legal definition used in the UK and the internationally accepted definition. Because of the rapid advances in neonatal intensive care and the survival of babies born at 23 weeks, most modern epidemiological studies follow the WHO guideline and confine the definition to losses occurring before 20 weeks.
A threatened miscarriage is where bleeding occurs but the pregnancy may be continuing, whereas in an inevitable miscarriage, there is bleeding and the pregnancy is not continuing. The cervix may be dilated.
The diagnosis should be confirmed by ultrasound scan unless the patient is clinically shocked and requires immediate surgery. The management depends on the scan findings, irrespective of cervical findings.

incomplete: passage of some, but not all, of the pregnancy tissue

complete: all pregnancy tissue has been expelled from the uterus

delayed/missed (silent): where the fetus has died in utero before 24 weeks but has not been expelled; 'anembryonic pregnancy' is a type of 'missed' miscarriage, in which embryonic development fails at a very early stage in the pregnancy

septic: a complication of incomplete miscarriage or therapeutic (sometimes illegal) abortion, when intrauterine infection occurs

recurrent: three or more consecutive miscarriages.
As noted above, the incidence of miscarriage is about 20% and is highest in early pregnancy, but falls to < 1% after the end of the first trimester. Evidence from studies of chorionic gonadotrophin (hCG) assays in very early pregnancy and from assisted conception units suggests that rates of very early miscarriage may be as high as 50–60%.
The incidence of miscarriage has been shown to increase with maternal age, rising by a factor of 10 after the age of 40 years compared with before 35 years. Overall, however, when the fetus is found to be viable on an ultrasound scan, the chance of a successful outcome is high (< 5% risk of miscarriage once fetal heart seen).
This knowledge is important for parental counselling. Only a very few women have a specific recurring cause and it is reasonable to reassure the couple that the outlook for future pregnancies is good. A woman experiencing a first miscarriage does not necessarily have an increased risk of miscarriage in her next pregnancy.
There are a number of conditions recognized as causing sporadic and/or recurrent miscarriage.
About half of all clinically recognized first-trimester losses are chromosomally abnormal, with 50% of these being autosomal trisomy; 20% 45XO monosomy; 20% polyploidy and 10% with various other abnormalities. In second-trimester miscarriage, the incidence of chromosomal abnormality is lower, at about 20% overall.
Approximately 15% of women who are investigated for recurrent miscarriage (three or more consecutive pregnancy losses) are found to be positive for lupus anticoagulant, antiphospholipid antibodies or both. Untreated, they have a subsequent rate of fetal loss approaching 70–80%. Effective treatment can be provided with low-dose aspirin and low-molecular-weight heparin. These antibodies are also associated with arterial and venous thrombosis, fetal growth restriction, pre-eclampsia and thrombocytopenia, and this should be borne in mind for later pregnancy management. The lupus anticoagulant is not synonymous with systemic lupus erythematosus (SLE), being present in only 5–15% of patients with SLE.
It is possible that recurrent miscarriage is caused by some immunological problem at the interface between trophoblastic cells and maternal cells, although the exact nature of this proposed problem has not been clearly elucidated. There has been interest in endometrial NK cells (natural killer cells) which were originally thought to be the cause of miscarriage, but a more recent hypothesis suggests that they might have a role in rejecting abnormal embryos and allowing the normal ones to thrive. Inadequate NK function would result in increased fertility (which is not uncommon in recurrent miscarriage) but also increased loss of embryos that do not make it beyond a certain point because of their abnormality. There is a suggestion that steroids may be of benefit in treating this condition however further research is required.
Women with polycystic ovary syndrome have an increased incidence of both sporadic and recurrent miscarriage and, although this has been attributed to high circulating levels of luteinizing hormone in the follicular phase of the cycle, there is no evidence of any effective therapy. Inadequate luteal function has been reported in association with recurrent miscarriage in 20–60% of cases, but there is no convincing evidence to support the use of artificial progestogens.
In women with diabetes mellitus who have poor control around the time of conception, the incidence of miscarriage is high at around 45%. Women whose control is good are no more likely to have a miscarriage than those who do not have diabetes. There is no clear association between thyroid dysfunction and miscarriage, unless this is poorly controlled.
Structural uterine anomalies, such as bicornuate or septate uteri, may cause miscarriage, but this is by no means certain. Uterine fibroids may also interfere with early pregnancy growth, but the extent to which they cause miscarriage is difficult to determine because of other associated factors, such as age, hormonal dysfunction and subfertility.
Any serious maternal infection causing high fever at any time in pregnancy may adversely affect the fetus and lead to pregnancy loss. There are also a number of specific maternal infections, such as rubella and cytomegalovirus, which cross the placenta and affect the placenta and fetus. Such congenital infection in early pregnancy may lead to miscarriage, as well as to later fetal abnormality and neonatal illness. Malaria, trypanosomiasis, mycoplasma, Listeria monocytogenes and syphilis have also all been implicated in early pregnancy loss. These are unlikely to cause recurrent loss.
Cigarette smoking, both active and passive, and high alcohol consumption are associated with slightly higher rates of sporadic and recurrent miscarriage.
At least 50% of miscarriages, either sporadic or recurrent, have no identifiable cause.
There is usually a history of bleeding per vaginam (p.v.) and lower abdominal pain. The passage of tissue is sometimes reported (Fig. 10.1). The bleeding can vary from being life-threateningly severe, requiring urgent and aggressive resuscitation to the smallest brown spotting.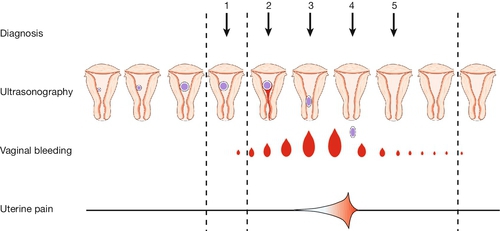 Fig. 10.1Clinical and ultrasound features of a miscarriage.
Buy Membership for Obstetrics & Gynecology Category to continue reading.
Learn more here