Bartonella spp. were previously grouped with members of the family Rickettsiales. However, because of extensive differences, the family Bartonellaceae was removed from this order. As a result of phylogenetic studies using molecular biologic techniques, the genus Bartonella currently includes 22 species and subspecies, most of which were reclassified from the genus Rochalimeae and from the genus Grahamella. Only five species are currently recognized as major causes of disease in humans (Table 33-1), but other members of the genus have been found in animal reservoirs such as rodents, ruminants, and moles. Bartonella spp. are most closely related to Brucella abortus and Agrobacterium tumefaciens and are short, gram-negative, rod-shaped, facultative intracellular, fastidious organisms that are oxidase negative and grow best on blood-enriched media or cell co-culture systems.
TABLE 33-1
Organisms Belonging to the Genus Bartonella and Recognized to Cause Disease in Humans*
| | | | |
| --- | --- | --- | --- |
| Organism | Habitat (Reservoir) | Mode of Transmission | Clinical Manifestation(s) |
| Bartonella alsatica | Rabbits | Unknown; fleas or ticks suspected | Humans accidental hosts |
| B. bacilliformis | Uncertain; humans; possibly cats and dogs | Fleas and sandflies | Carrión's disease* |
| B. quintana | Uncertain; small rodents, gerbils, humans | Human body louse and fleas | |
| B. henselae | Domestic cats | Domestic cats and dogs; bites or scratches, fleas | |
| B. clarridgeiae | Domestic cats | Domestic cat; bites or scratches and fleas | |
| B. elizabethae | Rats | Fleas | Endocarditis |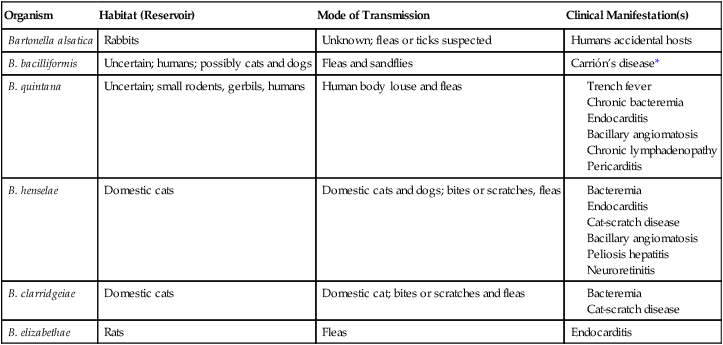 Note: Other Bartonella species have caused incidental infections in humans, but only one or a few cases have been documented.
*Disease confined to a small endemic area in South America; characterized by a septicemic phase with anemia, malaise, fever, and enlarged lymph nodes in the liver and spleen, followed by a cutaneous phase with bright red cutaneous nodules, usually self-limited.