Haemophilus spp. can be isolated from most clinical specimens. The collection and transport of these specimens are outlined in Table 5-1, with emphasis on the following points. First, Haemophilus spp. are susceptible to drying and temperature extremes. Therefore, specimens suspected of containing these organisms should be inoculated to the appropriate media immediately. Specimens susceptible to contamination with normal flora such as a lower respiratory specimen should be collected by bronchioalveolar lavage. In cases of pneumonia or cerebrospinal fluid (CSF) infection or suspected infection of any other normally sterile body fluid, blood cultures should also be collected.
Second, the recovery of H. ducreyi from genital ulcers requires special processing. The ulcer should be cleaned with sterile gauze moistened with sterile saline. A cotton swab moistened with phosphate-buffered saline is then used to collect material from the base of the ulcer. To maximize the chance for recovering the organism, the swab must be plated to special selective media within 10 minutes of collection.
Gram stain is generally used for the direct detection of Haemophilus in clinical material (Figure 32-1). However, in some instances the acridine orange stain (AO; see Chapter 6 for more information on this technique) is used to detect smaller numbers of organisms that may be undetectable by gram staining.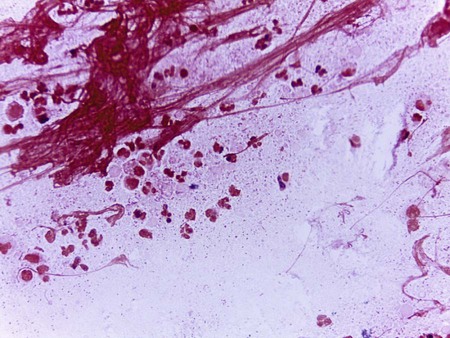 To increase the sensitivity of direct Gram stain examination of body fluid specimens, especially CSF, specimens may be centrifuged (2000 rpm for 10 minutes) and the smear is prepared from the pellet deposited in the bottom of the tube. Most laboratories are now equipped with a cytocentrifuge (10,000 × g for 10 minutes) used for concentration of specimens. This is highly recommended over traditional centrifugation for non-turbid specimens. This concentration step can increase the sensitivity of direct microscopic examination from five to tenfold. Moreover, cytocentrifugation of the specimen, in which clinical material is concentrated by centrifugation directly onto microscope slides, reportedly increases sensitivity of the Gram stain by as much as 100-fold (see Chapter 71 for information on infections of the central nervous system).
Gram stains of the smears from clinical specimens must be examined carefully. Haemophilus spp. stain a pale pink and may be difficult to detect in the pink background of proteinaceous material often found in clinical specimens. Underdecolorization may result in misidentification of H. influenzae as either Streptococcus spp. or Listeria monocytogenes.
H. influenzae appears as pleomorphic coccobacilli or small rods, whereas the cells usually appear as long, slender rods. H. haemolyticus are small coccobacilli or short rods with occasional cells appearing as tangled filaments.
H. parainfluenzae produce either small pleomorphic rods or long filamentous forms, whereas H. parahaemolyticus usually are short to medium-length bacilli. Aggregatibacter aphrophilus is a very short bacillum but occasionally are seen as filamentous forms. H. ducreyi may be either slender or coccobacillary. Traditionally, H. ducreyi cells are described as appearing as "schools of fish." However, this morphology is rarely seen in clinical specimens.
Table 32-3 presents Haemophilus influenzae and H. parainfluenzae biotypes.