Here, n, the number of transections, is calculated by counting the number of transections of alveoli in a field of known area, and ρ, the volumetric density of alveoli, is computed by measuring linear intercepts or point counting (9). β is the "shape coefficient," a variable that relates the mean cross-sectional area of a solid to its volume. In case of polyhedral alveoli, β was estimated to be 1.55 by Weibel.
Timeline of Alveolarization by Morphometry
Studies using morphometric techniques to evaluate the timeline of formation of new alveoli in children were conducted three to five decades ago. Weibel (20) estimated the total number of alveoli (NA) in five subjects (including an 8-year-old boy and a 16-year-old woman) who died of nonrespiratory causes. The estimated NA in the two young people was nearly the same as that in the adults (296 × 106 as against 294 × 106). Dunnill (10) examined the lungs of ten children (birth to 8 years) who were term born and died of nonrespiratory causes and compared them with adult lungs. He found that NA increases with age rapidly at first and then gradually up to at least 8 years of age. By eight years of age the average number of alveoli (280 million) approached the average number in an adult (296 million). Davies and Reid (21) counted NA in lungs of 5 children who died of nonrespiratory causes from birth to eleven years. The alveolar count increased rapidly from birth (17.3 × 106) to three years (196 × 106) and then gradually increased to 303 × 106 at five years and 336 × 106 at eleven years.
Angus and Thurlbeck (22), in their study of forty-six subjects (14 subjects less than 19 years and 32 adults) attempted to determine the endpoint of human alveolarization by morphometry. They recognized the large scatter of NA in human lungs. They postulated that the number of alveoli per unit volume (NA/V) will not change during alveolar multiplication and then decrease rapidly when alveolarization ceases. Using this approach, they could not demonstrate a time point where alveolarization ceased. They noted that alveolar multiplication contributed more to increase in lung volume with growth than alveolar enlargement.
Hislop et al. (23) examined the lungs of twenty-nine infants from twenty-nine weeks of gestation to eighteen weeks of postnatal life. The aim of this study was to determine the early life increase in alveolar number. NA increased rapidly from about 20 million at twenty-nine weeks of gestation to 288 million at twelve weeks of age. The rate of increase was fastest in fetal life. According to this study, NA/V increased up to term and then decreased. This implies that alveolarization proceeds more rapidly than lung volume growth up to term and less rapidly after birth.
Thurlbeck (11) did the most influential study regarding human alveolarization to date. He estimated NA/V and NA in the lungs of fifty-six children (age: 6 wks–14 y) dying of nonrespiratory causes using Weibel's technique. These morphometric measures were compared with age, body length, and body weight. Results show wide scatter in NA in different individuals of similar age. Analysis was performed after grouping individuals by age and estimating the average NA for each age range. Average NA in the two- to four-year-olds was found to be similar to that of the seven- to eight-year-olds, and therefore, he concluded that alveolarization was complete by two years of age.
Zeltner and Burri (13) examined alveolar microstructure using scanning and transmission electron microscopy in the lungs of seven children dying from nonrespiratory causes. Many alveolar septae in the seventeen-month-old infant's lungs were immature with a double capillary layer, while those in the sixty-four-month-old showed mature septae, which were thinner and contained a single capillary layer. They postulated that microvascular maturation in alveolar septae takes place at the age of two to three years and contributed to the hypothesis that neo-alveolarization was not possible after this process was complete (14,24).
Drawbacks of the Technique of Morphometry
Practical Difficulties
As briefly alluded to in the introduction, the investigator faces a number of difficulties in attempting to count the number of alveoli in the human lung. First of all, by virtue of the elastic nature of the lung, it is prone to collapse when taken out of the thoracic cavity, and thus volumetric information is lost in lung biopsy specimens. Furthermore, unless properly fixed, a thin section of the lung distorts the architecture. To perform structural analysis of the periphery of the lung, the specimen must first be fixed by instillation of fixative through the airways or the blood vessels (2). Therefore a complete lung or lobe is necessary to prepare samples for lung structure by morphometry. This, clearly limits the availability of lung specimen to postmortem specimen.
Attempting to assess alveolar number in childhood using morphometric analysis is problematic because lung specimens from healthy childhood are difficult to acquire, both because of the inherent low mortality rate in children over five years of age and because of the high incidence of respiratory morbidity and mortality associated with available specimens. In addition, changes in law have made it increasingly difficult to access pathologic specimens for research.
Assessment of peripheral lung development ideally requires serial measures in the same lung. The reliance on autopsy specimen means that serial measures of the anatomy of the lung periphery is not possible. Alveolarization was instead studied by calculating the alveolar numbers in different individuals, which introduced the problem of interindividual variability. Also, determining factors influencing growth and development of the lung periphery has only been possible by using animal models and surrogate markers.
Technical Issues
There have been numerous technical advances in the science of morphometry since Weibel's pioneering work (19). These advances have surmounted various technical issues in morphometry. It is beyond the scope of this chapter to explore these in detail, but the reader is referred to the review by Weibel et al. (25), the published scientific debate between experts in the field (26–30), and the official policy statement of American Thoracic Society/European Respiratory Society for quantitative assessment of lung structure (2). I have detailed here some important issues that need to be understood for the evaluation of the published work on human alveolarization.
Compiling the results of the studies exploring alveolarization in children, it is evident that there is a wide variance between studies in both the measured alveolar number and the estimated age of completion of alveolarization (Figure 13-1). The preparation of pathologic specimen is markedly different in different studies. For example, Davies et al. (21) inflated lungs with buffered formalin at 75 cm water pressure, Angus and Thurlbeck (11,22) used inflation pressures of 25 cm water, while Weibel (20)used formalin steam instilled at pressures of 5–10 cm water while the lung was kept inflated by negative pressure. It follows that the degree of alveolar inflation will be different between studies. Despite this, several authors (10,11) have used Weibel's value of 1.55 for the shape coefficient, β (see earlier), despite β being dependent on the relation between surface area and volume.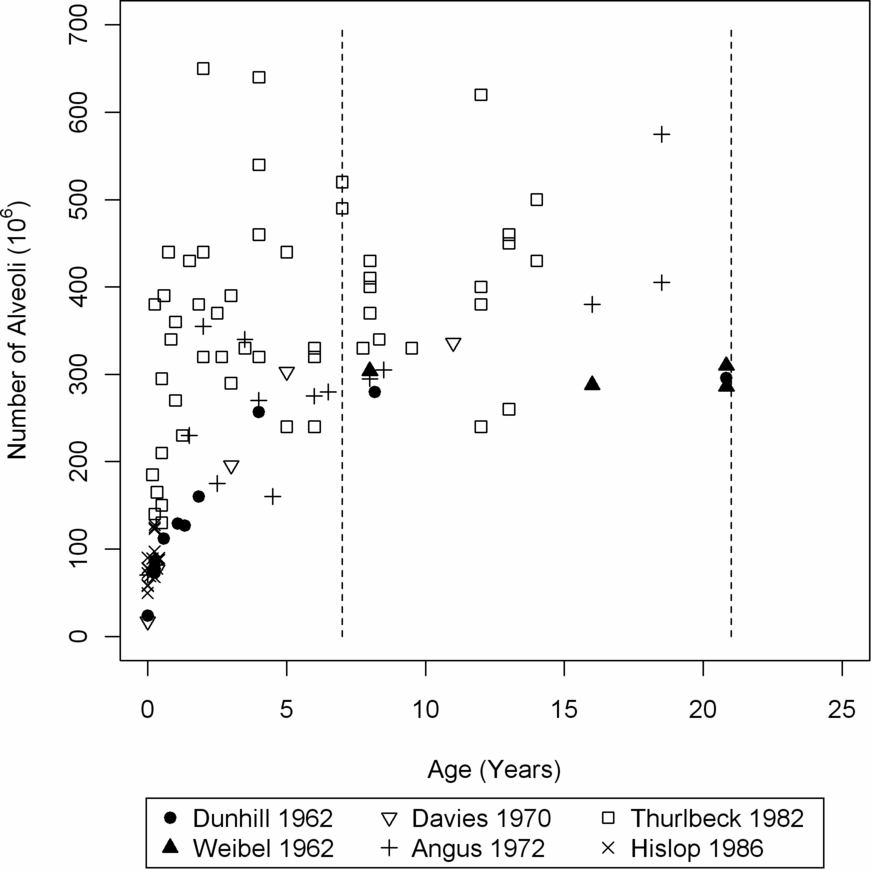 Reprinted with permission of the American Thoracic Society. From Narayanan M et al. Alveolarization continues during childhood and adolescence: new evidence from helium-3 magnetic resonance.
Am J Respir Crit Care Med.
2012 Jan 15;185(
2
):186–191. Official Journal of the American Thoracic Society. Copyright © 2014 American Thoracic Society.
Another limitation of the studies using morphometric techniques to determine endpoint of alveolarization is that the same inflation pressure was used to inflate lungs of children in different age groups. It has been noted that the range of lung volumes at which fixation occurs is between 50 and 70% of total lung capacity, with the actual value set by individually varying compliance of the thorax (31). This may change the relative degree of inflation of alveoli between the subjects, with a strong likelihood of bias (it is likely that compliance varies with age). The pronounced intersubject scatter (11,22) may also be partially explained by this phenomenon. The assumptions that the shape coefficient, β, and the distribution coefficient of alveoli (i.e., a coefficient relating to standard deviation of the size of individual alveoli) do not vary with age may also be flawed and may lead to a variability of about 20% and 10%, respectively in the results (11).
Measurements by classical morphometry were done on a very small sample (between 1:100000 to 1:1000000) of the alveoli (27). It is essential, in these circumstances, to ensure randomization of sampling. This has been achieved with newer morphometric techniques [e.g., design-based stereology as described by Hyde et al. (32,33)]. Unfortunately, the newer techniques (2) have not been used to determine the endpoint of alveolarization in humans.
New Histological Techniques to Determine Alveolar Number
Techniques that surmount the pitfalls mentioned have been developed following the development of the science of stereology and the description of the "disector" by Sterio (34). It is not the remit of this chapter to discuss this technique in detail, but interested readers are referred to excellent reviews on the subject (25,35,36). In brief, the process of counting the number of particles in a specimen starts by successively dividing the fixed specimen into blocks, from which a random number of blocks are selected. The selected blocks are then oriented in a random manner before subdivision into subblocks. A random fraction of these subblocks is then selected, and the process is repeated until sections that can be assessed under a microscope can be prepared. At this stage, random sets of two contiguous sections are assessed, viz., the "sampled section" and the "look-up section" (36). The number of particles that appear in the sampled section, but not the look-up section is calculated, and the number is then summed over all the sampled sections (Q). The number of particles in the whole specimen can then be calculated from Q and the fraction of the specimen assessed under the microscope. In case of counting alveoli in lung specimen, the fact that each alveoli have a single distinct opening is utilized in determining the so-called Euler characteristic of the network of alveolar openings in the periphery of the lung (37,38). It is clear that this technique does not require any assumption of shape or orientation of the alveoli and does not depend on the degree of inflation of the lung (25).
Nonhistologic Techniques to Determine Alveolar Dimensions
Alveolarization Until Maturity in Animals
Many recent studies conducted in animals have suggested that new alveoli may continue to form throughout the period of lung growth and even in adulthood. Many of these utilize the new histologic technique mentioned earlier.
Alveolarization Until Maturity in Humans