Wrist
The wrist, or carpus, contains eight carpal bones that, as a group, act as a functional "spacer" between the forearm and hand. In addition to numerous small intercarpal joints, the wrist consists of two primary articulations: the radiocarpal and midcarpal joints (Figure 7-1). The radiocarpal joint is located between the distal end of the radius and the proximal row of carpal bones. Just distal to this joint is the midcarpal joint, joining the proximal and distal rows of carpal bones. The two joints allow the wrist to flex and extend and to move from side to side in motions called radial and ulnar deviation. The nearby distal radio-ulnar joint is considered part of the forearm complex rather than the wrist because of its role in pronation and supination (see Chapter 6).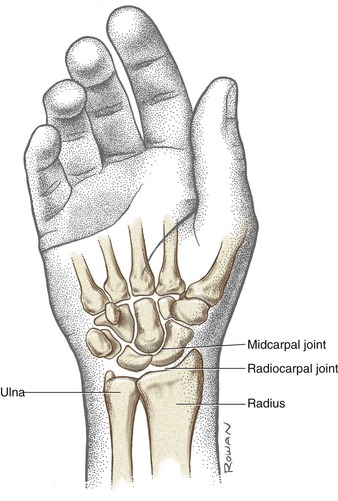 FIGURE 7-1. The bones and major articulations of the wrist.
The position of the wrist significantly affects the function of the hand. This is because many muscles that control the digits originate extrinsic to the hand, with their proximal attachments located in the forearm. A painful, unstable, or weak wrist often assumes a position that interferes with the optimal length and passive tension of the extrinsic musculature, thereby reducing the effectiveness of grasp.
Several new terms are introduced here to describe the relative position, or topography, within the wrist and the hand. Palmar and volar are synonymous with anterior; dorsal is synonymous with posterior. These terms are used interchangeably throughout this chapter and the next chapter on the hand.