Kinesiology of Walking
Walking (ambulation) serves an individual's basic need to move from place to place and is therefore one of the most common activities that people do on a daily basis. Ideally, walking is performed both efficiently, to minimize fatigue, and safely, to prevent falls and associated injuries.188 Years of practice provide a healthy person with the control needed to ambulate while carrying on a conversation, looking in various directions, and even handling obstacles and other destabilizing forces with minimal effort.
Although a healthy person makes walking seem effortless, the challenge of ambulation can be recognized by looking at individuals at both ends of the lifespan (Figure 15-1). Early in life, the young child needs 11 to 15 months to learn how to stand and walk.67,180 Once on their feet, children will refine their gait so that it visually resembles a mature adult walking pattern by 4 to 5 years of age,26,172,178,179,180 with further refinement taking place over possibly several more years.* Late in life, walking often becomes an increasingly greater challenge. Because of decreased strength, decreased balance, or disease, the elderly may require a cane or walker to ambulate safely. Patla144 eloquently expressed the importance of ambulation in our lives: "Nothing epitomizes a level of independence and our perception of a good quality of life more than the ability to travel independently under our own power from one place to another. We celebrate the development of this ability in children and try to nurture and sustain it throughout the lifespan."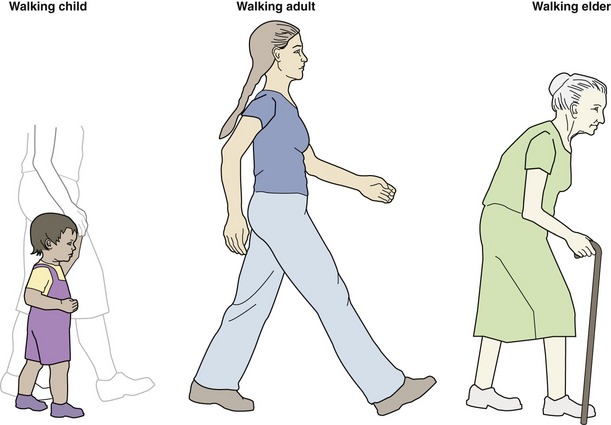 FIGURE 15-1. Walking at various stages in life.
This chapter provides a description of the fundamental kinesiologic characteristics of walking. Unless indicated otherwise, the information provided refers to individuals with a normal and mature gait pattern, walking on level surfaces at a steady average speed. Although this chapter provides enough details to be read independently of the rest of this book, reading Chapters 12 to 14 will facilitate an even greater understanding of walking.
The observation of walking, which is the focus of this chapter, provides information on the outcome of a complex set of "behind the scenes" interactions between sensory and motor functions. For a person to walk, the central nervous system must generate appropriate motor actions from the integration of visual, proprioceptive, and vestibular sensory inputs. Although this chapter covers the intricacy of limb and muscular actions performed during walking, it does not cover the concept of motor control. To gain a greater understanding of the complexity of the motor control of walking, the reader is advised to examine other sources on the topic.*