Chapter 350 Viral Hepatitis
Viral hepatitis continues to be is a major health problem in both developing and developed countries. This disorder is caused by at least 5 pathogenic hepatotropic viruses recognized to date: hepatitis A, B, C, D, and E viruses (Table 350-1). Many other viruses (and diseases) can cause hepatitis, usually as 1 component of a multisystem disease. These include herpes simplex virus (HSV), cytomegalovirus (CMV), Epstein-Barr virus (EBV), varicella-zoster virus, HIV, rubella, adenoviruses, enteroviruses, parvovirus B19, and arboviruses (Table 350-2).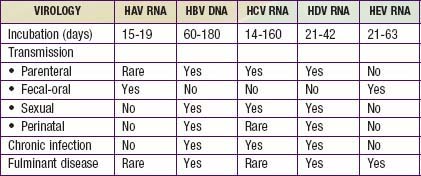 The hepatotropic viruses are a heterogeneous group of infectious agents that cause similar acute clinical illness. In most pediatric patients, the acute phase causes no or mild clinical disease. Morbidity is related to rare cases of acute liver failure (ALF) triggered in susceptible patients and to the chronic disease state and attendant complications that three of these viruses (hepatides B, C, and D) can cause.