Valvular Heart Disease in Critical Care
The profile of valvular heart disease in the critical care setting has evolved substantially over the past several decades. Aortic stenosis, mitral insufficiency, and aortic insufficiency are the most common valve diseases seen in the intensive care unit, but hypertrophic obstructive cardiomyopathy and mitral stenosis remain important entities as well. Patients with valvular heart disease in critical care units typically fall into one of two categories: (1) those who are critically ill because of valvular dysfunction or (2) those in whom valvular disease represents an important comorbid condition. Many patients present without prior diagnosis of heart valve disease, either because the progression has been insidious and the disease not previously diagnosed or because the onset has been acute. Improvements in technology and the ubiquitous availability of echocardiography have improved diagnosis, while clinician skills at integrating physical examination and other data have generally atrophied during this same time frame.
Rheumatic heart disease accounted for 50% or more of admissions for heart disease in the first half of the twentieth century, with congenital heart disease representing the other major indication for valve surgery through the 1960s.1 With evolving technology and an increase in average life expectancy, heart valve surgery has shifted to valve repair, as well as replacement for a variety of acquired valvulopathies. The therapeutic armamentarium, once limited to minimal supportive medical therapy, then solely to valve replacement, has expanded to a variety of surgical repair techniques; a multitude of tissue and mechanical valve options for replacement; and, most recently, an expanding set of percutaneous interventions including percutaneous valve implantation and repair. In addition, various mechanical devices for temporary hemodynamic support are important adjuncts to the management of patients with valvular heart disease in the critical care setting.
Diagnosis of valvular heart disease in critical care units is challenging, with lack of a quiet environment for auscultation; comorbid conditions that affect physical findings; and stress, infection, or metabolic abnormalities that result in tachycardia and shorter intervals for evaluation of heart sounds. Patients in a low output state have softer heart sounds and murmurs as well. In addition, clinical reliance on physical examination has fallen, as has the ability to make accurate diagnosis of valve disease.2 A delay in recognizing the presence of significant valve dysfunction continues to occur frequently, and some patients who have had prior routine medical outpatient care nevertheless present with undiagnosed valvular heart disease.3 The currently accepted thresholds for mild, moderate, and severe valvular heart disease are shown in Table 32.1.
Table 32.1
Classification of Severity of Valvular Heart Disease Based on ACC/AHA Guidelines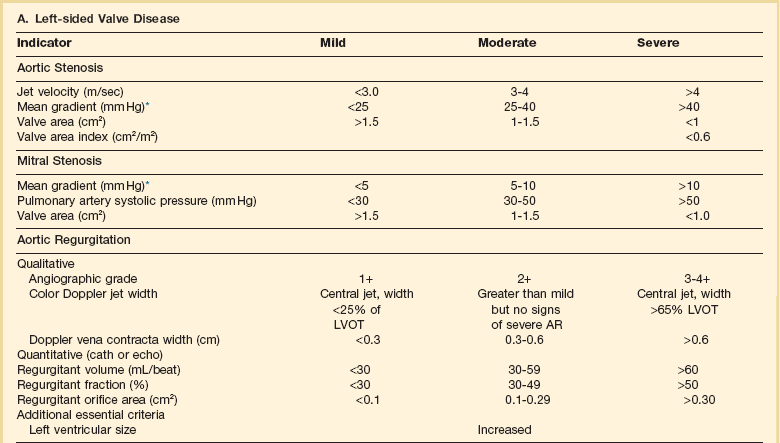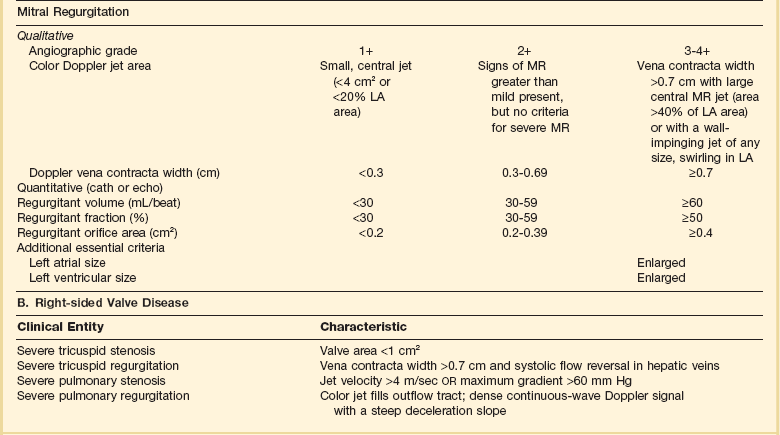 ACC/AHA, American College of Cardiology/American Heart Association; AR, aortic regurgitation; cath, catheterization; echo, echocardiography; LA, left atrial/atrium; LVOT, left ventricular outflow tract; MR, mitral regurgitation.
*Valve gradients are flow-dependent and when used as estimates of severity of valve stenosis should be assessed with knowledge of cardiac output or forward flow across the valve.
Modified from Bonow RO, Carabello BA, Chatterjee K, et al: ACC/AHA 2006 guidelines for the management of patients with valvular heart disease: A report of the American College of Cardiology/American Heart Association Task Force on Practice Guidelines (writing committee to revise the 1998 guidelines for the management of patients with valvular heart disease) developed in collaboration with the Society of Cardiovascular Anesthesiologists and endorsed by the Society for Cardiovascular Angiography and Interventions and the Society of Thoracic Surgeons. J Am Coll Cardiol 2006;48:e1-148.