Figure 24-1
Schematic illustrations of the types of genome aberrations found in human cancers. 18
Table 24-1
Cancer Gene Census Summary
| | | |
| --- | --- | --- |
| Aberration Type | Number of Aberrations | Examples of Prominent Affected Genes |
| Amplification | 16 | ERBB2, EGFR, MYCN, MDM2, CCND1 |
| Frameshift mutation | 100 | APC, RB1, ATM, MLH1, NF1 |
| Germline mutation | 76 | BRCA1/2, TP53, ERCC2, RB1, VHL |
| Missense mutation | 141 | ARID1A, ATM, PIK3CA, IDH1, KRAS |
| Nonsense mutation | 92 | CDKN2A, FANCA, PTCH, PTEN |
| Other mutation | 26 | BRAF, PDGFRA, PIK3R1, SOCS1 |
| Splicing mutation | 63 | GATA3, MEN1, MSH2, TSC1 |
| Translocation | 326 | ABL1, ALK, BCL2, TMPRSS2, MYC |
For more details see www.sanger.ac.uk/genetics/CGP/Census.
One important observation from many genomic studies is the existence of recurrent molecular features that allow cancers that occur in specific anatomic regions to be organized into subtypes. The subtypes likely arise in distinct cell types within each tissue and are different diseases that differ in clinical outcome and/or response to therapy. Early genomic studies relied on expression patterns for cancer subtype definition, but current strategies use multiple data types (e.g., genome copy number, mutation, and expression) for subtype definition. Interestingly, epithelial and mesenchymal subtypes appear to be present in tumors that are of epithelial origin. The mesenchymal-like cancers tend to be more rapidly proliferating and motile and associated with reduced survival duration. Some tumor types show remarkably high transcriptional similarity, for example, in triple-negative breast cancer and high-grade serous ovarian cancers.
6
Many genomic aberrations also appear in multiple tumor subtypes. Some of the most common aberrations observed in multiple tumor types include amplifications of MYC and EGFR, deletion of CDKN2A and PTEN, and mutation of TP53 and PIK3CA. For a more comprehensive assessment, Kim and colleagues summarize recurrent genome copy number aberrations in 8000 cancers.
20
Efforts are now under way to combine data types (e.g., expression, genome copy number, and mutations) to increase the number of subtypes in order to increase the precision with which patients can be stratified according to outcome and/or therapeutic response.
21
Of course, this divides cancers into increasingly smaller subpopulations, so very large numbers of samples are needed to establish subtype differences in treatment response or overall outcome.
Table 24-2
Candidate Cancer Hallmark–Associated Aberrant Genes
| | |
| --- | --- |
| Cancer Hallmark | Aberrant Gene |
| Resisting cell death | BCL2, BAX, FAS |
| Genome instability and mutation | TP53, BRCA1/2, MLH1 |
| Inducing angiogenesis | CCK2R |
| Activating invasion and metastasis | ADAMTSL4, ADAMTS3 |
| Tumor-promoting inflammation | IL32 |
| Enabling replicative immortality | TERT |
| Avoiding immune destruction | HLA loci, TAP1/2, B2M |
| Evading growth suppressors | RB1, CCND1, CDKN2A |
| Sustaining proliferative signaling | KRAS, ERBB2, MYC |
| Deregulating cellular energetics | PIK3CA, PTEN |
The number of aberrations that are present in an individual tumor can be remarkably high. The somatic mutation rate in human cancers varies between cancer types from about 0.1 to 10 mutations per megabase,
22,23
but individual tumors may carry as few as a hundred to more than a million somatic aberrations. High genomic instability occurs because of loss of telomere function during progression in the absence of telomerase,
24,25
diminished DNA repair capacity resulting from genomic and epigenomic deregulation of DNA repair pathways,
26
increased damage resulting from oncogene-induced
oxidative stress,
27
and toxic environmental exposures.
28,29
In some cases, the exact DNA sequence change in a mutation reflects the type of agent that causes the cancer—for example, mutations in sun-related cancers show CC to TT mutations caused by UV-induced cytosine dimers, whereas smoking-induced cancers in the lung are characterized by G→T transversions caused by the polycyclic aromatic hydrocarbons in tobacco smoke.
30,31
Ultimately, the functions and/or expression levels of hundreds to thousands of genes may be altered in an individual tumor. An unknown number of these will be drivers. Among these, some will have a strong, possibly dominant influence on an individual tumor, whereas others may have a more modest or near-negligible impact. So far, most attention in the field has focused on the strong drivers. However, it seems likely that the ensemble of aberrations will have to be taken into account in explaining the overall behavior of an individual tumor, which is addressed in a later section.
The same drivers of genome instability that enable tumor development also operate during tumor progression. As a result, individual tumors become increasingly heterogeneous as distinct clonal populations within the tumor evolve in diverse microenvironments, producing highly branched lineages. For example, events that enable metastasis may occur late during the genetic evolution,
32
whereas mutation of TP53, a key player in genome stability, can be an early event.
33
These instabilities and the resultant intratumor heterogeneity in an individual tumor are likely responsible for the rapid evolution of therapeutic resistance. This heterogeneity complicates clinical decision making because the importance of a low-frequency but actionable aberration remains unclear. One possible way forward is to focus treatment on aberrations that occur early during tumor development. The order in which aberrations occur can be inferred by examining a tissue at various stages of disease progression
34
by serial sampling of clinical tissue from individual patients,
18
by computational methods that examine mutation frequency,
35–37
or in some cases by analysis of the interactions between mutations and copy-number abnormalities.
33
Functional Assessment of Cancer Genomes
Transforming cancer genomic data into interpretable knowledge consists of finding the parts and learning how they work together to enable aspects of cancer pathophysiology. Hypothesis-driven research has gone quite far in this process, but full understanding will require systematic analysis, both computational and experimental, of the aberrations that occur within a tumor genome.
Computational Approaches
Computational strategies to identify candidate driver aberrations begin with the cataloging of all aberrations and then move to the selection of high-priority candidate drivers.
Cataloging Approaches
Integrating Information
A central challenge in cancer genomics today is in distinguishing the causal components of disease from the effects of the disease, or even more importantly from the random aberrations that occur during progression and are carried along by chance association with driver mutations. Suites of tools have been developed to answer these key questions.
The major focus of efforts such as TCGA and ICGC has been to identify the recurrently mutated genes in specific cancer types. For example, in serous ovarian cancer 95% of all tumors have point mutations in
TP53
. Statistics are not needed for the average scientist to decide that
TP53
is a critical gene. In most cases, however, the process for deciding if a gene is recurrently mutated in a specific tumor type is much more complicated, even after one has identified the mutations. First, not all genes are of the same length; longer genes should have more mutations by chance if mutations are equally likely at each position. Failure to control for gene size often leads to the identification of genes encoding long proteins such as Titin, whose coding sequence is 100 times longer than that of the average human gene. Second, mutations within a tumor type are not evenly split among all possibilities. For example, tumors caused by UV light will show high rates of C→T mutations in general, especially at CC dinucleotides. Further, we now know that mutations are not randomly distributed over the genome. For example, regions of the genome near late replication forks can have mutation rates 10 times higher than the average rate. Without accounting for this, many genes will be identified as showing more mutations than expected by chance when in fact they do not.
49
Identifying driver genes based on patterns of recurrence is partly about understanding the mutagenic processes as a whole and performing appropriate statistical tests to incorporate them.
5,6
Many genes have hotspots where mutations occur preferentially. For example, mutations in the
HRAS
gene have a bias to alter the 12th amino acid to valine from glycine. When these events occur repeatedly, similar statistics for overall mutation rate can be used, but instead constrained for a specific event. Thus, with far fewer examples, a specific gene mutation can be associated with cancer because of the increased power from decreasing the search space. Similarly, mutations that are clustered in a specific protein domain can be identified. Finally, if a variant has been found in one tumor type—for example, the canonical
KRAS
mutations found in
50% of melanomas—then when they occur in other tumor types, it is parsimonious to assume that they are oncogenic there as well even if they are rare.
At least a dozen methods have now been developed to identify genes (or sets of genes) that are selected by altering copy number changes. The principles for the detection of these genes are simple even if the implementations differ. First, copy number data are segmented to identify the locations of copy number change points using an algorithm such as CBS.
50
Once segmented, the data are normalized and germline copy number differences compared to the reference are removed. Finally, the data are analyzed to locate the genetic elements that are present in copy number aberrations more likely than expected by chance (e.g., STAC
51
). Copy number aberrations are thought to follow two distinct distributions: broad events that cover whole (or nearly whole) chromosome arms, and narrow events targeting much smaller regions (often fewer than 10 genes).
52
These software tools provide a list of the genes and chromosome arms that are frequently included in both broad and narrow events across many tumors. Although specific types of tumors have specific biases for (or against) specific genes/chromosome arms, many copy number aberrations are present in a diverse set of tumor types.
20
Methods to identify structural changes in the genome increasingly are based on the application of genome sequencing to both ends of genomic clones or fragments. The ends of each clone are then mapped onto a representation of the normal genome sequence. Structural aberrations are inferred when the paired ends of a clone map too close (signaling a deletion) or too far (signaling an insertion or translocation) along the genome. This approach was initially proposed for analysis of cloned sequences
53
but has become routine with the advent of massively parallel sequencing.
44
Once individual events are identified, standard statistical principles are then used to estimate the likelihood of seeing similar aberrations more frequently than expected by chance.
Organization into Pathways
A major challenge in cancer genomics is to understand how the ensemble of driver aberrations in an individual tumor influences its clinical and biological behavior. The remarkable genomic heterogeneity that exists in individual tumors can be managed to some extent by mapping aberrations onto pathways that influence the development of cancer hallmarks. The goal of these approaches is to reduce a dauntingly large number of functional genomic aberrations by mapping these onto a manageably small number of important pathways. Several approaches have been developed to organize omic information in ways that enable identification of pathways. We discuss gene-set enrichment approaches, pathway enrichment methods, and newer approaches that extend the repertoire of tools for pathway identification.
In summary, pathway- and network-based approaches represent a highly active area of current research in the analysis of cancer genomics datasets. New methods are still sorely needed to use the results of these approaches in a worthwhile effort to translate the findings to patient treatment. For example, the networks identified by these approaches could provide important insights into "Achilles' heel" attack points for cancer cells. We therefore need methods that can predict how a tumor might respond to a drug by simulating manipulations on such networks. An important antecedent to this, of course, is to prove that the networks capture enough of the salient features of a patient's tumor for it to be used as an "avatar" for in silico testing.
Experimental Approaches
The computational approaches just described attempt to predict functional genes based on their frequency, association with behavior, activation of pathways, and so forth. However, such approaches are limited by the number of samples available for computational assessment, the high heterogeneity within and between human tumors, and our imperfect understanding of the regulatory mechanisms that govern normal and malignant cell behavior. Thus, they serve to generate hypotheses that guide experimental validation in laboratory models.
Tumor Intrinsic Assessments
Interaction with the Microenvironment
Much of cancer genomics research focuses on the tumor-intrinsic effects generated by aberrations in the tumors as discussed earlier. However, it is now apparent that the cancer-inducing functions of these aberrations are modified by signals from the microenvironments in which the cancer cells reside. Early research by Bissell and colleagues demonstrated that some extracellular microenvironments can counter the cancer-associated phenotypes generated by genomic aberrations
108
; Folkman and colleagues demonstrated the key role that angiogenesis plays in cancer progression.
109
Since then an explosion of research has illuminated many ways in which the microenvironment can affect aspects of cancer progression. These studies of the tumor-microenvironment interaction have been reviewed recently by Coussens and Hanahan.
110
They suggest that three general classes of cells from the microenvironment modulate cancer behavior in important ways: angiogenic vascular cells (AVCs), infiltrating immune cells (IICs), and cancer-associated fibroblastic cells (CAFs) as illustrated in
Figure 24-2
. They further suggest that the effects of these microenvironments influence aspects of cancer cell behavior including proliferation, growth, cell death, replicative immortality, inducing angiogenesis, energy metabolism, invasion, and metastasis. It is also apparent that the microenvironment influences responses to therapeutic agents—for example, by rendering cancer cells dormant so that they do not respond to cell-cycle active agents or by activating signaling therapy pathways. A challenge for the future will be to determine how diverse microenvironments experienced by metastatic cells influence the biological behavior of these cells—especially their responses to therapeutic interventions. Several model systems are now being developed to facilitate the study of the microenvironment on cancers. These include three-dimensional matrigel cultures,
111,112
two-dimensional systems engineered to carry many different proteins and growth factors from diverse microenvironments,
113,114
xenografts engineered to mirror important aspects of the human stroma,
115
and genetically engineered mice that model specific tumor intrinsic and extrinsic properties.
116
Clinical Applications
Diagnosis and Detection
The manner in which normal tissue changes to malignant at the omic level is now being documented for a variety of
cancers by international efforts. These efforts will provide the basis for improved precision in cancer diagnosis and will show that most tumor types can be divided into subtypes that vary in outcome and often in response to therapy. For example, breast cancer tumors have been treated according to estrogen receptor status and according to whether HER2 is amplified for more than a decade. The advent of transcriptional profiling enabled breast cancers to be divided into six major transcriptional groups,
117,118
and adding information about genome copy number allows the definition of 10 subtypes.
119
Adding information about recurrent mutations or functional mutations will further subdivide these groups. Some of the associations with outcome are so strong that changes in cancer management practices have resulted. For example, several commercial assays that measure expression levels of multiple genes are now marketed that predict therapeutic benefit in breast cancer patients.
120–122
Since then, potentially useful diagnostic signatures have been developed for many cancer types including leukemia
123,124
and colorectal,
125
pancreatic,
126
and lung cancer.
127
More recently, expression levels of noncoding RNAs have been proven prognostic in cancers of the colon,
128
lung,
129
and bladder.
130
In some cases, these signatures are cancer type specific and as a result can be used to classify cancers of unknown origin.
131,132
Although most of these diagnostic signatures focus on molecular events that arise in the cancer, some reflect molecular features of the environments in which the tumors reside—for example, molecular signatures that originate in invading immune cells that influence tumor outcome.
133,134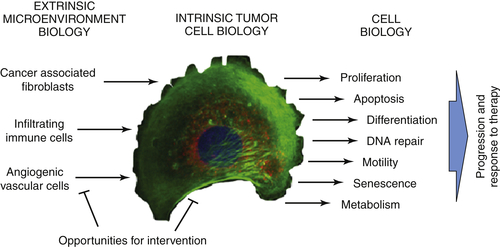 Figure 24-2
Interactions between tumor intrinsic and extrinsic features that influence cancer cell behavior and clinical outcome.
Cell image provided by Juha Rantala.

Figure 24-3
Schematic illustration of a genome-based approach to early cancer detection.

IHC,

Immunohistochemistry;

MRI,

magnetic resonance imaging;

PET,

positron emission tomography.
The identification of molecular features that are unique to cancers and associated with poor outcome also provides the basis for the development of assays that may identify cancers at high risk of progressing to metastatic disease at a time before they have metastasized so that they can still be treated successfully. Development of such assays would improve outcomes in patients afflicted with cancers of high metastatic potential and would reduce overtreatment of patients with low propensity for recurrence. These assays likely will be composed of a tiered combination of blood-based, anatomic, or histopathological assays with increasing sensitivity, specificity, and cost as illustrated in
Figure 24-3
.
Blood-based assays to date have focused on the detection of cancer-specific proteins and are low cost but also relatively low in sensitivity and specificity. Assays of prostate-specific antigen (PSA) for prostate cancer and CA-125 for ovarian cancer are prototypical, but omic analyses are now revealing a wide range of cancer-specific changes in gene expression and/or splicing that might increase the specificity of these tests. For example, powerful mass spectrometry techniques and computational analyses of genomic changes
are revealing increasing numbers of cancer-specific proteins that may be detected in blood.
135,136
In addition, it is now apparent that the ongoing process of tumor cell death leads to the appearance of tumor DNA fragments or microRNAs in peripheral blood or urine. Some of these tumor-derived DNA fragments carry aberrations such as mutations, translocations, and changes in methylation that are unique or very specific to the tumor. As a consequence, sensitive blood-based assays are now being developed to detect the presence of these sequences as an indication of the presence of cancer. Recent examples include an epigenetic marker panel for detecting lung cancer using cell-free serum DNA,
137
analysis of mutations in DNA isolated from plasma and stool of cancer patients,
138,139
detection of translocations as an indication of cancers of the prostate
140
or ovary,
141
and detection of genome copy-number changes as an indication of the presence of metastatic breast cancer.
139
Anatomic cancer detection strategies based on the detection of specific molecular species using positron emission tomography (PET) and magnetic resonance imaging (MRI) are now being developed to enable the detection of cancer-specific genomic features. This requires the development of contrast reagents that make tumors and the aberrant microenvironments they produce visible when the tumors are still small and locally contained.
142
Genome profiling studies are revealing molecular features that are unique to early cancers. A variety of contrast reagents that target these are now being developed. These include reagents for the detection of estrogen receptor
143
and PSA
144
; a range of nanoparticles carrying affinity molecules that detect cancer-associated proteins
145–147
; and molecular features associated with cancer-associated stroma.
148
Histological assessment of tissue samples taken from cancerous lesions has long been the gold standard for cancer detection and diagnosis. However, routine analyses of tissue sections stained with hematoxylin and eosin (H&E) currently do not provide sufficient information to distinguish between lesions of high and low malignant potential. Genome studies such as those described earlier are increasingly able to define molecular features associated with the most aggressive malignant lesions. This information is fueling the development of multiplex immunohistochemical assays and/or histologically targeted genomic assays that are better able to identify lesions at high risk of progressing.
149,150
These same assays also offer the potential of detecting isolated cancer cells that might be otherwise missed during an assessment of H&E-stained sections.
Therapeutic Targets and Predictive Markers
Summary
International efforts are now defining the genomic and epigenomic landscapes of most major tumor types. The first set of cross-tumor (a.k.a. "Pan-Cancer") studies are now emerging to help delineate core and lineage-specific contributors of the disease.
160
These studies are revealing a few strong driver aberrations in each cancer type and many—sometimes thousands—of aberrations of unknown consequence. Much work remains to determine which of these contribute to the pathophysiology of each cancer type, but it is already clear that these analyses will have a profound effect on the way most cancers are managed. Aspects of cancer management that will benefit include early detection of the most lethal cancers, identification of recurrently aberrant genes and networks for high-priority therapeutic attack, and development of molecular markers that predict response to gene- or network-targeted therapies.
1. Bhat K.P. et al. The transcriptional coactivator TAZ regulates mesenchymal differentiation in malignant glioma . Genes Dev . 2011 ; 25 : 2594 – 2609 .
2. Cancer Genome Atlas Research Network . Comprehensive genomic characterization defines human glioblastoma genes and core pathways . Nature . 2008 ; 455 : 1061 – 1068 .
3. Cancer Genome Atlas Research Network . Integrated genomic analyses of ovarian carcinoma . Nature . 2011 ; 474 : 609 – 615 .
4. Cancer Genome Atlas Network . Comprehensive molecular characterization of human colon and rectal cancer . Nature . 2012 ; 487 : 330 – 337 .
5. Cancer Genome Atlas Research Network . Comprehensive genomic characterization of squamous cell lung cancers . Nature . 2012 ; 489 : 519 – 525
Buy Membership for Hematology, Oncology and Palliative Medicine Category to continue reading.
Learn more here