CHAPTER 121 Tumors of the Small Intestine
Neoplasms can arise from any of a wide range of epithelial and nonepithelial cells of the small intestine. Adenomas and adenocarcinomas arise from glandular mucosa; carcinoid tumors originate from argentaffin cells; lymphomas develop from clonal proliferation of lymphocytes; and GISTs have been identified as originating from the interstitial cells of Cajal, which help control the motility of the intestine and have elements of both smooth muscle and neural differentiation.11 Leiomyomas arise from smooth muscle cells in the muscularis propria or muscularis mucosa, can be intra- or extraluminal, and account for about 40% of benign intestinal neoplasms. Leiomyomas with more than two mitoses per high-power field are reclassified as leiomyosarcomas. Lipomas represent approximately 20% of benign small bowel neoplasms, are most commonly intraluminal, and are found in the ileum; they rarely bleed, but they can obstruct or intussuscept (Fig. 121-3).12 The remainder of benign neoplasms include desmoid tumors (see Chapter 122) and hemangiomas (see Chapter 36).
Small intestinal adenocarcinoma is staged using the TNM system as shown in Tables 121-1 and 121-2. Subtypes of this cancer include adenocarcinoma in situ, mucinous adenocarcinoma, signet cell carcinoma, squamous cell carcinoma, adenosquamous cell carcinoma, small cell carcinoma, medullary carcinoma, and undifferentiated carcinoma.
CATEGORY
DESCRIPTION
Tumor (T)
Tx
Primary tumor cannot be assessed
T0
No evidence of primary tumor
Tis
Carcinoma in situ
T1
Tumor invades lamina propria or submucosa
T2
Tumor invades muscularis propria
T3
Tumor invades through muscularis propria into subserosa
T4
Tumor invades through visceral peritoneum or directly invades other organs or structures
Regional Lymph Nodes (N)
Nx
Regional lymph nodes cannot be assessed
N1
No regional lymph node metastases
N2
Regional lymph node metastases
Distant Metastases (M)
Mx
Distant metastases cannot be assessed
M1
No distant metastases
M2
Distant metastases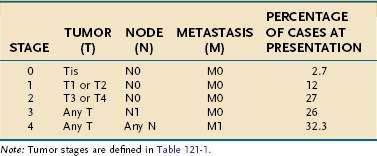 Typical patterns of distribution are seen with benign lesions of the small intestine just as with malignant lesions. The most common benign tumor is the adenoma, which can be found throughout the small intestine but is slightly more common in the duodenum and ileum. Adenomas account for about 30% of all benign small intestinal neoplasms. They are more likely to be polypoid in the ileum and sessile and villous in the duodenum. Villous adenomas tend to be somewhat larger and often occur in the second portion of the duodenum; 40% to 45% can have pathologic features of malignancy.
Benign lesions of the small intestine can often be removed by endoscopic means, after being localized using some or all of the methods described later. Techniques for resection and destruction include snare polypectomy, endoscopic mucosal resection (EMR), and argon plasma coagulation. Early duodenal cancers also have been removed using EMR with good results. Because the duodenal wall is thin, the risk of perforation with EMR is high; careful submucosal injection of the duodenum is recommended before removing a duodenal lesion.13 Two studies have shown EMR to be safe and effective, with the potential of reducing the need for surgical intervention for these relatively rare conditions.14,15
Table 121-3 shows the variety of tumors that can arise in the small intestine.
Non-Epithelial Benign Tumors
Non-Epithelial Malignant Tumors
Malignant Lymphomas
* GIST may be a benign or malignant tumor, although all GISTs have malignant potential (see Chapter 29).