Objectives

Be sure to check out the bonus material, including free self-assessment exercises, on the Evolve web site at
evolve.elsevier.com/Urden/priorities/.
Trauma is a leading cause of death for all age groups younger than 44 years. Injury costs the United States hundreds of billions of dollars annually. It is one of the most pressing health problems in the United States today.
Injury as a result of trauma is no longer considered to be an accident. The term motor vehicle accident (MVA) has been replaced with motor vehicle crash (MVC), and the term accident has been replaced with unintentional injury. A program for prevention, recognition, and treatment of intimate partner violence is described in Box 25-1.
Clinicians working with trauma patients, however, are uniquely poised to impact the person who presents to the trauma center following a traumatic event that may be related to drugs or alcohol. The American College of Surgeons Committee on Trauma recommends that all patients presenting to a trauma center be screened for alcohol use and history that could have contributed to the traumatic event that brought them to the trauma center.1 The program of alcohol screening, brief interventions, and recommendations for rehabilitation (SBIRT) reduces recidivism and cost for trauma care.2 There are several alcohol use screening tools available, including the Alcohol Use Disorders Identification Test (AUDIT), and the CAGE tool, which is an acronym for Cut down, Annoyed, Guilty, Eye opener morning alcoholic drink. The AUDIT is outlined in Table 25-1.
TABLE 25-1
AUDIT ALCOHOL SCREENING QUESTIONNAIRE
| | |
| --- | --- |
| QUESTION | SCORE* |
| 1. How often do you have a drink containing alcohol? | Never |
| 2. How many standard drinks containing alcohol do you have on a typical day when drinking? | |
| 3. How often do you have six or more drinks on one occasion? | |
| 4. During the past year, how often have you found that you were not able to stop drinking once you had started? | |
| 5. During the past year, how often have you failed to do what was normally expected of you because of drinking? | |
| 6. During the past year, how often have you needed a drink in the morning to get yourself going after a heavy drinking session? | |
| 7. During the past year, how often have you had a feeling of guilt or remorse after drinking? | |
| 8. During the past year, have you been unable to remember what happened the night before because you had been drinking? | |
| 9. Have you or someone else been injured as a result of your drinking? | |
| 10. Has a relative or friend, doctor or other health worker been concerned about your drinking or suggested you cut down? | |
| Total Points | |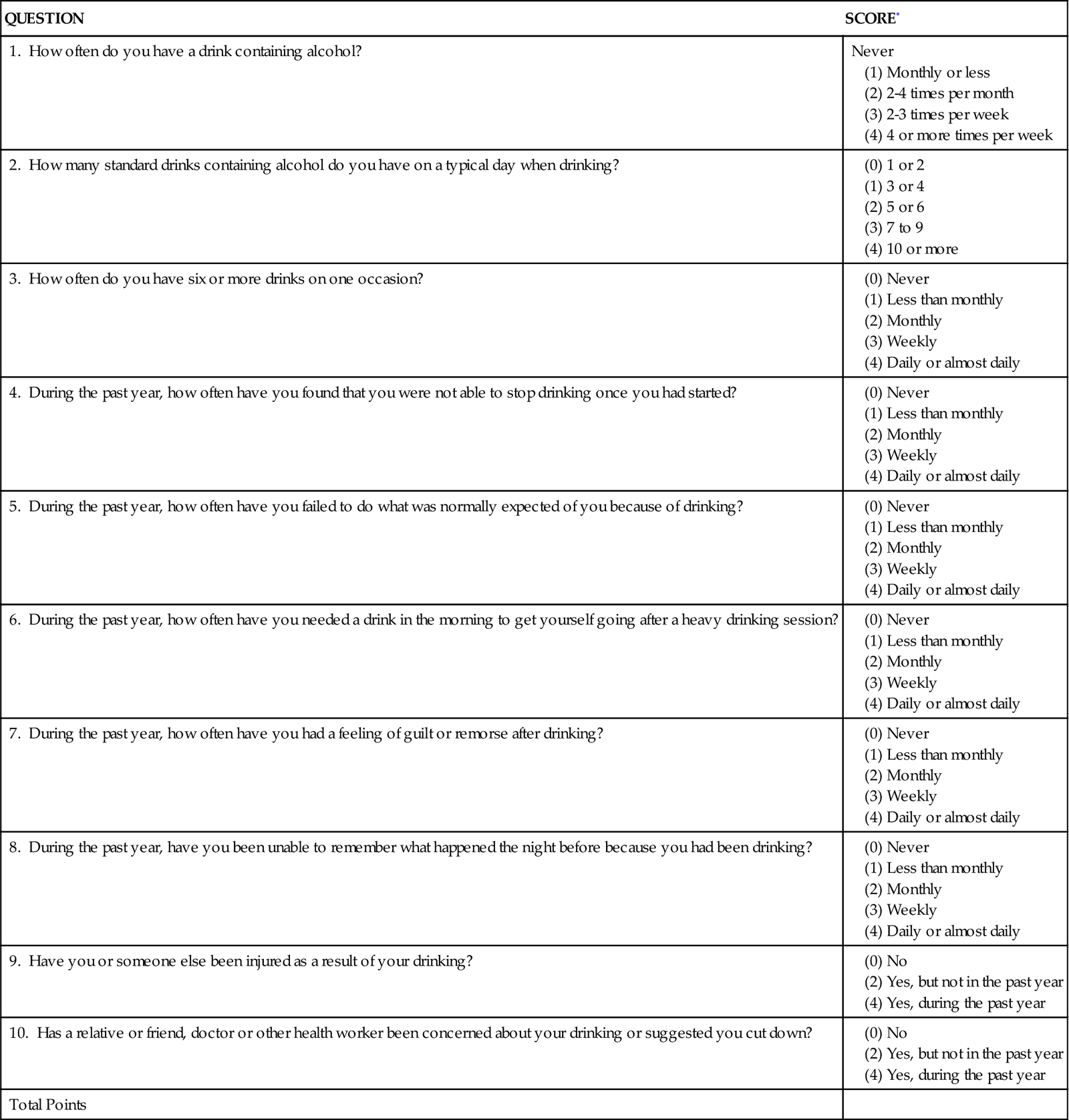 *Scores for each question range from 0 to 4, with the first response for each question (never) scoring 0, the second (less than monthly) scoring 1, the third (monthly) scoring 2, the fourth (weekly) scoring 3, and the fifth response (daily or almost daily) scoring 4. For the last two questions, which only have three responses, the scoring is 0, 2, and 4. A score of 8 or more is associated with harmful or hazardous drinking, and a score of 13 or more by women or 15 or more by men is likely to indicate alcohol dependence.
A patient who screens positive is recommended to undergo "brief interventions" for alcohol use. Brief interventions are by their very name short and are based upon motivational interviewing. Once a rapport is built with the patient, the following motivational-style interview questions may be used:3 1) What is a typical day like for you on a day when you drink? 2) How important is it to you to make a change in your drinking? 3) How confident are you that you can make a change? 4) What do you like and dislike about your drinking habits? 5) How would your life be different if you were to change your drinking? 6) What are some of the most important things to you? These questions serve to help the patient dichotomize the impact of drinking, both positively and negatively.
Major advances have been made in the management of patients with traumatic injuries. This chapter reviews selected critical care nursing management of patients with traumatic injuries.