Chapter 34
Teaching Visual: The Importance of the Peripheral Blood Smear
Objectives

Describe the value of preparing and examining a peripheral smear.

List important diagnoses that can be suggested by visual abnormalities of red blood cells (RBCs), WBCs, and platelets on the peripheral smear.
The peripheral blood smear is the often-neglected foundation of the evaluation of a patient with any cytopenia or blood dyscrasia. One would not think of evaluating a patient with chest pain without looking at the electrocardiogram or a patient with cough and fever without looking at the chest radiograph. With hematologic abnormalities there is too often a reliance on numbers and automated results.
This chapter will familiarize the reader with the blood smear in conditions where it is particularly useful. It will provide an understanding of the normal appearance of the different types of WBCs as well as the normal and important abnormal appearances of RBCs. As demonstrated, the ability to perform a quantitative evaluation of platelets on the peripheral smear is an important skill in evaluating the patient with thrombocytopenia.
While detailed and complex analysis of blood smears is the role of the hematologist, a fundamental knowledge of the use of this diagnostic tool will benefit any clinician.
Specific to the evaluation of WBCs, a normal peripheral smear should contain a spectrum of mature leukocytes, including lymphocytes, monocytes, neutrophils, eosinophils, and basophils.
Lymphocytes constitute 20% to 25% of the total circulating leukocytes. They are characterized by a clumped acentrically located nucleus and thin rim of blue cytoplasm. Lymphocytes are larger than erythrocytes and are typically 8 to 10 µm in diameter. Atypical lymphocytes are differentiated by a larger cytoplasm. They are often observed in the setting of viral infections (e.g., infectious mononucleosis).
Neutrophils are the most numerous of the WBCs and are characterized by a three- to four-lobed nucleus and a pink granular cytoplasm. They develop in a systematic fashion from myeloblast, the most immature form, to promyelocyte to myelocyte to metamyelocyte to band form to mature neutrophil. However, only band forms and mature neutrophils are normally present in the peripheral smear. Neutrophils are among the first cells to appear in acute bacterial infections.
Connect the dots outlining the band form in Figure 34-1.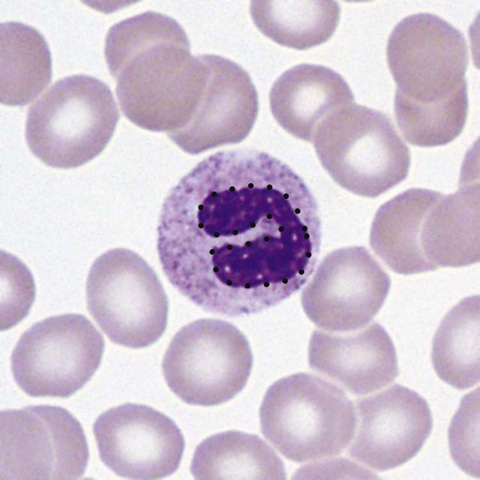 Recognize that this is the immature form of the neutrophil. Its presence in the smear may be a clue to systemic infection, even if the total WBC count is not increased.
Eosinophils constitute less than 5% of all circulating WBCs. They are characterized by orange granules and a bilobed nucleus. Eosinophilia can be seen in allergic states and parasitic infections.
Basophils are the least common of the WBCs. They contain prominent dark-blue to black granules and an S-shaped nucleus. Basophilia can occur in myeloproliferative disorders, hypersensitivity reactions, hypothyroidism, and infection.
Monocytes are the largest of the circulating blood cells and are characterized by a large, acentric, kidney-shaped nucleus that typically has a "moth-eaten" appearance. They remain in circulation for only a few days before migrating into connective tissue, where they differentiate into macrophages.
Buy Membership for Internal Medicine Category to continue reading.
Learn more here