Selected Hereditary Diseases
Dawn H. Siegel, Kari L. Martin, Jennifer L. Hand
Approach to the child with a genetic skin condition
To effectively care for an affected newborn and provide information for anxious parents, an organized diagnostic approach is essential. The physical exam requires special attention to ectodermal involvement by assessing the hair, teeth, nails, palms and soles of the feet. Moving beyond the skin, a child should be examined for dysmorphic features, associated major or minor congenital anomalies and accompanying illness. Results of a newborn hearing screen and pediatric ophthalmology exam are often valuable. Finally, a detailed family history including ethnic background and miscarriage history is beneficial. After gathering clinical information, superb resources are available online to consider diagnostic possibilities. One example is Online Mendelian Inheritance in Man (OMIM; www.ncbi.nlm.nih.gov/omim).
OMIM is maintained by the National Center for Biotechnology Information (NCBI) and can be searched using a list of the clinical features in an affected patient. Each disorder is assigned a number based on broad categories such as inheritance pattern. 'GeneTests' (www.ncbi.nlm.nih.gov/sites/GeneTests) and a separate database, 'GeneReviews'1 offers a frequently updated list of internationally available DNA-based genetic tests and concise, yet comprehensive overviews of selected disorders. For effective coordination of testing and advising the patient about the complexities of genetic testing and reproductive options, the GeneTests site provides a database of genetics services that is searchable by country and province or state. Increasingly, individual mutations that cause familial genetic disorders are recognized to affect important regulatory pathways. This chapter highlights pathways that are particularly important to growth and development of the skin.
Disorders of the RAS-MAPK pathway (RASopathies)
Several genetic skin disorders are caused by mutations in genes in the RAS-MAPK signaling pathway (Fig. 29.1) and have been coined the 'RASopathies'.2 The RASopathies include neurofibromatosis-1 (NF-1), NF-like syndrome (Legius syndrome), Noonan syndrome, Noonan with multiple lentigines (formerly LEOPARD syndrome), cardiofaciocutaneous syndrome, Costello syndrome, capillary malformation–arteriovenous malformation (see Chapter 22), and hereditary gingival fibromatosis (Table 29.1). Neurofibromatosis and Legius syndrome are also discussed in Chapter 24.
TABLE 29.1
Comparison of the clinical features of the RASopathies
NF-1
Cardiofacio-cutaneous syndrome
Costello syndrome
Noonan syndrome
Multiple lentigines syndrome
Capillary malformation- arteriovenous malformation
Gene

NF1

BRAF, MEK1, MEK2, KRAS

HRAS

PTPN11, SOS1, KRAS, NRAS, RAF1, SHOC2, CBL

and

BRAF

PTPN11, RAF, BRAF

RASA1

Dermatologic features
Café-au-lait macules
Intertriginous freckling
Neurofibromas
Plexiform neurofibroma
Ulerythema ophryogenes
Keratosis pilaris
Melanocytic nevi
Infantile hemangiomas
Papillomata of the nose and perianal region
Palmoplantar hyperkeratosis
Redundant skin on the hands and feet
Acanthosis nigricans
Congenital lymphedema
Café-au-lait macules
Keratosis pilaris (most common with

SOS1

mutations)
Lentigines
Café noir patches
Capillary malformations
Arteriovenous malformations of the brain, spine, skin, muscle and bone
Cardiac features
Uncommon
Pulmonic stenosis
Hypertrophic cardiomyopathy
Pulmonic stenosis
Hypertrophic cardiomyopathy
Pulmonic stenosis
Hypertrophic cardiomyopathy
EKG abnormalities
Pulmonic stenosis
Hypertrophic cardiomyopathy
Rare
Tumor predisposition
Yes:
Optic glioma
Hematologic malignancies
Meningioma and other brain cancers
Malignant peripheral nerve sheath tumor
Pheochromocytoma
Rare:
Possible risk for ALL and lymphoma
Yes:
Malignant solid tumors
(rhabdomyosarcoma, neuroblastoma, transitional cell carcinoma of the bladder)
Rare:
Hematologic malignancies
Rare:
Hematologic malignancies
Rare:
Possible increased risk for neural tumors
Other
Lisch nodules
Learning disability
Pseudoarthrosis
Macrocephaly
Sphenoid wing dysplasia
Renal artery stenosis
Hypertension
Failure to thrive (severe)
Developmental delay
Failure to thrive (mild)
Developmental delay
Sociable, outgoing personality
Low posterior hairline
Webbed neck
Pectus excavatum
Bleeding tendency
Short stature
Ocular hypertelorism
Sensorineural hearing loss
Short stature
Risk for intracranial and spinal arteriovenous malformation
Parkes–Weber syndrome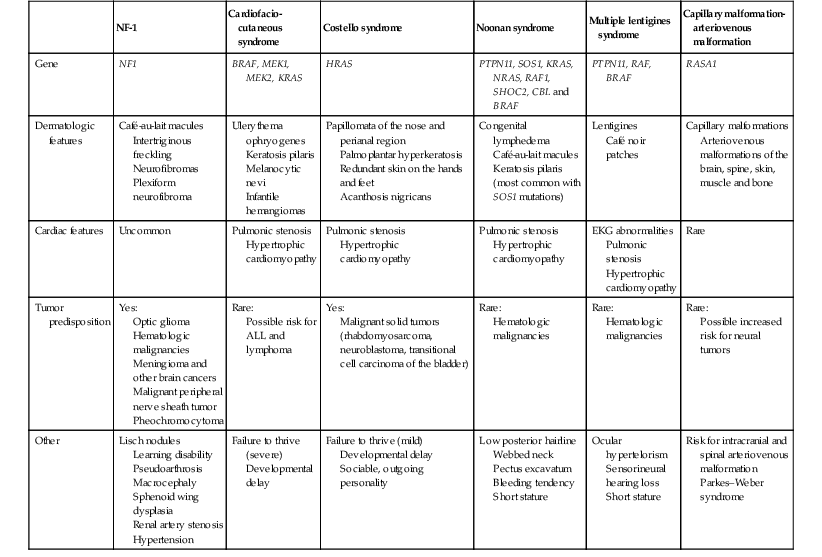 Disorders of the PI3K-AKT/mTOR pathway and overgrowth syndromes
Overgrowth syndromes and human cancer share disruption of similar critical regulatory pathways (Table 29.3). Intensive cancer research, therefore, has improved our understanding of these rare but important disorders. The phosphatidylinositol 3-kinase (PI3K)-AKT pathway, in particular, critically guides cell growth and metabolism (Fig. 29.6). The PI3K enzymes are a family of highly conserved enzymes that regulate cell growth, migration and survival and disruption in the embryonic period typically impacts vascular, limb or brain development.29 Mutations cause recognizable patterns of increased cell number, hypertrophy, increased interstitium, or a combination of these.34 Typical neonatal clues of an overgrowth syndrome are abnormally increased body length, macrosomia, and macrocephaly, dysregulated growth of a body part or asymmetry (Fig. 29.7). Almost all overgrowth syndromes are associated with neoplasms, especially solid tumors.
TABLE 29.3
Overgrowth syndromes and associated clinical features
Syndrome
Causative mutation
Cutaneous features
Extracutaneous features
Associated malignancy
Tuberous sclerosis

TSC1, TSC2

Hypomelanotic macules, angiofibromas, forehead plaques, shagreen patches, periungual fibromas
Seizures, infantile spasms, intellectual disability.
Renal cysts and angiomyolipomas, cardiac rhabdomyomas
Malignant angiomyolipoma, renal cell cancer; sub-ependymal giant cell astrocytoma (SEGA)
Proteus
Mosaic

AKT1

Cerebriform connective tissue nevi (CCTN), epidermal nevi, vascular malformations, soft subcutaneous masses, patchy dermal hypoplasia, macrodactyly and lipomas
Disproportionate, relentless segmental overgrowth of body parts; skeletal asymmetry, lung cysts, thromboembolism, eye problems, ovarian cysts, epididymal cysts.
Overgrowth generally after neonatal period
Mostly benign tumors
Hemihyperplasia-multiple lipomatosis (HH-ML)
Unknown
Superficial capillary vascular malformation, lipomas. Lacks deep vascular malformation and cerebriform connective tissue nevi of Proteus.
Non-distorting overgrowth present at birth
Risk for embryonal malignancies is unknown. Screening for Wilms tumor, adrenal cell carcinoma, hepatoblastoma is recommended28
Megalencephaly-capillary malformation (MCAP)
Mosaic

PIK3CA

Patchy capillary malformations; stretchy skin and joints
Large brain, growth dysregulation, asymmetry, syndactyly, polydactyly, developmental delay, hypotonia, frontal bossing
Mildly increased risk of cancer24; Wilms tumor, leukemia; meningioma reported29
Mosaic overgrowth with fibroadipose hyperplasia (MOFH)
Activating

PIK3CA

Lacks cutaneous features of Proteus
Distorting or non-distorting, segmental overgrowth of muscles, skeleton and fibroadipose tissue that is present at birth
Unknown
SOLAMEN

PTEN

Signs of Cowden: trichilemmoma, acral keratoses, oral papillomas. Lacks cerebriform connective tissue nevi of Proteus
Features of Cowden: macrocephaly, breast and thyroid hamartoma
Breast, thyroid, endometrial
CLOVES
Activating

PIK3CA

Vascular anomalies, truncal lipomas, epidermal nevi. May be wrinkled skin on the palms and soles, but not CCTN of Proteus
Non-progressive overgrowth at birth.
Overgrown feet, hands; 'sandal gap' toes, severe scoliosis; high vascular-flow masses; phlebectasia; thromboembolism
Unknown
Encephalocraniocutaneous lipomatosis (ECCL)
Unknown, sporadic
Nevus psiloliparus overlying lipomatous overgrowth; angiofibromas, connective tissue nevi30 cutis aplasia, nodular skin tags31
Proportionate, non-distorting overgrowth at birth. Ocular abnormalities, CNS lipomas, heart defects, lytic bone lesions, hypospadias, cryptorchidism, seizures, jaw osteomas
Mostly benign tumors. Low-grade glioma reported30
Beckwith–Wiedemann syndrome (BWS)
Imprinting error affecting chromosomal region 11p15.5
Nevus flammeus, distinctive ear creases, posterior helical pits
Abdominal wall defects (omphalocele), placental overgrowth, macrosomia, macroglossia, abnormal kidney, cardiomegaly, hypoglycemia
Tumor risk increased, especially embryonal tumors; requires monitoring
Simpson–Golabi–Behmel syndrome type I
Glypican-3

(GPC3)

Supernumerary nipples, characteristic index finger and nail hypoplasia
Macrosomia, macrocephaly, macroglossia, coarse square-shaped face, abdominal hernias, broad hands, normal intelligence
Risk of embryonal tumors increased; requires monitoring
Sotos syndrome
Nuclear receptor set domain containing protein 1 gene

(NSD1)

Frontotemporal sparse hairs, malar flushing
Learning disabilities, distinct facies, macrocephaly, tall stature
Overall cancer risk slightly increased.32 Age appropriate cancer screening recommended33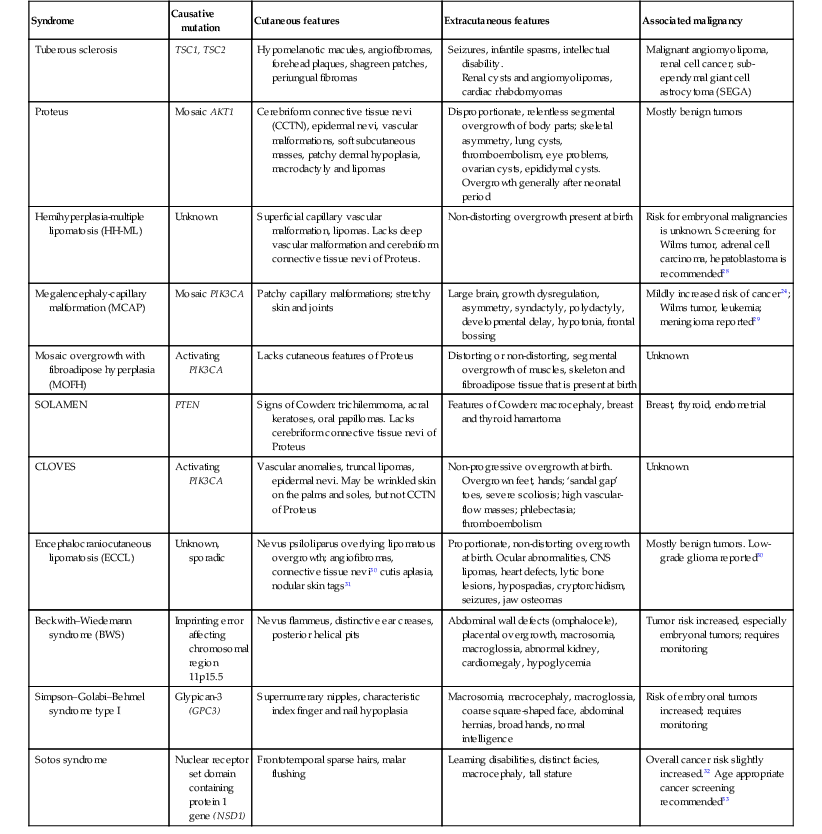 PI3K-AKT activity is considered so essential that disruptive germline mutations are often presumed fatal. For example, an activating PI3K pathway mutation appears only in the mosaic form. In addition to impacting embryonic development, the PI3K-AKT pathway participates in normal cellular function by regulating glucose metabolism and apoptosis.35 Therefore, mutations affecting this pathway may cause congenital anomalies as well as ongoing complications. Improved understanding of the PI3K pathway, especially by revealing therapeutic targets for inhibitory drugs like rapamycin, gives hope for future trials and treatment.36
Tuberous sclerosis
Tuberous sclerosis (TSC, MIM #191100) is a multisystem disorder characterized by tumors and hamartomas affecting the skin, brain, heart, kidneys and lungs, often in association with seizures and developmental delay (Box 29.5). TSC is discussed in further detail in Chapter 23.
Proteus syndrome
Proteus syndrome (MIM #176920) is a very rare condition characterized by dramatic segmental or mosaic overgrowth. Common complications include skeletal asymmetry, characteristic overgrowth of the palms or soles referred to as 'cerebriform connective tissue nevi' (CCTN),51 linear epidermal nevi, deep or superficial vascular malformations, dysregulated adipose tissue (formerly referred to as lipomas) and tumor predisposition (see also Chapter 22).