Chapter 586 Seizures in Childhood
A seizure is a transient occurrence of signs and/or symptoms resulting from abnormal excessive or synchronous neuronal activity in the brain. The International Classification of Epileptic Seizures divides epileptic seizures into 2 large categories: In focal (partial) seizures, the first clinical and electroencephalographic (EEG) changes suggest initial activation of a system of neurons limited to part of one cerebral hemisphere; in generalized seizures, the first clinical and EEG changes indicate synchronous involvement of all of both hemispheres (Table 586-1). Approximately 30% of patients who have a first afebrile seizure have later epilepsy; the risk is about 20% if neurologic exam, EEG, and neuroimaging are normal. Febrile seizures are a special category. Acute symptomatic seizures occur secondary to an acute problem affecting brain excitability such as electrolyte imbalance or meningitis. Most children with these types of seizures do well, but sometimes such seizures signify major structural, inflammatory, or metabolic disorders of the brain, such as meningitis, encephalitis, acute stroke, or brain tumor; the prognosis depends on the underlying disorder, including its reversibility or treatability and the likelihood of developing epilepsy from it. Unprovoked seizure is not an acute symptomatic seizure. Remote symptomatic seizure is thought to be secondary to a distant brain injury such as an old stroke.
Epilepsy is a disorder of the brain characterized by an enduring predisposition to generate seizures and by the neurobiologic, cognitive, psychological, and social consequences of this condition. The clinical diagnosis of epilepsy usually requires the occurrence of at least 1 unprovoked epileptic seizure with either a second such seizure or enough EEG and clinical information to convincingly demonstrate an enduring predisposition to develop recurrences. For epidemiologic purposes epilepsy is considered to be present when ≥2 unprovoked seizures occur in a time frame of >24 hr. Approximately 4-10% of children experience at least 1 seizure in the first 16 yr of life. The cumulative lifetime incidence of epilepsy is 3%, and more than half of the cases start in childhood. The annual prevalence is 0.5-1%. Thus, the occurrence of a single seizure or of febrile seizures does not necessarily imply the diagnosis of epilepsy. Seizure disorder is a general term that is usually used to include any one of several disorders including epilepsy, febrile seizures, and possibly single seizures and seizures secondary to metabolic, infectious, or other etiologies (e.g., hypocalcemia, meningitis).
An epileptic syndrome is a disorder that manifests one or more specific seizure types and has a specific age of onset and a specific prognosis. Several types of epileptic syndromes can be distinguished (Tables 586-2 to 586-4). This classification has to be distinguished from the classification of epileptic seizures that refers to single events rather than to clinical syndromes. In general, seizure type is the primary determinant of the type of medications the patient is likely to respond to, and the epilepsy syndrome determines the type of prognosis one could expect. An epileptic encephalopathy is an epilepsy syndrome in which the severe EEG abnormality is thought to result in cognitive and other impairments in the patient. Idiopathic epilepsy is an epilepsy syndrome that is genetic or presumed genetic and in which there is no underlying disorder affecting development or other neurologic function (e.g., petit mal epilepsy). Symptomatic epilepsy is an epilepsy syndrome caused by an underlying brain disorder (e.g., epilepsy secondary to tuberous sclerosis). A cryptogenic epilepsy (also termed presumed symptomatic epilepsy) is an epilepsy syndrome in which there is a presumed underlying brain disorder causing the epilepsy and affecting neurologic function, but the underlying disorder is not known.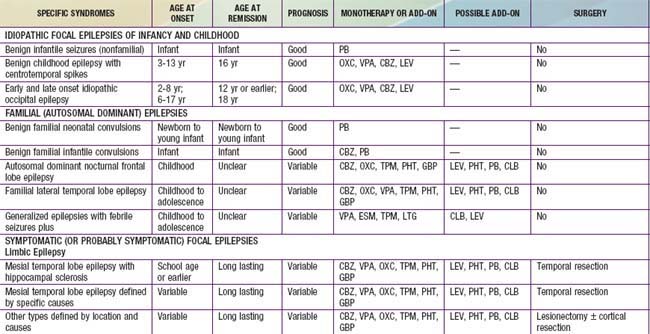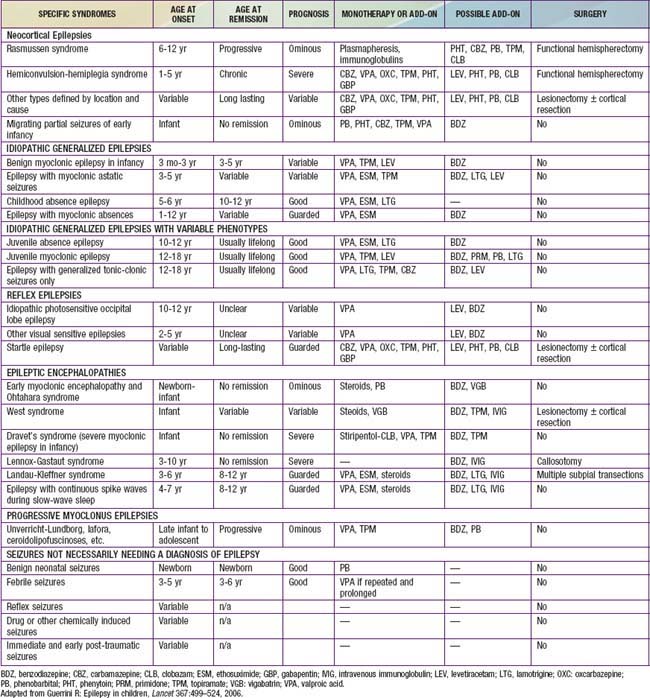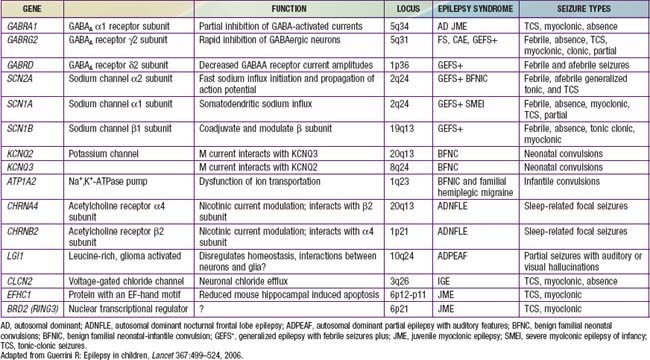 SYNDROME
COMMENT
Benign neonatal familial convulsions
Dominant, may be severe and resistant during a few days
Febrile or afebrile seizures (benign) occur later in a minority
Infantile familial convulsions
Dominant, seizures often in clusters (overlap with benign partial complex epilepsy of infancy)
Febrile convulsions plus syndromes (see Table 586-2)
In some families, febrile and afebrile convulsions occur in different members, GEFS+
The old dichotomy between febrile convulsions or epilepsy does not always hold
Benign myoclonic epilepsy of infancy
Often seizures during sleep, one rare variety with reflex myoclonic seizures (touch, noise)
Partial idiopathic epilepsy with rolandic spikes
Seizures with falling asleep or on awakening; focal sharp waves with centrotemporal location on EEG; genetic
Idiopathic occipital partial epilepsy
Early childhood form with seizures during sleep and ictal vomiting; can occur as status epilepticus
Later forms with migrainous symptoms; not always benign
Petit mal absence epilepsy
Cases with absences only, some have generalized seizures. 60-80% full remission
In most cases, absences disappear on therapy but there are resistant cases (unpredictable)
Juvenile myoclonic epilepsy
Adolescence onset, with early morning myoclonic seizures and generalized seizures during sleep; often history of absences in childhood
EEG, electroencephalogram; GEFS+, generalized epilepsy with febrile seizures plus.
From Deonna T: Management of epilepsy, Arch Dis Child 90:5–9, 2005.