Overview of Fungal Identification Methods and Strategies
Mycology is a specialized discipline in the field of biology concerned with the study of fungi, including their taxonomy, environmental impact, and genetic and biochemical properties. Historically, the fungi were regarded as relatively insignificant causes of infection. However, in the early to mid-twentieth century, these microorganisms began to be recognized as important causes of disease, particularly because of changes in patient profiles, and this trend continues today. Because of the endemic systemic mycoses, which may cause disease in healthy hosts, a number of fungal species normally found in the environment have been recognized as important causes of human disease, particularly in the immunocompromised host. The modern clinical laboratory, therefore, must provide methods for isolating and identifying the common causes of mycologic disease. Susceptibility testing of these isolates is often necessary.
Some clinical microbiology laboratories have kept pace with changing times and have developed more extensive mycologic testing methods. However, the economic constraints of the current health care environment have prevented other laboratories from offering these services. In such cases, diagnostic clinical mycology is performed by reference laboratories, which have varying degrees of experience. The lack of experience in clinical mycology has been influenced by a shortage of trained individuals, lack of quality educational programs, and inability of clinical laboratories to support the cost of sending personnel to training courses. Commonly, individuals with experience who retire or leave their position are replaced by someone with considerably less experience. Training and continuing education programs are needed to assist in the development of such individuals, if quality laboratory services are to be offered. A real concern is that the changing health care environment and implementation of cost containment measures, without continuing education, will prevent future generations from being well trained in diagnostic clinical mycology.
This chapter is designed to assist technologists and microbiologists with the basics of diagnostic clinical mycology, in the hope that the information will allow some laboratories to offer clinical mycology services.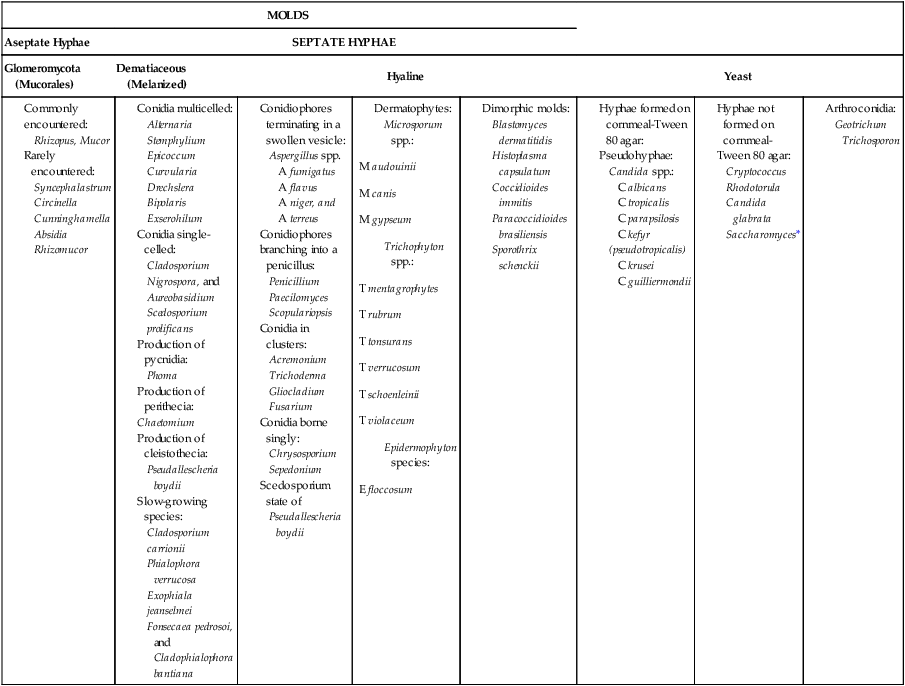 *Rudimentary hyphae may be present.
From Koneman EW, Roberts GD: Practical laboratory mycology, ed 3, Baltimore, 1985, Williams & Wilkins.
Use of the identification scheme just described requires examination of the fungal culture for the presence, absence, and number of septa. If the hyphae appear to be broad and predominantly nonseptate (i.e., cells are not separated by a septum or wall), zygomycetes should be considered. If the hyphae are septate, they must be examined further for the presence or absence of pigmentation. If a dark pigment is present in the hyphae, the organism is considered to be dematiaceous, and the conidia are then examined for their morphologic features and their arrangement on the hyphae. If the hyphae are nonpigmented, they are considered to be hyaline. The fungi are then examined for the type and the arrangement of the conidia produced. The molds are identified by recognition of their characteristic microscopic features (see Table 59-3). Murray2 has developed an expanded morphologic classification of medically important fungi based on general microscopic features and colonial morphology. The color pigmentation of colonies is presented as a useful diagnostic feature (Box 59-1).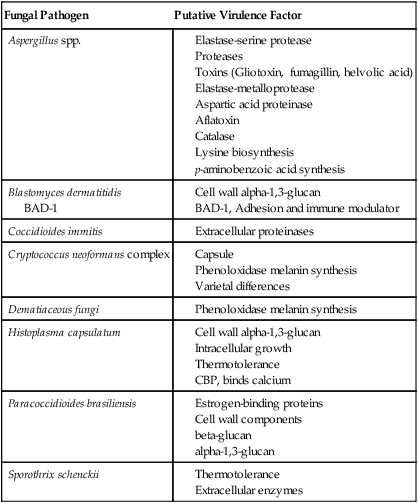 Buy Membership for Basic Science Category to continue reading.
Learn more here