CHAPTER 42 Midcarpal Instability
The first description of a "snapping wrist," diagnosed as anterior midcarpal subluxation,1 was recorded in 1934, although "dorsal luxation of the capitate" had been presented in a congress in Paris in 1919. The article by Lichtman and colleagues2 in 1981 brought this particular condition to the attention of orthopaedists. Of all the forms of carpal instability, midcarpal instability (MCI) has been the most confusing. The two main reasons for this are that MCI is a mixed bag of conditions, and that their pathophysiology is not well understood. The management of MCI remains controversial. Table 42-1 provides a summary of MCI.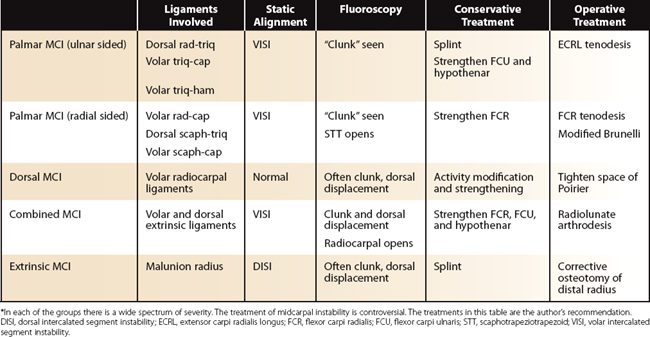 The term MCI covers a range of conditions characterized by a painful clunk, usually felt in ulnar deviation of the wrist. It has been suggested that the term "instability of the proximal carpal row" would be a more accurate description3 because the mechanical problem is a carpal instability nondissociative, affecting the radiocarpal or the midcarpal joints or both. The scaphoid, lunate, and triquetrum move like one unit, but not in a predictable, smooth manner.
Most patients with MCI respond to nonoperative treatment. Combinations of immobilization, splints, anti-inflammatories, activity modification, and exercise have been prescribed with diverse success. Surgical treatment suggested for MCI includes soft tissue stabilizations, limited carpal arthrodesis, corrective osteotomies, and arthroscopic thermal capsulorrhaphy. The role of proprioception in carpal instability is starting to be recognized, but is not yet fully understood.