Immunoglobulins and Their Production by B Cells
I Immunoglobulin Structure and Functions
• Immunoglobulins, synthesized by B cells, are antigen-binding glycoproteins (antibodies) that function in the recognition of and defense against antigens (Table 3-1).
TABLE 3-1
Antigen and Antibody Terminology
| | |
| --- | --- |
| Term | Definition |
| Adjuvant | Substance that enhances immune response to an antigen when administered with it; used to improve response to vaccines |
| Affinity | Binding strength of a single variable region of an antibody for a corresponding epitope on the larger antigen structure |
| Antigen | Substance that binds to antibodies and T cell receptors. Although most antigens are also immunogens, some small molecules are antigenic but not immunogenic. |
| Avidity | Combined binding strength of the multiple interactions between a multivalent antibody molecule and all the corresponding epitopes on an antigen |
| Epitope (antigenic determinant) | Region on an antigen molecule to which a single antibody molecule or T cell receptor binds. An antigen usually has multiple epitopes and thus can react with antibodies of different specificities. |
| Fab fragment | Portion of antibody molecule, produced by papain digestion, that contains a single antigen-binding site. All antibodies have two or more Fab regions and thus are bivalent or multivalent. |
| Fc fragment | Portion of antibody molecule, produced by papain digestion, that fixes complement and binds to Fc receptors; varies among immunoglobulin isotypes |
| Hinge region | Flexible portion of antibody heavy chains located between the Fab and Fc regions and containing intrachain disulfide bonds; present in IgG, IgA, and IgD |
| Immunogen | Substance capable of eliciting a specific immune response |
| Monoclonal antibody | Homogeneous antibody that recognizes only one epitope; produced by a single clone of plasma cells |
| Polyclonal antibody | Mixture of antibodies that recognize different epitopes on an antigen; produced by multiple clones of plasma cells in response to an antigen containing different epitopes. Natural antiserum to a microbial antigen is polyclonal. |
| Thymus-dependent antigens | Antigens that require helper T cells to induce antibody production (humoral response); most protein antigens |
| Thymus-independent antigens | Antigens possessing many repetitive structures (e.g., flagellin, polysaccharide, and LPS) that can induce antibody production (humoral response) without helper T cells |
A Chain structure of immunoglobulins (Fig. 3-1A)
B Functional regions of antibody molecules
TABLE 3-2
Functions Mediated by Interactions with Antibody Fc Region
| | |
| --- | --- |
| Function | Fc Region Interacts with |
| Opsonization | Fc receptors on macrophages and neutrophils |
| Killing by means of ADCC | Fc receptors on neutrophils, macrophages, NK cells, eosinophils |
| Degranulation leading to allergic and antiparasitic responses | Fc receptors for IgE on mast cells |
| Activation of cells | Fc receptors on lymphocytes |
| Transmucosal movement | Fc receptors for dimeric IgA on epithelial cells |
| Activation of classical complement pathway leading to cell lysis (especially of bacteria), opsonization, and inflammatory response | Initial component of pathway (C1) |
ADCC, antibody-dependent cellular cytotoxicity; NK, natural killer.
C Properties of immunoglobulin isotypes
• The five major immunoglobulin classes, or isotypes, exhibit different functions and roles in immunity (Table 3-3; Fig. 3-2).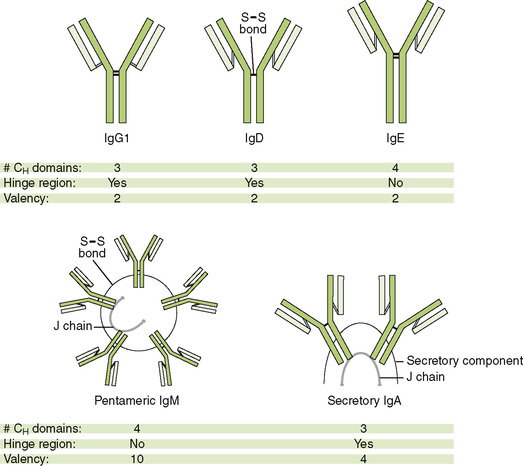 3-2
Buy Membership for Allergy and Immunology Category to continue reading.
Learn more here