The clinically relevant members of the Enterobacteriaceae can be considered as two groups: the opportunistic pathogens and the intestinal pathogens. Typhi and Shigella spp. are among the latter group and are causative agents of typhoid fever and dysentery, respectively. Yersinia pestis is not an intestinal pathogen, but it is the causative agent of plague. The identification of these organisms in clinical material is serious and always significant. These organisms, in addition to others, produce various potent virulence factors and can cause life-threatening infections (Table 20-2).
TABLE 20-2
Pathogenesis and Spectrum of Disease for Clinically Relevant Enterobacteriaceae
| | | |
| --- | --- | --- |
| Organism | Virulence Factors | Spectrum of Disease and Infections |
| Escherichia coli (as a cause of extraintestinal infections) | Several, including endotoxin, capsule production pili that mediate attachment to host cells | Urinary tract infections, bacteremia, neonatal meningitis, and nosocomial infections of other various body sites. Most common cause of gram-negative nosocomial infections. |
| Enterotoxigenic E. coli (ETEC) | Pili that permit gastrointestinal colonization. Heat-labile (LT) and heat-stable (ST) enterotoxins that mediate secretion of water and electrolytes into the bowel lumen | Traveler's and childhood diarrhea, characterized by profuse, watery stools. Transmitted by contaminated food and water. |
| Enteroinvasive E. coli (EIEC) | Virulence factors uncertain, but organism invades enterocytes lining the large intestine in a manner nearly identical to Shigella | Dysentery (i.e., necrosis, ulceration, and inflammation of the large bowel); usually seen in young children living in areas of poor sanitation. |
| Enteropathogenic E. coli (EPEC) | Bundle-forming pilus, intimin, and other factors that mediate organism attachment to mucosal cells of the small bowel, resulting in changes in cell surface (i.e., loss of microvilli) | Diarrhea in infants in developing, low-income nations; can cause a chronic diarrhea. |
| Enterohemorrhagic E. coli (EHEC, VTEC, or STEC) | Toxin similar to Shiga toxin produced by Shigella dysenteriae. Most frequently associated with certain serotypes, such as E. coli O157:H7 | Inflammation and bleeding of the mucosa of the large intestine (i.e., hemorrhagic colitis); can also lead to hemolytic-uremic syndrome, resulting from toxin-mediated damage to kidneys. Transmitted by ingestion of undercooked ground beef or raw milk. |
| Enteroaggregative E. coli (EAEC) | Probably involves binding by pili, ST-like, and hemolysin-like toxins; actual pathogenic mechanism is unknown | Watery diarrhea that in some cases can be prolonged. Mode of transmission is not well understood. |
| Shigella spp. | Several factors involved to mediate adherence and invasion of mucosal cells, escape from phagocytic vesicles, intercellular spread, and inflammation. Shiga toxin role in disease is uncertain, but it does have various effects on host cells. | Dysentery defined as acute inflammatory colitis and bloody diarrhea characterized by cramps, tenesmus, and bloody, mucoid stools. Infections with S. sonnei may produce only watery diarrhea. |
| Salmonella serotypes | Several factors help protect organisms from stomach acids, promote attachment and phagocytosis by intestinal mucosal cells, allow survival in and destruction of phagocytes, and facilitate dissemination to other tissues. | Three general categories of infection are seen: |
Yersinia pestis
Multiple factors play a role in the pathogenesis of this highly virulent organism. These include the ability to adapt for intracellular survival and production of an antiphagocytic capsule, exotoxins, endotoxins, coagulase, and fibrinolysin.
Two major forms of infection are bubonic plague and pneumonic plague. Bubonic plague is characterized by high fever and painful inflammatory swelling of axilla and groin lymph nodes (i.e., the characteristic buboes); infection rapidly progresses to fulminant bacteremia that is frequently fatal if untreated. Pneumonic plague involves the lungs and is characterized by malaise and pulmonary signs; the respiratory infection can occur as a consequence of bacteremic spread associated with bubonic plague or can be acquired by the airborne route during close contact with other pneumonic plague victims; this form of plague is also rapidly fatal.
Yersinia enterocolitica subsp. enterocolitica
Various factors encoded on a virulence plasmid allow the organism to attach to and invade the intestinal mucosa and spread to lymphatic tissue.
Enterocolitis characterized by fever, diarrhea, and abdominal pain; also can cause acute mesenteric lymphadenitis, which may present clinically as appendicitis (i.e., pseudoappendicular syndrome). Bacteremia can occur with this organism but is uncommon.
Yersinia pseudotuberculosis
Similar to those of Y. enterocolitica
Causes infections similar to those described for Y. enterocolitica but is much less common.
Citrobacter spp., Enterobacter spp., Klebsiella spp., Morganella spp., Proteus spp., Providencia spp., and Serratia spp.
Several factors, including endotoxins, capsules, adhesion proteins, and resistance to multiple antimicrobial agents
Wide variety of nosocomial infections of the respiratory tract, urinary tract, blood, and several other normally sterile sites; most frequently infect hospitalized and seriously debilitated patients.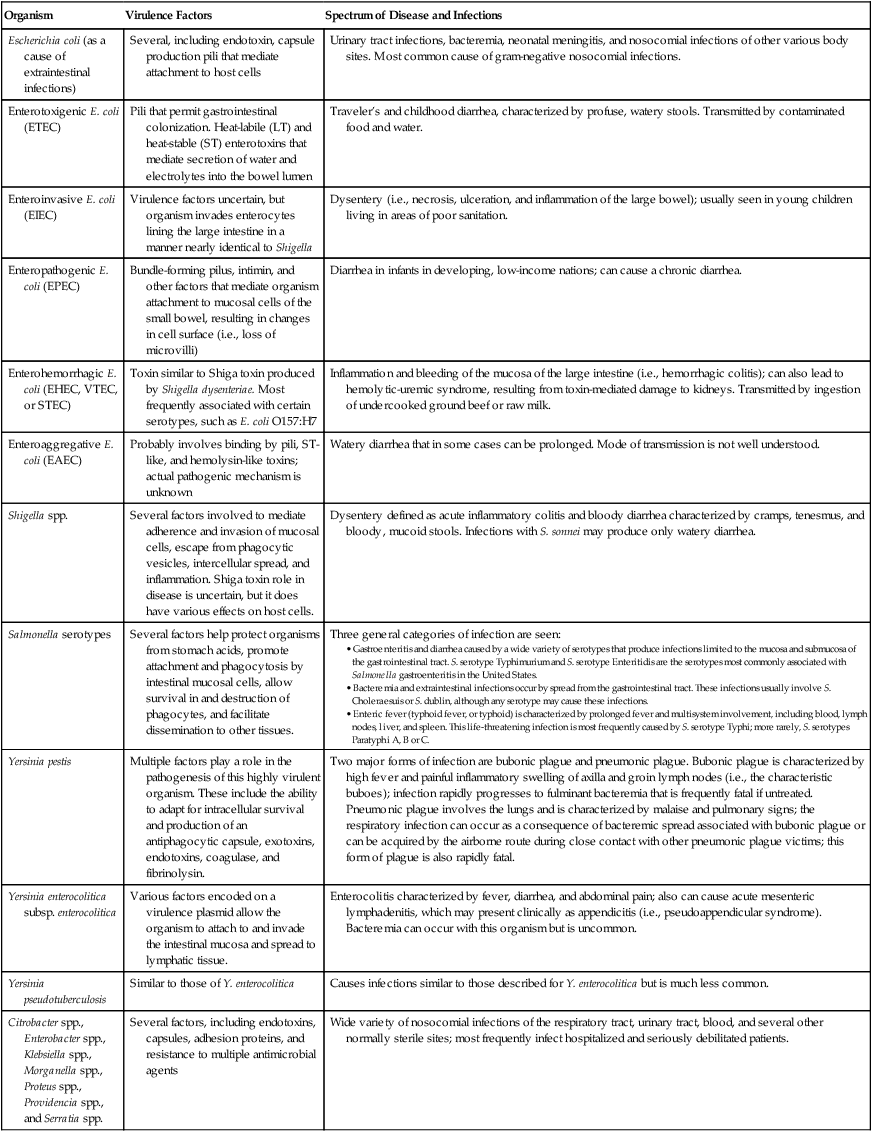 The opportunistic pathogens most commonly include Citrobacter spp., Enterobacter spp., Klebsiella spp., Proteus spp., Serratia spp., and a variety of other organisms. Although considered opportunistic pathogens, these organisms produce significant virulence factors, such as endotoxins capable of mediating fatal infections. However, because they generally do not initiate disease in healthy, uncompromised human hosts, they are considered opportunistic.
Although E. coli is a normal bowel inhabitant, its pathogenic classification is somewhere between that of the overt pathogens and the opportunistic organisms. Diuretic strains of this species, such as enterotoxigenic E. coli (ETEC), enteroinvasive E. coli (EIEC), and enteroaggregative E. coli (EAEC), express potent toxins and cause serious gastrointestinal infections. Additionally, in the case of enterohemorrhagic E. coli (EHEC) also referred to as verocytotoxin producing E. coli (VTEC) or Shiga-like toxin producing E. coli (STEC), the organism may produce life-threatening systemic illness. Furthermore, as the leading cause of Enterobacteriaceae nosocomial infection, E. coli is likely to have greater virulence capabilities than the other species categorized as "opportunistic" Enterobacteriaceae.
Enterobacteriaceae are typically isolated from a variety of sources in combination with other more fastidious organisms. No special considerations are required for specimen collection and transport of the organisms discussed in this chapter. (See Table 5-1 for general information on specimen collection and transport.)
Most Enterobacteriaceae grow well on routine laboratory media, such as 5% sheep blood, chocolate, and MacConkey agars. In addition to these media, selective agars, such as Hektoen enteric (HE) agar, xylose-lysine-deoxycholate (XLD) agar, and Salmonella–Shigella (SS) agar, are commonly used to cultivate enteric pathogens from gastrointestinal specimens (see Chapter 59 for more information about laboratory procedures for the diagnosis of bacterial gastrointestinal infections). The broths used in blood culture systems, as well as thioglycollate and brain-heart infusion broths, all support the growth of Enterobacteriaceae.
Cefsulodin-irgasan-novobiocin (CIN) agar is a selective medium specifically used for the isolation of Y. enterocolitica from gastrointestinal specimens. Similarly, MacConkey-sorbitol agar (MAC-SOR) is used to differentiate sorbitol-negative E. coli O157:H7 from other strains of E. coli that are capable of fermenting this sugar alcohol.
Klebsiella granulomatis will not grow on routine agar media. Recently, the organism was cultured in human monocytes from biopsy specimens of genital ulcers of patients with donovanosis. Historically, the organism has also been cultivated on a special medium described by Dienst that contains growth factors found in egg yolk. In clinical practice, however, the diagnosis of granuloma inguinale is made solely on the basis of direct examination.
Table 20-4 presents a complete description of the laboratory media used to isolate Enterobacteriaceae.
TABLE 20-4
Biochemical Media used in the Differentiation and Isolation of Enterobacteriaceae
| | | | | |
| --- | --- | --- | --- | --- |
| Media | Selective | Differential | Nutritional | Purpose |
| Blood agar (sheep) (SBA, BAP) | | Hemolysis of RBCs: | Routinely used to cultivate moderately fastidious organisms; TSA with 5% to 10% defibrinated blood. | Screening colonies for the oxidase enzyme |
| Cefsulodin-irgasan-novobiocin agar (CIN) | Selective inhibition of gram-negative and gram-positive organisms | Fermentation of mannitol in the presence of neutral red. Macroscopic colonial appearance: colorless or pink colonies with red center. | | Isolation of Yersinia enterocolitica |