CHAPTER 30 Cellular Adhesion
All cells interact with molecules in their environment, in many cases relying on cell surface adhesion proteins to bind these molecules. Multicellular organisms are particularly dependent on adhesion of cells to each other and the extracellular matrix (ECM). During development, carefully regulated genetic programs specify cell-cell and cell-matrix interactions that determine the architecture of each tissue and organ. Some adhesive interactions are stable. Muscle cells must adhere firmly to each other and to the connective tissue of tendons to transmit force to the skeleton (see Chapter 39). Skin cells must also bind tightly to each other and the underlying connective tissue to resist abrasion (see Fig. 35-6). On the other hand, many cellular interactions are transient and delicate. At sites of inflammation, leukocytes bind transiently to endothelial cells lining small blood vessels and then use transient interactions with the ECM to migrate through connective tissue (look ahead to Figs. 30-13 and 30-14).
Cells use a relatively small repertoire of adhesion mechanisms to interact with matrix molecules and each other. This conceptual breakthrough came when comparisons of amino acid sequences showed that most adhesion proteins fall into five large families (Fig. 30-1). Within each of these distinctive families, ancestral genes duplicated and diverged during evolution, giving rise to adhesion proteins with the many different specificities that are required for embryonic development, maintenance of organ structure, and migrations of cells of our defense systems. Common properties within each family allowed the appreciation of general mechanisms to emerge from characterizing a few examples. Several important adhesion proteins fall outside the five major families, and additional families may emerge from continued research.
Many adhesion proteins were named before they were classified into families. Tables 30-1 through 30-5 are designed to help the reader with the nomenclature. Many adhesion proteins are named "CD" followed by a number. This stands for "clusters of differentiation," a term that is used to classify cell surface antigens recognized by monoclonal antibodies, independent of any knowledge about the structure or function of the antigen. Hence, members of the four major families of adhesion proteins have CD numbers.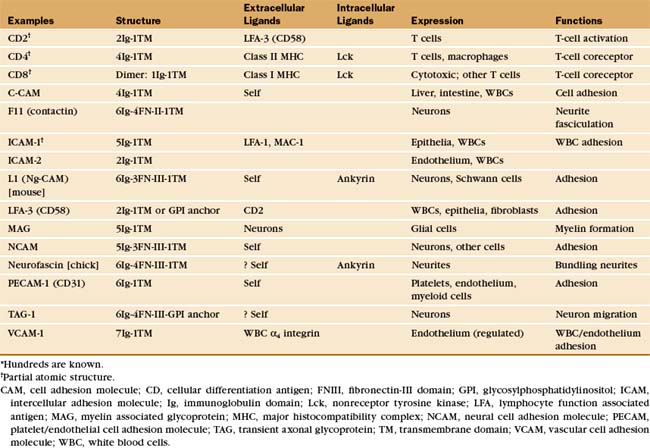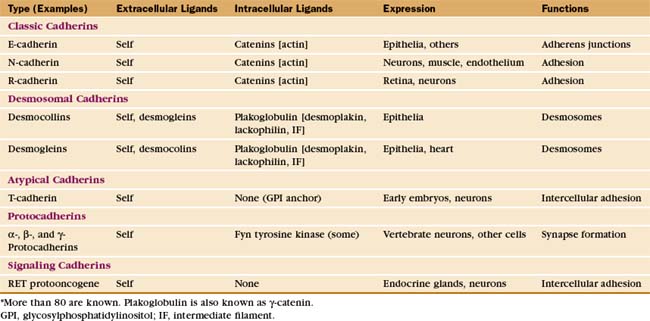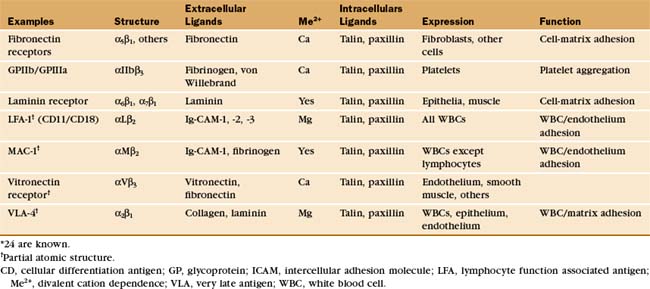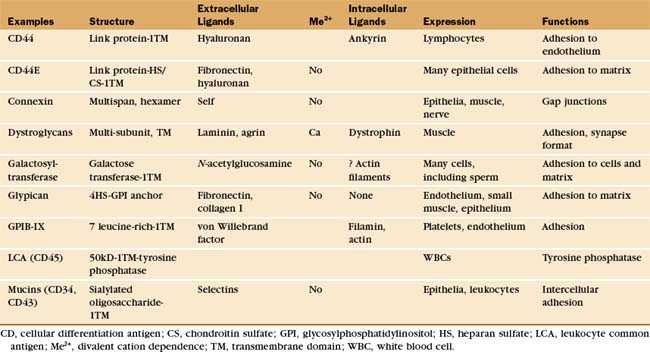 This chapter first highlights some general features of adhesion proteins and then introduces four major families: immunoglobulin–cell adhesion molecules (Ig-CAMs), cadherins, integrins, and selectins. While learning about each family, the reader should not lose track of an important point: These receptors rarely act alone. Rather, they usually function as parts of multicomponent systems. Two examples at the end of the chapter illustrate the cooperation that is required for leukocytes to respond to inflammation and for platelets to repair damage to blood vessels. Chapter 31 on intercellular junctions, Chapter 32 on specialized connective tissues, and Chapter 38 on cellular motility provide more examples of cellular adhesion.