Calcium Regulation, Calcium Homeostasis, and Genetic Disorders of Calcium Metabolism
Calcium plays an important role in many physiologic pathways that include muscle contraction, the secretion of neurotransmitters and hormones, and the coagulation pathways, and it is an important component of the skeleton. Disturbances in extracellular calcium concentration may cause a variety of symptoms, the most common of which reflect abnormal neuromuscular activity. Hypercalcemia may lead to muscle weakness and areflexia, anorexia, constipation, vomiting, drowsiness, depression, confusion, other cognitive dysfunction, and coma. Hypercalcemia leads to hypercalciuria, which can result in medullary calcification, nephrocalcinosis, and renal failure. Hypocalcemia, conversely, may cause anxiety, seizures, muscle twitching, epilepsy, tetany, Chvostek's and Trousseau's signs, carpal or pedal spasm, stridor, bronchospasm, and intestinal cramps, as well as cataracts, skeletal malformations, and abnormal dentition. The control of body calcium involves a balance between the amounts that are absorbed from the gut, deposited into bone and cells, and excreted from the kidney (Fig. 5-1). This fine balance, involving three organs, is chiefly under the control of parathyroid hormone (PTH), which is synthesized and secreted by the parathyroid glands. Thus, hypocalcemia will lead to an increased secretion of PTH, whereas hypercalcemia will result in diminished PTH secretion. A number of clinical disorders characterized by derangements of calcium homeostasis are caused by abnormalities of the parathyroid glands themselves. Thus, PTH oversecretion due to parathyroid tumors, which affect 3/1000 of the population, is a major cause of hypercalcemia, which may be associated with kidney stones, osteoporosis, and peptic ulcers. PTH deficiency as part of a syndrome occurs in 1/4000 live births, isolated hypoparathyroidism resulting in hypocalcemia appears to occur less frequently. This chapter will review (1) the physiologic and biochemical mechanisms underlying extracellular calcium homeostasis and (2) the genetic basis for disorders of calcium metabolism.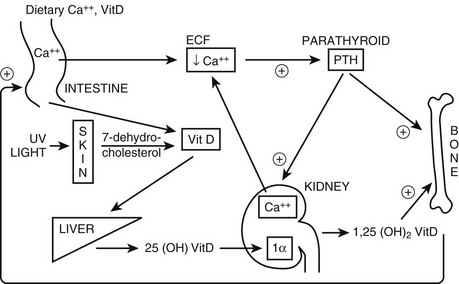 FIGURE 5-1 Regulation of extracellular fluid (ECF) calcium (Ca2+) by parathyroid hormone (PTH) action on kidney, bone, and intestine. A decrease in ECF Ca2+ is sensed by the calcium-sensing receptor, leading to an increase in PTH secretion, which predominantly acts directly on kidney and bone that possess the PTH/PTHrP receptor (PTHR1; see Fig. 5-3). The skeletal effects of PTH are to increase (+) osteoclastic bone reabsorption, but because osteoclasts do not express the PTHR1, this action is mediated via the osteoblasts, which do have this receptor and in response release cytokines and factors that activate osteoclasts. In the kidney, PTH stimulates (+) the 1α-hydroxylase (1α) to increase the conversion of 25-hydroxy vitamin D [25(OH)D] to the active metabolite 1,25-dihydroxyvitamin D [1,25(OH)2D]. In addition, PTH increases (+) reabsorption of Ca2+ from the renal distal tubule and inhibits reabsorption of phosphate from the proximal tubule, leading to hypercalcemia and hypophosphatemia. PTH also inhibits Na+/H+ antiporter activity and bicarbonate reabsorption, causing a mild hyperchloremic acidosis. Elevated 1,25(OH)2D acts on the intestine to increase (+) absorption of dietary calcium and phosphate; it is important to note that PTH does not appear to have a direct action on the gut. In response to hypocalcemia and the increase in PTH secretion, all of these direct and indirect actions of PTH on the kidney, bone, and intestine will help to increase ECF Ca2+, which in turn will act via the calcium-sensing receptor to decrease PTH secretion.