Burn Care Procedures
Two million people suffer a burn-related injury every year in the United States. The American Burn Association (ABA) estimates that approximately 450,000 of these patients received medical evaluation and treatment in 2011 and approximately 10% (45,000) required hospitalization.1 Patients who suffer burn injuries are predominately male (70%), and their mean age is 32 years old. Children younger than 5 years account for 18% of burns, and patients older than 60 years account for an additional 12%. Seventy percent of all burns involve less than 10% of the total body surface area (TBSA). Nearly 80% of all burns are caused by flame or fire or by scalds, with scald injury occurring most in children younger than 5 years.
Advances in resuscitation, surgical and anesthetic techniques, intensive care, infection control, nutrition, and metabolic support have all contributed to dramatic improvements in the preservation of body function, physical appearance, and emotional outcomes of patients with this injury. The initial care provided to burn patients by emergency medical providers can improve outcomes by preventing the conversion of superficial burns to deep burns requiring surgery and by improving the long-term functional and cosmetic outcomes of the affected tissues.
The classification of burns is based on three criteria2: depth of skin injury, percentage of TBSA involved, and source of injury (thermal, chemical, electrical, or radiation). The seriousness of a burn injury is determined by the characteristics and temperature of the burning agent, the duration of exposure, the location of the injury, the presence of associated injuries, and the age and general health of the victim (Table 38-1).
TABLE 38-1
Characteristics of Burns, by Depth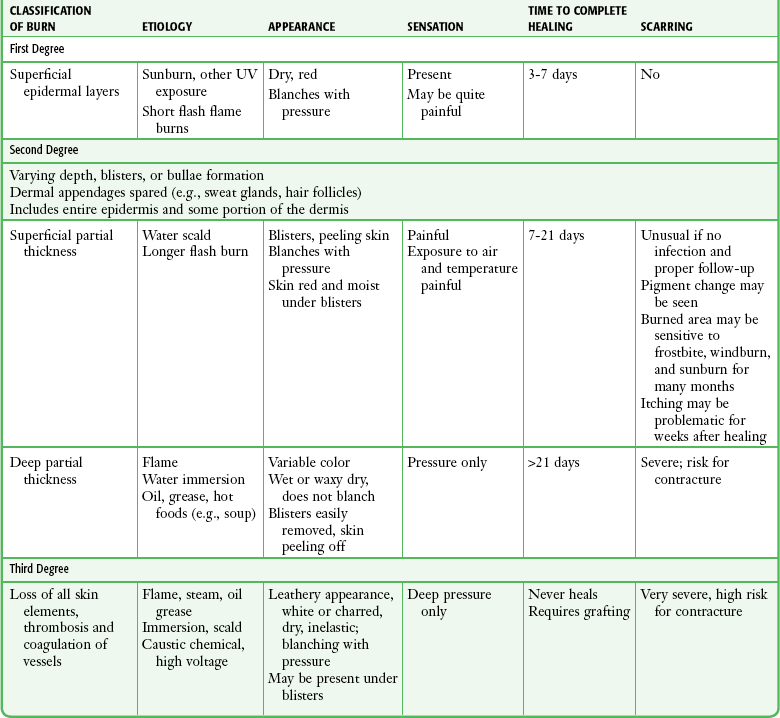 Modified after Clayton MC, Solem LD. No ice, no butter: advice on management of burns for primary care physicians. Postgrad Med. 1995;97:151; and Morgan ED, Bledsoe SC, Barker J. Ambulatory management of burns. Am Fam Physician. 2000;62:2015.
The ABA defines minor burns as uncomplicated partial-thickness burns involving less than 5% TBSA in children (<10 years old) or the elderly (>50 years old), less than 10% TBSA in adults, or full-thickness burns less than 2% TBSA.3 Moderate or major burns include injuries that involve a greater TBSA, as well as burns in areas of specialized function, such as the face, hands, feet, and perineum. More serious burns also include those caused by a high-voltage electrical injury or those with associated inhalation injuries or other major trauma.
Throughout the course of history, clinicians have experimented with burn therapies to relieve pain and promote healing. Many treatment regimens and home remedies have been successful, largely because of the fact that minor burns generally do well with a modicum of intervention and commonsense wound care. Although little has changed in the care of minor ambulatory burns over the past 3 decades, treatment of major burns has significantly improved, including the development of sophisticated burn centers, increased knowledge of burn wound physiology, and prevention of infection.