Benign and Malignant Tumors of the Liver
Linda D. Ferrell
Introduction
Primary tumors of the liver are classified as benign and malignant epithelial and nonepithelial neoplasms. The most common are epithelial neoplasms, which are predominantly hepatocellular and bile ductular types. Other non-neoplastic tumor-like lesions are of clinical significance. The 2010 classification scheme of the World Health Organization (WHO), which includes neoplasms and tumor-like lesions, is provided in Table 55.1.1 The nomenclature used in this chapter follows these recommendations.
Table 55.1
World Health Organization Classification of Primary Liver Tumors and Tumor-Like Lesions
Epithelial Tumors or Tumor-Like Lesions
Nonepithelial Tumors or Tumor-Like Lesions

Benign

Hepatocellular adenoma
Cavernous hemangioma
Focal nodular hyperplasia
Angiomyolipoma
Bile duct adenoma
Infantile hemangioma
Bile duct hamartoma
Lymphangioma
Microcystic adenoma
Mesenchymal hamartoma
Biliary adenofibroma
Inflammatory pseudotumor
Solitary necrotic nodule

Premalignant or Precursor Lesions

Dysplastic nodule
Low-grade
High-grade
Mucinous cystic neoplasms, low and high grade
Intraductal papillary neoplasms, low and high grade

Malignant

Hepatocellular carcinoma, including fibrolamellar variant
Angiosarcoma
Epithelioid hemangioendothelioma
Embryonal (undifferentiated) sarcoma
Lymphoma and other hematopoietic tumors
Cholangiocarcinoma, peripheral, hilar, and extrahepatic types
Mucinous cystic neoplasm with invasive carcinoma
Intraductal papillary neoplasm with invasive carcinoma

Malignancies of Mixed or Uncertain Origin

Combined hepatocellular carcinoma and cholangiocarcinoma
Kaposi sarcoma
Leiomyosarcoma
Rhabdomyosarcoma
Synovial sarcoma
Germ cell tumors (teratoma, yolk sac tumor)
Hepatoblastoma
Carcinosarcoma
Calcifying nested epithelial stromal tumor
Malignant rhabdoid tumor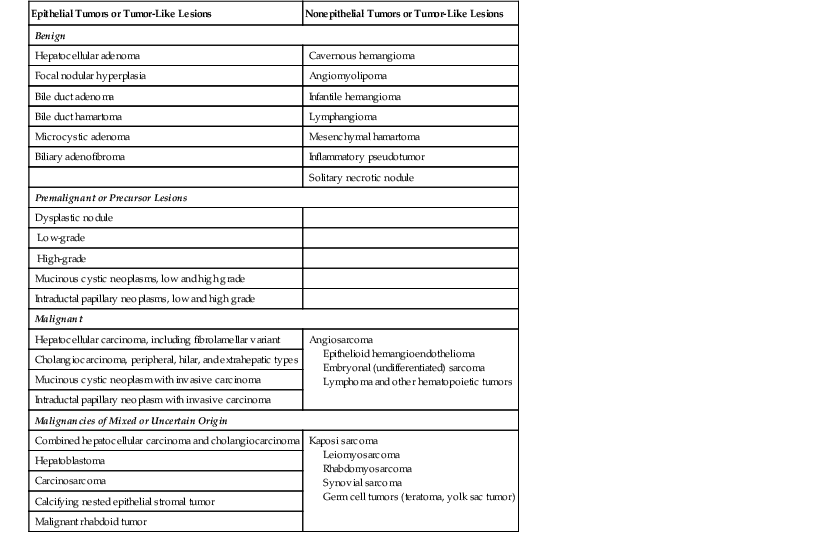 Data from Bioulac-Sage P, Balabaud C, Wanless I, et al. Tumours of the liver and intrahepatic bile ducts. In: Bosman F, Carneiro F, Hruban R, Theise N, eds. WHO Classification of Tumours of the Digestive System. Lyon, France: IARC; 2010:195-261.
Specimen Analysis
Verification of tumor type and status as a primary or metastatic neoplasm or as a non-neoplastic tumor is the most important consideration in the diagnosis. Descriptive comments should focus on information important for tumor staging, such as tumor size (smaller or larger than 5 cm for hepatocellular carcinoma [HCC]), number of lesions (single or multiple), specific lobes or segments involved, local extension of the lesion outside of the liver, and presence or absence of gross vascular invasion, and it should include notation regarding which of the major vessels (portal or hepatic vein) are involved.
Microscopic evaluation should involve adequate numbers of sections relative to tumor size to assess vascular invasion or extension outside of the Glisson capsule.2,3 Sections near the edge of the tumor are recommended for detection of vascular invasion if gross invasion is not seen. Gross observation of possible large vessel invasion should be documented microscopically. A section of non-neoplastic liver should be included for identification of the background pathology. Table 55.2 delineates tumor (T) staging for HCC by the Union for International Cancer Control and American Joint Committee on Cancer (UICC/AJCC) recommendations (http://www.uicc.org). Metastasis (M) and node (N) staging consist of X for not known, 0 for absent, and 1 for present.
Table 55.2
Primary Tumor Staging for Hepatocellular Carcinoma
| | |
| --- | --- |
| Tumor Stage | Definition |
| TX | Primary tumor cannot be determined |
| T0 | No evidence of primary tumor |
| T1 | Solitary tumor without vascular invasion |
| T2 | Solitary tumor with vascular invasion or multiple tumors, none >5 cm |
| T3a | Multiple tumors, any >5 cm |
| T3b | Single or multiple tumors of any size involving a major branch of hepatic or portal vein |
| T4 | Tumor invading adjacent organs (other than gallbladder) or perforating visceral peritoneum |
In typical situations, the surgical margins of the resection specimen should be inked before the tumor is sectioned for definitive evaluation of the distance from the margin to the tumor, and the status of the resection margins should be included in the report. Some studies suggest that a tumor-free margin of at least 1 cm is directly related to a better prognosis for some types of malignant tumors.4 Other studies have shown that a wide resection is preferable to a limited excision when the HCC is small.3 The distance from the tumor to the closest margin of resection should be documented clearly in the pathology report.
Biopsy Methods
Small-core and fine-needle aspiration biopsies (FNABs) may be used to diagnose specific tumor types (see Chapter 45). The accuracy of FNABs is enhanced by the use of extra tissue preparations, such as cell buttons, for evaluation of the histologic features of tissue sections obtained from the FNAB material.5 This method is especially helpful to evaluate well-differentiated hepatocellular lesions, in which subtle cytologic features such as cell size, crowding of nuclei, and increased nucleus-to-cytoplasm ratio or architectural features such as formation of trabeculae or width of cell plates may be difficult to assess with smears alone. In these instances, use of histologic sections in combination with well-prepared smears can be successful to distinguish well-differentiated HCC from other lesions such as hepatocellular adenoma, focal nodular hyperplasia, macroregenerative nodules, or high-grade dysplastic nodules. Preparation of cell buttons, particularly in cases of poorly differentiated neoplasms or tumors with unusual morphology, may result in a more accurate diagnosis through the application of immunohistochemical techniques.
Because the amount of biopsy material is often limited, slides of unstained material should be prepared when the tissue block is initially sectioned to ensure that sufficient material is available for additional levels or stains. The usual panel of stains, which includes trichrome, reticulin, periodic acid–Schiff with diastase digestion (d-PAS), and iron stain, should not be ordered automatically at the time of gross examination, because excess sectioning (before examination of the hematoxylin and eosin–stained slides) may deplete the tissue block of diagnostic material that should be available for other diagnostic stains that are determined later.
Hepatocellular Tumors
In the past, hepatocellular adenomas (HCAs) were considered rare tumors that developed almost exclusively in young women during their reproductive years and only rarely occurred in men6,7 or children.8 However, the incidence is increasing, mostly because of the obesity epidemic, and lesions are seen in older women (40 to 50 years) and in men.1
Most patients have an abdominal mass, but some also have abdominal pain, discomfort, or nausea. Radiographically, most HCAs exhibit an enhanced vascular pattern. A significant proportion manifest with hemoperitoneum.9 Lesions larger than 5 cm in diameter usually are associated with a higher risk of hemorrhagic complications, and resection is typically recommended for these lesions. The serum alkaline phosphatase level may be elevated, but serum α-fetoprotein (AFP) levels are usually normal or only minimally elevated.