Chapter 8 Behavior and Personality Disturbances
Behavioral and personality disturbances commonly occur in individuals with neurological disease or injury (Table 8.1). Identification and treatment of behavioral disturbances are critical because they are frequently associated with reduced functional capacity, decreased quality of life, and greater economic cost, caregiver burden, and morbidity. Dysfunction of various brain circuits, most notably the frontosubcortical and amygdaloid circuits, as well as psychological factors may contribute to increased rates of disturbances.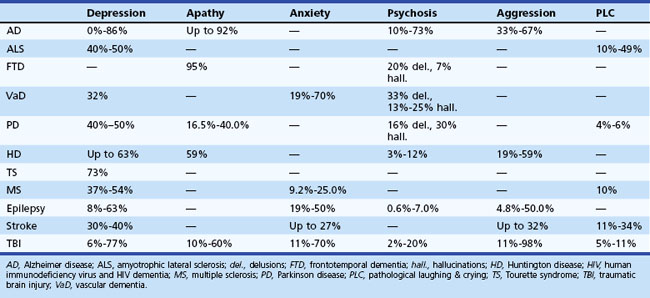 Historically, clear divisions between the fields of psychiatry and neurology have existed. Psychiatry focused on disruptions of behavior and personality resulting from "nonorganic" or psychological causes, whereas neurology focused on disease and injury with "organic" causes. The division between psychiatry and neurology has become blurred over the past few decades, however, because research shows neuroanatomic and biochemical correlates of behavior and personality disturbances. As a response, increased collaboration and partnership between these two fields has emerged. An example of this collaboration is the creation of the American Neuropsychiatric Association (ANPA), established in 1988.
The aim of this chapter is threefold. First, theoretical information linking brain circuitry to behavioral and personality disturbances is described. Second, methods of assessment of behavior and personality in cerebral dysfunction are detailed. Finally, information regarding the prevalence, phenomenology, and treatment of behavior and personality disturbances in dementia, movement disorders, epilepsy, stroke, and traumatic brain injury (TBI) is presented.