Chapter 26
Atherosclerotic Risk Factors
General Considerations
Christos Liapis, John Kakisis
The word atherosclerosis is derived from two Greek roots: αθηρι (athere, gruel) and σκληρóς (skleros, hard). In 1755, von Haller first applied the term atheroma to a common type of plaque that, on sectioning, exuded yellow pultaceous content from its core.1 In 1904, Marchand introduced the term atherosclerosis in acknowledgment of the consistent association of fatty degeneration and arterial stiffening.2
Atherosclerosis is a systemic disease of large and medium-sized arteries in which lipid and fibrous material accumulate within the intimal layer. It should not be confused with the more general term arteriosclerosis, which refers to generalized thickening and loss of elasticity of arteries as a result of an increased amount of basement material and plasma protein deposition.3
Advances in our understanding of the pathogenesis of atherosclerotic vascular disease gave birth to the concept of cardiovascular risk factors, initially referred to in the Framingham Heart Study.4 Risk factor assessment is important to accurately guide primary and secondary prevention, whereas compliance with risk factor modification is still an area of concern.
Some risk factors are hereditary (and therefore not controllable), but others are acquired or related to behavioral and environmental factors and thus potentially amenable to manipulation. More recently, new risk factors have emerged.
This chapter summarizes the interaction of risk factors with the arterial wall during the atherosclerotic process and briefly reports the currently considered major risk factors. The emerging role and potential management of minor risk factors and markers of atherosclerosis are reviewed. Finally, the importance of compliance with these strategies, including knowledge that appeared in the literature since the publication of the seventh edition of the textbook, is discussed.
Risk Factors and Atherogenesis
The interaction of risk factors with the arterial wall initiates the atherosclerotic process (Fig. 26-1). The starting point for atheroma formation is endothelial dysfunction (reported also as "activation" because cells frequently respond normally to a noxious stimulus).5,6 Chapter 5 covers the mechanisms of atherogenesis in detail; this chapter provides a summary of the key mechanisms related to individual risk factors.
Interaction with Endothelial Cells: Endothelial Dysfunction
Currently, the most important contributors to endothelial dysfunction are hemodynamic disturbances, hypercholesterolemia, and inflammation. Etiologic culprits also include cigarette toxins, homocysteine, and a wide spectrum of infectious agents. Inflammatory cytokines (e.g., tumor necrosis factor [TNF]) can also stimulate the expression of proatherogenic genes in endothelial cells.7,8
The response of the endothelium to these stimuli can be rapid. For instance, forearm vascular reactivity increases substantially in the 4-hour period after ingestion of a fatty meal.9 Conversely, low-density lipoprotein (LDL) lowering reduces vascular reactivity.9
Experimental models of tobacco exposure, diabetes mellitus, hypercholesterolemia, and hypertension are characterized by common endothelial abnormalities, such as increased generation of oxidative stress and reductions in bioactivity or synthesis (or both) of endothelium-derived nitric oxide, which results in attenuation of vascular tone.10–14
Chronic endothelial injury eventually leads to endothelial dysfunction and increased permeability (Fig. 26-2). Concomitant events include LDL oxidation and accumulation in the subendothelial space of the intima.15 Oxidized LDL has a proinflammatory and proatherogenic effect, and it has recently been suggested that several of the neoepitopes generated during oxidation are highly immunogenic and result in the generation of autoantibodies.16
The greater endothelial elaboration of oxygen-derived free radicals activates oxidant-sensitive transcriptional proteins such as nuclear factor κB (NF-κB), which induces the expression of adhesion molecules and thus initiates the inflammatory process.17–22
Both cell recruitment into the endothelial surface and oxidized LDL stimulate the production of growth factors and chemotactic agents by endothelial cells.23 These substances attract and stimulate the proliferation of both macrophages and vascular smooth muscle cells (VSMCs).
Macrophages
As monocytes are attracted to the endothelium and migrate to the subendothelial space, they mature into macrophages and upregulate pattern recognition receptors, including scavenger receptors and Toll-like receptors. Scavenger receptors mediate internalization of oxidized LDL, which results in foam cell formation (the earliest event in the formation of fatty streaks). Toll-like receptors transmit activating signals that lead to the release of cytokines, proteases, and vasoactive molecules. Activated macrophages attract additional monocytes and stimulate VSMCs in a positive feedback loop. As foam cells accumulate in the subendothelial space, they distort the overlying endothelium and may eventually even rupture through the endothelial surface.23
Accumulating evidence indicates that macrophages are responsible for some key features of vulnerable plaque. An intense infiltration of macrophages is invariably observed at the site of plaque rupture, where the fibrous cap appears to be undermined. These macrophages are synthesizing cathepsins and abundant amounts of matrix metalloproteinases (MMP-1, MMP-3, and MMP-9). MMPs degrade the extracellular matrix, which weakens the fibrous cap.24–26
T Lymphocytes
T lymphocytes recruited to the intima interact with macrophages and can generate a chronic immune inflammatory state. The T lymphocytes found in atherosclerotic lesions are polyclonal, which indicates that these cells do not develop in response to a single antigen. It is not clear whether the T lymphocytes respond to specific antigens (e.g., bacterial or viral antigens or modified arterial wall constituents and lipoproteins) or are nonspecifically activated by the local inflammatory milieu.7
Nevertheless, T lymphocytes in atherosclerotic lesions recognize antigens and mount helper T cell type 1 responses with secretion of proinflammatory cytokines, which in turn can stimulate macrophages as well as endothelial cells and VSMCs.27
Subtypes of T lymphocytes called regulatory T cells, previously shown to maintain immunologic tolerance, control the development and progression of atherosclerosis. The function of regulatory T lymphocytes is modulated by chemokines and by costimulatory pathways.28,29
Complement
Activation of complement seems to play a role in both initiation of atherosclerosis and acceleration of the disease.30 Complement activation can occur by the classical (antibody dependent), the alternative (antibody independent), the lectin, or the coagulation pathway.31 Whereas complement activation by the classical and lectin pathways may be protective by removal of apoptotic cells and cell debris from atherosclerotic plaques, activation of the complement cascade by the alternative pathway may be proatherogenic and may play a role in plaque destabilization, leading to its rupture and the onset of acute cardiovascular events. In this context, various complement components, including C3, C3a, C4, C5a, and mannose-binding lectin, have served as biomarkers in prospective clinical studies, associated with an increased risk of death, myocardial infarction (MI), or restenosis after percutaneous transluminal angioplasty.31
Platelets
Platelets play an important role in stimulating the progression of atherosclerotic lesions by secreting growth factors and vasoactive substances (e.g., platelet-derived growth factor, transforming growth factor-α, transforming growth factor-β, epidermal growth factor, and insulin-like growth factor-1) after their adherence to the vessel wall in sites of endothelial ulceration.32,33 These substances recruit and stimulate proliferation of VSMCs.
Recently, platelets have been suggested as initial role players in the development of atherosclerotic lesions by recruiting and binding to leukocytes, endothelial cells, and circulating progenitor cells and initiating transformation of monocytes into macrophages. Platelets internalize oxidized phospholipids, express various scavenger receptors that are able to regulate LDL uptake, and promote foam cell formation.34,35 Moreover, platelets have been identified as key effectors of inflammation throughout plaque development through the secretion of several inflammatory molecules, such as CD40L, P-selectin, RANTES, and Toll-like receptors.36 These molecules exacerbate the inflammation and induce the transition from chronic to acute disease, featuring increased instability of the atherosclerotic lesion that results in plaque rupture and thrombosis.36
Vascular Smooth Muscle Cells
The mediators (e.g., platelet-derived growth factor, fibroblast growth factor, transforming growth factor-β, interleukin [IL]–1, and MMPs) released by endothelial cells, macrophages, lymphocytes, and platelets induce a change in the phenotype of VSMCs from the quiescent "contractile" phenotype to the active "synthetic" state. VSMCs in the synthetic state can migrate and proliferate from the media to the intima, where they produce excessive amounts of extracellular matrix (e.g., collagen, elastin, and proteoglycans) that transforms the lesion into a fibrous plaque. VSMCs are also capable of functions typically attributed to other cell types. Like macrophages, VSMCs can express a variety of receptors for lipid uptake and can form foam-like cells, thereby participating in the early accumulation of plaque lipid.
Like endothelial cells, VSMCs can also express a variety of adhesion molecules (e.g., vascular cell adhesion molecule-1 [VCAM-1] and intercellular adhesion molecule-1 [ICAM-1]) to which monocytes and lymphocytes can adhere and migrate into the vessel wall.37 The lesion grows until it is transformed from a fibrous plaque to a complex plaque. Apoptosis, proliferation, and migration of VSMCs are vital to the pathogenesis of atherosclerosis and plaque rupture. VSMCs are the only cells within plaque capable of synthesizing structurally important collagen isoforms.
Currently, the development of therapeutic approaches targeting VSMC migration and proliferation represents an active field of research, beyond drug-eluting stents and balloons that are already standard procedures for the prevention of restenosis.38–40
Vulnerable Plaque
Vulnerable atherosclerotic plaque (high-risk or unstable plaque) is associated with an increased risk of disruption, distal embolization, and vascular events. Vulnerable plaque is an advanced histologic lesion with a large lipid core (filled with lipid and cell debris), thin fibrous cap, ulceration, intraluminal thrombosis, and intraplaque hemorrhage as well as intense infiltration by macrophages and other inflammatory cells.41–44
The most widely used histologic classification of atherosclerotic plaque is the American Heart Association–recommended Stary classification.44 Inflammation plays a key role in the pathogenesis of atherosclerosis. In this process, the immune system and oxidative stress seem to be involved in the initiation, propagation, and activation of lesions in the arterial wall.41–44 Unstable plaque is dominated by inflammatory cells that destroy the fibrous cap and are responsible for endothelial denudation and thrombogenicity of the plaque contents (Fig. 26-3). Rupture depends on the balance between inflammatory cell activity and the VSMC-driven repair process.45 Activated macrophages, T lymphocytes, and mast cells produce a variety of molecules—inflammatory cytokines, proteases, coagulation factors, radicals, and vasoactive molecules—that are expressed in plaque and may modulate remodeling of the extracellular matrix, cell proliferation, and cell death (apoptosis) and thereby ultimately destabilize these lesions.41–44,46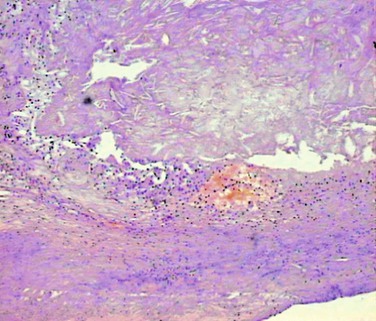 Figure 26-3 Unstable atherosclerotic plaque on histologic examination. Type VI plaque according to Stary's classification,44 in which one or more of the following are present: surface defects (ulceration), hematoma, and thrombosis.
The likelihood of plaque rupture is a balance between the tensile strength of the plaque and the hemodynamic stress exerted on it.47 In ruptured plaque, the fibrous cap appears to be eroded at the shoulder of the lesion (where the fibrous cap meets the intima of the normal segment of the vessel wall).
Furthermore, local infection (e.g., induced by cytomegalovirus, herpes simplex virus, or Chlamydophila pneumoniae) may influence plaque stability.48
Several invasive and noninvasive imaging methods have been used to identify vulnerable plaque, but all have their limitations (Table 26-1).43 Thus far there are no widely available modalities to adequately provide both anatomic and functional information about vulnerable atherosclerotic plaque. New modalities are on the way, and the future looks promising.49–51
Table 26-1
Advantages and Disadvantages of the Different Imaging Techniques Used for Identification of Vulnerable Plaque
| | | |
| --- | --- | --- |
| Imaging Technique | Advantages | Disadvantages |
| High-resolution duplex ultrasound scanning | High resolution; noninvasive; no x-ray exposure; information on arterial wall thickness; qualitative and quantitative analysis of plaque | Limited information on plaque activity, possible improvement with the use of contrast-enhanced ultrasound |
| Digital subtraction angiography | Information on diameter stenosis and luminal surface | Invasive; may underestimate the degree of stenosis; no vessel wall imaging; no information on plaque composition and activity; contrast agent; x-ray exposure |
| Magnetic resonance angiography | Noninvasive; no x-ray exposure; no contrast agent; information on plaque composition | Less accurate in severe stenosis (unless contrast is used) |
| Helical computed tomography angiography | Noninvasive; differentiates between soft, intermediate, and calcified plaque | Contrast agent; x-ray exposure; overestimation of stenosis; no information on plaque activity |
| Intravascular ultrasound | Characterizes vessel wall and plaque morphology early in the disease process; differentiates stable and unstable plaque | Invasive; no information on plaque activity |
| Positron emission tomography | High sensitivity; functional information (plaque activity); molecular imaging | Lack of anatomic information unless combined with computed tomography; radiation exposure |
| Single-photon emission computed tomography | High sensitivity; functional information (plaque activity); molecular imaging | Lack of anatomic information unless combined with computed tomography; radiation exposure |
| Intravascular thermography | Functional information (plaque activity) | Invasive; risk of endothelial damage; difficult interpretation |
| Optical coherence tomography | High resolution (fibrous, lipid, and calcified components of the plaque can be distinguished); small probe size | Invasive; needs blood displacement; limited time window for imaging (2 seconds); limited length of penetration (1-2 mm) |
| Elastography | Differentiates lipid-rich and fibrous tissues; high sensitivity and specificity | Invasive |
| Near-infrared spectroscopy | Information on tissue chemical composition; detects the lipid core, the fibrous cap, and inflammation | Influenced by flowing blood; lack of anatomic information; limited independent role |
Assessment and Management of Risk Factors
The prevalence plus severity of atherosclerosis and peripheral arterial disease (PAD) or coronary artery disease (CAD) in individuals and groups is related to several "old" and "new" risk factors. Thus far there has been no universal agreement on the exact classification of the various cardiovascular risk factors and risk markers.