Chapter 111
Aortoiliac
Extra-Anatomic Bypass
Joseph R. Schneider
The term extra-anatomic bypass refers to any bypass graft, autologous or otherwise that is placed in a site different from that of the arterial segment that is being bypassed. The term is imprecise at best since many common procedures, for example femorotibial bypass with in situ great saphenous vein or carotid artery to subclavian artery bypass might be considered "extra-anatomic." However, the term extra-anatomic bypass is generally used to refer to procedures addressing disease of the aortoiliac and femoral arterial systems and include the basic procedures discussed in this chapter: femorofemoral bypass, axillofemoral bypass, obturator bypass, and thoracofemoral and supraceliac–to–iliofemoral bypass.
General Concepts
The basic situations for which extra-anatomic bypass procedures were developed include patients at unusually high risk for direct aortoiliac replacement (coronary artery atherosclerosis or other severe medical comorbidities), "hostile" abdomen (previous surgery or infection with adhesions, intestinal stomas, active intra-abdominal infection, or otherwise contaminated fields), infected prosthetic intra-abdominal vascular grafts, aortoenteric fistulae, and infected inguinal and infrainguinal arterial bypass grafts or other groin sepsis. These problems were apparent almost as soon as aortic and femoropopliteal vascular reconstructions were first performed in the 1950s and 1960s. Thus all of the basic procedures to be discussed were developed during that era. Although questions remain and data are contradictory regarding several aspects of outcomes with these extra-anatomic bypass procedures, the basic techniques are "mature."
With respect to aortoiliac atherosclerotic occlusive disease, the rapid advances in endovascular therapy have included techniques that may be effective in patients who would previously have been treated with extra-anatomic bypass. However, younger patients with aortoiliac atherosclerosis, who would have been treated with direct aortofemoral bypass in the past, tend to have more discrete disease1–3 and patients with more discrete disease are precisely the group who tend to enjoy the best results with endovascular therapy. Older patients with more advanced comorbidities tend to have more diffuse atherosclerosis and for that reason tend to have less favorable results with endovascular therapy.4–9 Such older, higher-risk patients are more likely to require open surgical therapy, so extra-anatomic techniques would be expected to represent an increasing fraction of open surgical therapies for aortoiliac atherosclerosis. However, endovascular techniques continue to improve, to be applied to a rapidly increasing fraction of patients treated for iliac arterial occlusive disease including total occlusions,10 and may be applicable to a larger pro­portion of patients with diffuse aortoiliac disease in the future.11–13 Thus although the procedures themselves may be considered mature, their role and relative importance in the care of arterial problems is likely to continue to evolve.
History
Freeman and Leeds appear to have been the first to describe femorofemoral bypass,14 although a similar (ilioiliac) operation may have been performed earlier as part of a secondary procedure for iliac limb thrombosis after homograft repair for aortic bifurcation thrombosis and reported later by Oudot and Beaconsfield.15 However, Vetto's 1962 report provided the first comprehensive description of a series of patients undergoing prosthetic femorofemoral bypass using techniques similar to those still in use today.16 Lewis17 described a truly remarkable subclavian artery to distal aortic homograft bypass as part of reconstruction for a patient with both a ruptured infrarenal aortic aneurysm and what seems likely to have been a type B aortic dissection,18 but the first uses of the axillary artery for inflow for axillofemoral extra-anatomic bypass appear to have been virtually simultaneous by Blaisdell and Hall19 and Louw.20 Blaisdell in particular continued to write about axillofemoral reconstruction and associated outcomes.21,22 Shaw and Baue included what are probably the first three cases of obturator bypass in an article describing suggested approaches to a number of infected arterial graft problems,23 although Courbier and Monties suggested the possibility of a transobturator graft route 3 years earlier.24 The first use of the thoracic aorta as the inflow for an extra-anatomic bypass was likely that described by Stevenson et al.25 Axillofemoral bypass and descending thoracic aorta–to–iliofemoral bypass (the latter, for simplicity, hereafter termed thoracofemoral bypass in this chapter) rapidly became important options for aortic prosthetic graft infection. For example, Fry and Lindenauer in 1967 reported the application of a number of these procedures, including at least one each axillofemoral, thoracofemoral, and supraceliac aorta–to–femoral bypass to cases of aortic graft infection.26 Each of these procedures has now been refined, and the experience with each is now sufficient to derive some general conclusions about their applicability and results.
Indications
The indications for extra-anatomic bypass are diverse and vary by the specific procedure contemplated. Femorofemoral and axillofemoral bypass are appropriate for patients with unilateral or bilateral chronic or acute arterial occlusive processes, most commonly atherosclerosis, with disease that is unfavorable for endovascular treatment and who are at high risk for aortofemoral bypass. Outcomes are particularly poor in patients with critical limb ischemia (CLI) who do not undergo arterial revascularization of some sort.27,28 Therefore, even high-risk patients with CLI due to aortoiliac occlusive disease will in most cases be suitable candidates for some sort of reconstruction, and femorofemoral and axillofemoral bypass are certainly among the interventions to be considered in such patients. These procedures may also be appropriate for revascularization in patients with active intra-abdominal infection (including "mycotic" aortic aneurysm or infected aortic prostheses), aortoenteric fistulae, or otherwise "hostile" abdomen that would be unusually difficult to treat with aortofemoral bypass. Obturator bypass is most commonly employed for femoral arterial reconstruction in patients with groin sepsis including primary vascular infection—for example, femoral mycotic aneurysm after puncture for a diagnostic or therapeutic endovascular procedure or recreational drug use, patients requiring removal of an infected arterial prosthesis in the groin, or patients with an otherwise "hostile" groin (e.g., after radiation therapy or previous surgery). Thoracofemoral and supraceliac aorta–to–iliofemoral bypass are most often employed to avoid reoperation in the infrarenal aorta after failure of standard aortofemoral bypass or after removal of infected prosthetic aortic grafts.
Contraindications
Femorofemoral and axillofemoral bypass are contraindicated in patients with extreme "medical" risk for surgery or with unusually short life expectancy. Obturator bypass with vein is a formidable procedure, and likely of greater magnitude than femorofemoral or axillofemoral bypass (or conventional femoropopliteal bypass), but the indications for obturator bypass are most often such that the only alternative may be to ligate the arteries in the groin and accept a substantial risk of major amputation. Consequently, the patient and surgeon may need to proceed with obturator bypass even if the patient is "high risk." Thoracofemoral and supraceliac to iliofemoral bypass are both very formidable procedures, certainly equally or more "invasive" than conventional aortofemoral bypass, and they are inappropriate for patients at high risk for open abdominal or thoracic surgery. With respect to femorofemoral, axillofemoral, thoracofemoral, and supraceliac aorta–to–iliofemoral bypass, aortofemoral bypass remains the standard against which all other methods of reconstruction for iliac artery occlusive disease must be measured.29–34
Femorofemoral Crossover Bypass
Axillofemoral Bypass
Basic Concepts, Indications, and Patient Selection
Axillofemoral bypass depends on the ability of a healthy axillary artery to supply adequate blood to the ipsilateral arm and one or both legs, at least at rest. With the exception of occasional use as treatment of patients with aortic coarctation,187–189 axillofemoral bypass is used almost exclusively as treatment for patients with primary or secondary disease of the infrarenal aorta or iliac arteries. Axillofemoral bypass, just as any other method of intervention for primary or secondary infrarenal aortoiliac disease, must be judged against aortofemoral bypass.30,32–34 Axillofemoral bypass is an essential tool for treatment of many patients with infected aorta or prosthetic arterial grafts or aortoenteric fistulae,190–199 although in situ alternatives, discussed in Section 8 (Complications) and elsewhere in this text, have been proposed even for these patients.199–207 Early experience demonstrated axillofemoral bypass to be an excellent alternative for frail, older adult patients with bilateral iliac artery disease and those with other comorbidities such as multiple prior abdominal operations, abdominal stomas, or prior radiation therapy.86,132,146,208–221 However, the choice between aortofemoral and axillofemoral bypass is often less than clear. The definition of "high risk" is quite subjective, and the threshold for choosing axillofemoral over aortofemoral bypass is likely to vary significantly among surgeons. For example, approximately 25% of our open reconstructions for bilateral iliac artery occlusive disease were axillofemoral bypasses (and we were criticized for this "high ratio" when we presented our work in 1991),94,222 whereas Hepp et al performed axillofemoral bypass about 10 times as often as aortofemoral bypass.223 This has led to markedly different profiles of patient samples in published series of axillofemoral bypass, a topic that will be further in the following section.
Technique and Graft Configuration
Axillofemoral bypass is nearly always performed under general anesthesia.224 We have on rare occasions performed the entire operation with local anesthesia and sedation, but the exploration of the axillary artery and tunneling of the axillofemoral graft segment are difficult to perform under such circumstances. The operation may be expedited by the use of two operating teams, especially for axillobifemoral bypass. Either axillary artery may be an appropriate donor unless there is disease in the subclavian or axillary artery, although the right side is preferred in cases of aortic infection since subsequent remedial operations may involve left flank or thoracic exposures. We have approached this question by measuring blood pressures in both arms and recording continuous-wave Doppler waveforms in the brachial arteries. If a systolic pressure discrepancy of 10 mm Hg or greater exists between the arms, the axillary artery on the side with the higher blood pressure is chosen.
We insist on a triphasic Doppler waveform in the brachial artery in the proposed donor limb. Some authors have recommended routine preoperative arch and subclavian arteriography, citing a substantial frequency of occult disease in the axillosubclavian arterial system of patients considered for axillofemoral bypass.225 If both axillary arteries appear hemodynamically adequate to support axillofemoral bypass, we generally choose the arm ipsilateral to the patient's more ischemic lower extremity, even when performing axillobifemoral bypass. However, the contralateral axillary artery may be used as the inflow even for axillounifemoral bypass if required by the circumstances. In the case of infection, it may occasionally be necessary to place bilateral axillounifemoral or axillodistal grafts,226 for instance, to avoid infected groin wounds. These choices are often made on the basis of other practical issues—for example, to avoid stomas or other pathology or to avoid placing the graft on the side preferred by the patient for sleeping. We would discourage placement of an axillofemoral graft on the side of a patent arteriovenous hemodialysis fistula, although we are unaware of any objective examination of the results of such procedures. Intraoperative arterial pressure-monitoring catheters should generally be placed in the nondonor arm.
Some surgeons perform the operation with the donor side arm at the patient's side, but we prefer a supine position with the arm abducted to 90 degrees on the donor side. We also place a rolled towel under the patient on that same side to lift the torso several centimeters from the operating table deck. We believe these maneuvers improve exposure of the most medial portion of the axillary artery and allow visualization of the flank and lateral chest wall while passing the graft tunneler. We have used the 65-cm Gore tubular tunneler (W.L. Gore, Flagstaff, Ariz) and found that it allows easy passage of the axillofemoral graft limb without an intermediate incision in the flank. Femorofemoral limbs are positioned using the same approach described previously for isolated femorofemoral bypass. We have always draped widely to allow thoracotomy, sternotomy, or celiotomy, if necessary, to manage intraoperative bleeding or other complications that would dictate these approaches (Fig. 111-2), although we have never found it necessary to perform any of these maneuvers.
Axillary Anastomosis
A transverse infraclavicular incision is carried through the clavipectoral fascia, exposing the pectoralis major muscle. The pectoralis major muscle fibers are pushed superiorly and inferiorly exposing the deep fascia and beneath that, the fat containing the axillary vein, artery, and brachial plexus elements. The axillary artery is exposed from the clavicle medially to the pectoralis minor muscle laterally, often requiring ligation of crossing veins or small arterial branches. The axillosubclavian arteries are considerably more fragile than the femoral arteries and care must be taken not to injure them or the adjacent veins and brachial plexus elements during dissection or during placement of retractors or vascular clamps. Similarly, care must be taken when performing anastomoses to the axillary arteries since sutures are much more likely to pull through these more fragile vessels. Conventional longitudinal or oblique groin incisions are used for femoral artery exposure.
Some early adopters of axillofemoral bypass recommended proximal anastomosis to the third portion of the axillary artery (lateral to the pectoralis minor muscle) since that portion of the artery is so accessible.208,214,218,227 However, Blaisdell21,228 from the beginning of his experience, and others since that time, have stressed medial placement of the axillary anastomosis on the first portion of the axillary artery (medial to the pectoralis minor muscle) to avoid tension (see next section). We have generally placed the graft posterior to the pectoralis minor muscle unless the patient has had prior axillary surgery, but placement of the axillary end of the graft anterior or posterior to the pectoralis minor muscle is probably unimportant with respect to results. It is far more important to place the axillary-graft anastomosis as medially as possible to avoid tension on the axillary anastomosis when the arm is abducted.229 Furthermore, medial placement of the axillary anastomosis eliminates the need to divide the pectoralis minor muscle in most cases. Leaving a slight excess length of graft in the axilla has also been advocated to reduce the likelihood of tension on the anastomosis.230,231 The axillofemoral graft must be tunneled subcutaneously in the midaxillary line to prevent kinking of the graft with torso flexion or kinking over the costal margin, which tends to be more prominent anteriorly than in the midaxillary line. Care must also be taken to avoid injury to the neurovascular structures of the axilla during tunneling.
Femoral Anastomoses
Systemic heparin is given after graft tunneling. The proximal-end-graft to side-axillary artery anastomosis is generally performed first. The order of distal anastomoses for axillobifemoral grafts may vary depending on whether there are one or two surgeons. The distal anastomosis is conventionally performed end-to-side to an appropriate artery in the groin. It is important to ensure adequate outflow. In the case of axillobifemoral configuration, the femorofemoral component may be placed by "piggy-backing" the femorofemoral graft onto the distal anastomotic hood of the axillofemoral graft (Fig. 111-3A). Alternatively, the femorofemoral graft may be placed first as described earlier and the distal anastomosis of the axillofemoral component may be piggy-backed onto the ipsilateral femorofemoral graft anastomotic hood. Either of these two variations would qualify as an inverted U femorofemoral component and would maintain maximum flow throughout the axillofemoral component, a characteristic thought to be desirable with respect to graft patency. Femorofemoral graft components should be placed using the principles described earlier. Blaisdell22,232 and Rutherford et al233 have described alternative configurations that theoretically prevent competitive inflow from the native iliac arterial system on the side of the distal axillofemoral anastomosis and which may thereby decrease the risk of graft thrombosis due to stasis (Fig. 111-3B and 111-3C). In Figure 111-3B, the common femoral artery is divided superior to the distal axillofemoral anastomosis and the femorofemoral graft component is anastomosed end-to-end to the distal common femoral artery. In Figure 111-3C, the common femoral artery is divided as in Figure 111-3B, but the common femoral artery is anastomosed to the side of the axillofemoral graft, which is then continued from the right groin to the left groin for the left femoral anastomosis. This latter configuration has the potential advantage of reducing the total number of anastomoses from four to three. Another alternative approach has been advocated by Wittens et al.234 These authors have examined a variety of grafts with manufactured bifurcations for axillobifemoral reconstructions. They found that a graft with a flow divider similar to that in bifurcated aortobifemoral grafts provided both superior hemodynamic performance and patency, although I could not identify any published confirmatory data since the original publication in 1992 except Dr. Wittens' later doctoral thesis.234,235 Thus I would consider this approach as potentially useful but unconfirmed at this time. Indeed, this configuration appears similar to that first used by Sauvage and Wood210 but later described as "incorrect" by the same group.81 These grafts would appear to have long ipsilateral and contralateral distal graft limbs beyond the graft bifurcation, contrary to the most typical strategy as mentioned earlier. Furthermore, such a configuration would seem to require either a much longer ipsilateral groin incision or a counter-incision on the ipsilateral flank to avoid kinking of the contralateral distal graft limb. It is very important to confirm enhancement of flow in the recipient vessels using a continuous wave Doppler or other suitable test after anastomoses are completed and all clamps are removed. It is also essential to confirm adequate blood flow in the donor arm beyond the axillary anastomosis by confirming a good radial pulse or satisfactory oxygen saturation as indicated by pulse oximetry in the hand with both the axillofemoral graft and axillary outflow vessels unclamped.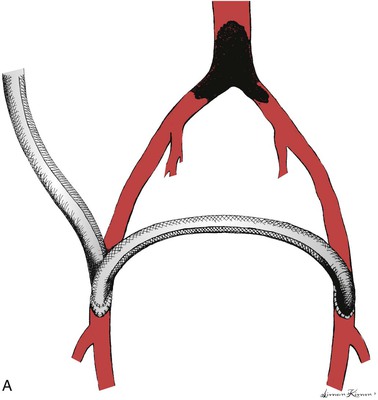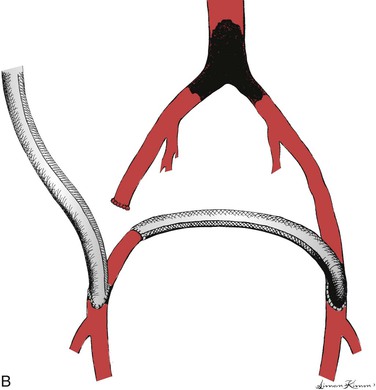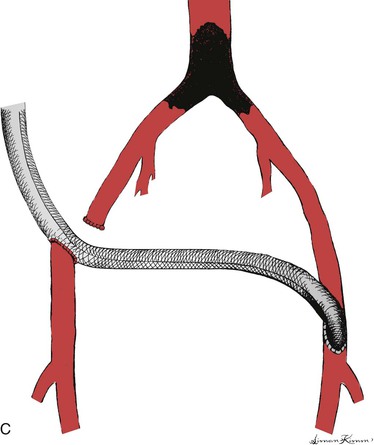 Figure 111-3 Three configurations of axillobifemoral bypass grafts. All three are shown with a right-sided axillofemoral graft component. A, The most common configuration.81 B and C, Modifications described by Blaisdell22,232 and Rutherford et al,233 respectively, designed to prevent competitive inflow from a patent ipsilateral iliac system.22
Results
Effects of Surgical Indications and Patient Characteristics on Results
Early Literature.
Earlier series of axillofemoral bypasses made it clear that axillofemoral bypass provided acceptable patencies in high-risk patients212–214,236 but the emergence and adoption of life-table methods for patency estimates allowed more meaningful comparisons between axillofemoral bypass and aortofemoral bypass and between series of axillofemoral bypass. Examination of reports of axillofemoral bypass yields perhaps the broadest range of long-term patencies of any arterial reconstructive procedure.101,237 A prior review of pertinent articles regarding axillofemoral bypass and confined primarily to patients with chronic lower extremity arterial occlusive disease published between 1960 and 1993 yielded 3-year primary patency estimates as low as 39% and as high as 85%.238 A subsequent 1996 report from Passman et al reported 5-year estimated primary patency of 74%.239
There are many potential explanations for these discrepancies. Patients undergoing axillofemoral bypass as part of the treatment for infection of the aorta or an aortic prosthesis or for aortoenteric fistula tend to suffer high perioperative morbidity and mortality, but with respect to graft patency and limb salvage results have varied. Oblath et al240 and Hennes et al199 reported generally mediocre results, but other investigators report that survivors are likely to enjoy better patency than those with chronic severe arterial occlusive disease.101,198,241,242 Series including substantial numbers of such patients will generally report a more favorable patency experience. On the other hand, it is likely that patients undergoing emergent axillofemoral bypass for acute lower extremity ischemia suffer substantially more early and late complications than do those undergoing surgery in more elective circumstances.243,244 Results after primary operations, including axillofemoral bypass can be expected to be superior to those for secondary operations.101 Patient characteristics and surgical indications influence outcome and must be considered when reading published reports of results of axillofemoral bypass. Axillofemoral bypass was also initially proposed only for high-risk patients,210,211,215,216 but by the mid- to late-1970s, some authors advocated extending these procedures to more patients and in some cases even advocated axillofemoral bypass as the procedure of choice for all but the youngest and healthiest of patients when anatomy allowed.130 Many surgeons were strongly influenced by three specific favorable reports,81,245,246 but the favorable experience reported in these articles may have been due to the characteristics of the patients reported and the approach to patency reporting.
Claudication versus Critical Limb Ischemia.
Claudicants have generally been found to enjoy better patency than patients with CLI for virtually every type of arterial reconstruction for chronic lower extremity arterial disease (with the possible exception of femorofemoral bypass, see earlier). Furthermore, claudicants tend to live longer than patients with CLI and through that mechanism tend to contribute to patency life tables longer than do those with CLI. Thus series with substantial numbers of low-risk claudicants tend to report disproportionately favorable patency experience than do those restricted to high-risk patients with CLI.247 If analysis is confined to high-risk patients, then most patients are likely to suffer from critical limb ischemia, patency is likely to be poorer, and late mortality is likely to be high. These issues and considerations have probably not changed significantly over time. For example, Bliss and Barrett reported estimated survival of only 43% at 28 months after axillofemoral bypass,214 Devolfe et al observed an approximately 35% 3-year survival 10 years after Bliss,219 and we reported 35% 3-year estimated survival 20 years after Bliss.93 However, as longevity of patients with cardiac and other comorbid diseases has improved over the last several years, the survival of patients undergoing axillofemoral bypass may also have improved. Huded et al reported 5-year survival of more than 40% in the most recent substantial study including axillofemoral bypass patients.108
Secondary Patency.
Finally, some of these favorable reports were based on the use of what is currently termed "secondary patency." Nearly all authors have noted that axillofemoral bypass grafts are more likely than aortofemoral grafts to thrombose, and the favorable secondary patency of the former was at the expense of a significantly more frequent requirement for graft thrombectomy. Some reports have also considered the axillofemoral and femorofemoral components of axillobifemoral grafts as two distinct grafts, thus doubling the total number of "observed" grafts. Using this approach, thrombosis of one component has only half as much impact on the patency calculations as it would if the entire graft is considered as a unit. We consider this approach to be misleading since patients would find little consolation in persistent patency of half of their graft when told they will require amputation because of thrombosis of the other component of their graft.
Systematic Review.
Review of the published literature addressing axillofemoral bypass for chronic lower extremity ischemia since those earlier favorable reports has generally been much less optimistic. Two exceptions have been the favorable experience of Ray et al and El-Massry et al from the same group in Seattle and reports from the group at the Oregon Health Sciences University.81,239,248,249 It is instructive to examine these reports after stratification by operative indication. For example, Corbett et al reported 38% secondary patency at 2 years in a series composed of only patients with CLI,250 whereas Ray et al (roughly contemporary with Corbett et al and including 59% claudicants) reported 79% primary patency at 3 years. Dé and Hepp had to perform at least 1 and as many as 5 explorations for thrombosis in half of 131 axillofemoral bypass grafts.251 KA Harris et al reported only a 53% 3-year patency,252 whereas EJ Harris et al reported 78% 5-year primary patency in roughly the same era.248 Urayama et al noted markedly reduced primary patency for extra-anatomic bypass compared with direct aortofemoral reconstruction, but the former group was older, more likely to have critical limb ischemia, and had markedly lower survival to at least 10 years after the procedure.253
Table 111-2 represents a review including reports that appeared to adhere to current reporting standards.* We selected articles that we thought provided adequate information about indications for axillofemoral bypass, comorbidities, and late mortality; clearly used life-table methods to calculate patency as defined using Society for Vascular Surgery criteria261,262; and when possible, included data only from patients with chronic or acute arterial occlusive disease, excluding data related to arterial or prosthetic graft infection. It was unclear in some of these articles whether patency was calculated by number of graft limbs or number of patients. These studies are arranged in Table 111-2 in order of ascending primary patency. Only two primary reports of axillofemoral bypass that I could identify published in the last 20 years appear to qualify for inclusion in Table 111-2 based on the just-described criteria, although there does seem to be a trend toward lower operative mortality in some more recent reports that are not included in Table 111-2.263–266 With the exception of the report of Donaldson et al,257 the results of the reports included in Table 111-2 are fairly easily separated into series with few claudicants, including our own previous report and series that include significant numbers of claudicants, the former comprising seven of the first eight citations and the latter consisting of Donaldson et al, plus the last five citations in the table. Thus it appears that inclusion of as few as 20% claudicants in such a series has a potentially dramatic impact on the patency experience of axillofemoral bypass. Operative and late mortality, where reported, are also lower in those series with larger numbers of claudicants, thus enhancing the patency predictions by the mechanisms discussed earlier. Finally, a wide range exists in the frequencies of various comorbidities in patients undergoing axillofemoral bypass, reinforcing the contention that the definition of "high-risk" differs among institutions. Jämsén et al and Huded et al have provided an excellent description of their results, but these reports did not clearly distinguish claudicants from those with CLI to an adequate extent to allow inclusion in Table 111-2.108,263