Psychiatric Emergencies
Edited by George Jelinek
George Jelinek and Sylvia Andrew-Starkey
Aims of mental health assessment
The aims of the formal mental health assessment are to determine the following:
Only if all of the above are answered, can management and appropriate disposition be considered.
The formal psychiatric interview
Introduction
The environment in which the mental state assessment is conducted is important. Behaviourally disturbed people tolerate noise poorly and have short concentration spans. The interview room should be quiet, private, make the patient feel safe and the interviewer should avoid all interruptions. These prerequisites are increasingly difficult to attain in current access-blocked environments.
The interviewer should sit at the same level as the patient and impart empathy. The voice should be quiet and calming. The interviewer should use non-judgemental language and open-ended questions [13,16]. It is important that the interviewer also feels safe and secure. If any risk is felt, the interviewer should have security or police present in the room or just outside. Depending on state legislation and hospital policy, the interviewer may request to have the patient searched. The interviewer should also note the nearest duress alarm and may choose to wear a personal alarm. The interviewer should sit within easy access of an exit and should never be boxed into a corner. If an interviewer begins to feel uncomfortable, there is always the option of leaving and returning to complete the assessment at a later stage. All threats, attempts and gestures suggestive of violence should be treated seriously.
First part of the interview: direct questioning
Basic demographic information
The formal interview has become less diagnosis focused and more problem based. Management is centred around the alleviation of symptoms and return to function. Thus, the psychiatric interview has become somewhat less structured.
It is wise to establish rapport with the patient by personal introduction and explaining the purpose of the interview. The interviewer can begin by asking a series of non-threatening questions, such as demographics. This information is often required as many mental health services rely on an appropriate post code to determine follow-up management.
These questions assist by building a profile of lifestyle, relationships and thought processes. Likelihood of success or failure of particular treatment modalities may be assisted by knowledge of previous hospital admissions, both general hospital and mental health (Table 20.1.6).
Table 20.1.6
Demographic information required
Age/date of birth
Address
Accommodation history
Other persons in household
Occupation
Occupational history
Social resources:
Past medical history
Previous hospital admissions
Previous mental health admissions:
Forensic history:
Alcohol
Drug use
Tobacco use

The process of obtaining a mental health assessment is different to that of a general medical assessment. In a general medical history, a series of questions is asked and the response is written. In a mental health assessment, responses are also interpreted. The interviewer is asked to form an opinion as to how thoughts are processed, based on observations. The interviewer is asked to interpret the patient's thought patterns by what, and how, the patient tells the interviewer.
Presenting complaint
The patient is asked to recall the sequence of events prior to presentation to the ED. The interviewer should explore the circumstances of the behaviour, reasons for it, degree of planning or impulsivity and its context. Were drugs and alcohol involved? Was there a recent precipitating event? It is often useful to get the patient to recall the previous 48–72 hours leading up to the event.
This usually leads to questioning regarding current difficulties. The interviewer should explore the nature of current problems. They may be financial or legal problems, isolation, bereavement, impending or actual loss, or diagnosis of major illness. Have there been any recent changes and who are their usual support people? An exploration of significant relationships is important along with the depth and duration of these relationships. It is useful to explore the patient's usual coping methods when under stress.
Mood and affect
There should be formal questioning regarding the patient's mood (internal feelings) and whether it is in keeping with affect (external expression). The mood may be incongruent with affect, swing wildly between extremes (labile) or be inappropriate.
Usually mood is assessed by asking about the patient's ability to cope with activities of daily living, such as eating, weight loss or gain, sleep disturbance (early morning wakening or trouble getting to sleep) and general hygiene. The patient's ability to concentrate may also diminish with increasing mood disturbance, reflected by the ability to perform normal work duties.
This may lead to direct questioning regarding mood and thoughts of suicide. It is important to be direct in asking the patient about suicide and whether there is a formulated plan. A well thought out plan with clear means of carrying out threats is of great concern.
Delusions and hallucinations
Delusions and hallucinations are often personal and the patient may not want to disclose intimate thoughts and beliefs to the interviewer. Hallucinations may be auditory, visual, tactile, olfactory, somatic or gustatory. The context in which they occur should be explored. Hypnagogic (occurring just before sleep) and hypnopompic (occurring on wakening) hallucinations are more benign than others. Common themes for all types of hallucinations include suicide, persecution, religion, control, reference, grandeur or somatization.
Insight and judgement
Insight is the degree of understanding of what is happening and why. This may be:
It is important to determine the patient's level of insight. This determines appropriate treatment and management, level of supervision required and the likelihood of compliance with treatment.
Second part of interview: observation
Key elements
The second part of the MSE can be more difficult to conceptualize. It relies on the interviewer actively observing the patient's behaviour and conversation and interpreting thoughts. A summary is given in Table 20.1.7.
Table 20.1.7
Overview of mental state examination
General description:
Mood and affect:
Motivation/energy
Appetite
Sleep
Speech:

perception
Thought process:
Cognition:
Insight and judgement
Impulse control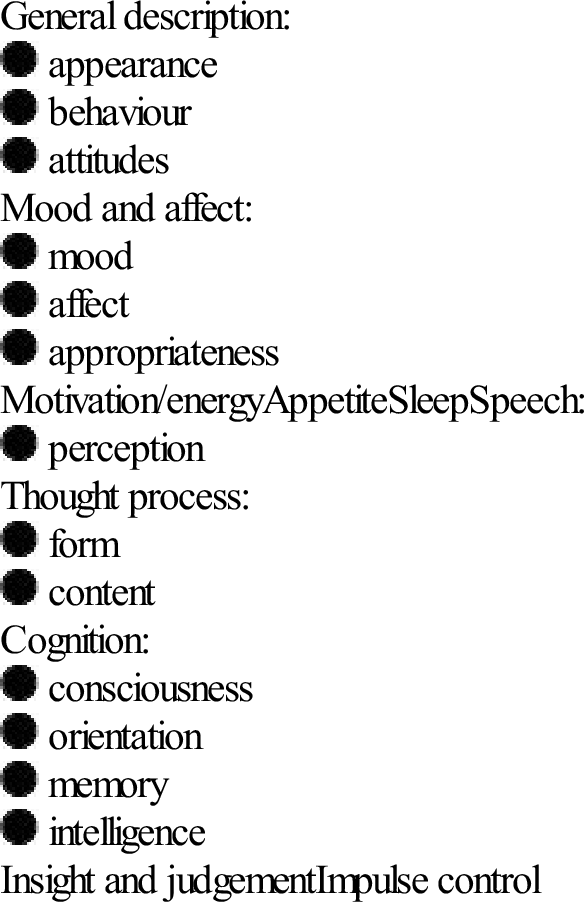 This part of the interview can be difficult to remember and different services have developed a multitude of acronyms for remembering the various elements of the remaining mental health assessment. Listed below are two.
ABC of Mental Health Assessment [12]:
GFCMA – 'Got Four Clients on Monday Afternoon' [13]:
Appearance, attitude and behaviour
This determines the patient's ability to self-care. Table 20.1.8 lists features that may require particular attention. Attitude is important as it may indicate whether a patient is compliant with management and treatment. Abnormal posturing or repetitive behaviours should be noted. These may indicate increasing thought disturbance. With increasing aggression and agitation, there may be motor restlessness, pacing and hand wringing. Tension may escalate rapidly and steps should be taken early to diffuse the situation.
The interviewer should note the rate, volume and rhythmicity of speech. This can range from completely mute, through monosyllabic answers, to rapid, loud speech indicative of pressure of speech. The tone, inflection, content and structure of speech should be noted. The interviewer should determine if the speech is fluent, if the thoughts behind it are logical and whether it flows appropriately for the situation.
Thought disorder
This is speech that does not reach its goal, is not fluent and is interrupted often with many pauses or changes in direction. A list with explanations is given in Table 20.1.9.
Table 20.1.9
| | |
| --- | --- |
| Circumstantiality | Delays in reaching goals by long-winded explanations, but eventually gets there |
| Distractible speech | Changes topic according to what is happening around the patient |
| Loosening of associations | Logical thought progression does not occur and ideas shift from one subject to another with little or no association between them |
| Flight of ideas | Fragmented, rapid thoughts that the patient cannot express fully as they are occurring at such a rapid rate |
| Tangentiality | Responses that superficially appear appropriate, but which are completely irrelevant or oblique |
| Clanging | Speech where words are chosen because they rhyme and do not make sense |
| Neologisms | Creation of new words with no meaning except to the patient |
| Thought blocking | Interruption to thought process where thoughts are absent for a few seconds and are unable to be retrieved |
Thought content
There are often recurrent themes in the speech of an acutely disturbed patient. These may revolve around suicide, persecution, control, reference, religion or somaticism (the extremes of which are nihilistic delusions – the belief that part of the self does not exist, is dead or decaying) or they may be grandiose in nature.
Perception
A patient may be actively hallucinating despite denying this on questioning. It is important to note if the patient's eyes suddenly switch direction for no apparent reason or they appear to be listening to a voice. These movements are often quite subtle and easily missed if observation is not active.
Cognitive assessment and physical examination
A formal examination of cognitive function and a thorough physical examination complete the full psychiatric assessment. The interviewer should ensure that the patient does not have an acute confusional state secondary to a physical condition that may account for a behavioural problem.
A number of tools are available to assess cognitive functioning. These comprise assessments in orientation, concentration, memory, language, abstraction and judgement. An assessment of a patient's cognitive functioning and intelligence may assist in deciding the best way to deal with problems.
Approximately 20% of mental health patients have a concurrent active medical disorder requiring treatment and possibly contributing to the acute behavioural disturbance [6]. Investigations depend on physical findings but may include creatine kinase, urine drug screen, electroencephalogram, computed tomography and lumbar puncture. Only after this can an emergency medicine practitioner plan the most appropriate management.
Conclusion
Although time consuming, a good mental health assessment is vital for the appropriate management and disposition of what is an increasingly large group of patients in the ED. If able to formulate an opinion on the risk assessments regarding suicide, violence and flight risk and the aims of the MSE, the emergency clinician will be able to present to mental health services a comprehensive picture of the patient.
The mental health professional is then able to administer mental health first aid [2], the principles of which are: