Vascular Pressure Monitoring
Hemodynamic monitoring often plays an important role in the assessment and treatment of critically ill patients. It is performed to evaluate intravascular fluid volume by measuring central venous pressure (CVP); cardiac function by measuring arterial blood pressure, pulmonary artery wedge pressure (PAWP), and cardiac output (CO); and vascular function by measuring systemic and pulmonary vascular resistance. Ideally, the information will be easily obtained, continuously available, and reliable, and the process of obtaining the information will not harm the patient.
Invasive hemodynamic monitoring is needed because basic clinical assessments such as evaluating jugular venous distention or heart sounds alone may not accurately reflect patients' hemodynamic status. Before a catheter is placed in a patient, however, clinicians must consider the risk-to-benefit ratio of invasive monitoring. The risk for invasive hemodynamic monitoring is minimized when properly trained clinicians insert and maintain the system. The complications associated with placing a catheter in a major blood vessel are detailed throughout this chapter.
Bedside monitors acquire and calculate physiologic data in real time and often transfer the data automatically to computers for trend analysis. However, monitors may not always provide accurate information. Therefore, optimal invasive monitoring requires not only knowledge of the procedural complications and use of the information but also understanding and control of the factors affecting the validity of the data. Therapeutic decision making based on the numbers alone is never adequate and can be dangerous.
This chapter provides an introduction to the hemodynamic pressures most often monitored invasively in critically ill patients: arterial pressure, CVP, and pulmonary artery pressures (Box 15-1). Indications and complications of invasive monitoring, normal and abnormal pressure waveforms, and clinical applications are discussed.
Table 15-1 summarizes the common reference ranges and the abbreviations for the pressures discussed in this chapter. Although intracardiac pressures are essentially the same in adults and children, heart rate and blood pressure vary significantly by age. Table 15-2 lists the common reference ranges for heart rate and blood pressure for children from infancy through 16 years of age. Remember that reference ranges are obtained from studies on healthy people and may be neither normal nor desirable for a specific patient. Nevertheless, knowledge of these reference ranges is essential in the interpretation and application of hemodynamic data.
TABLE 15-1
Reference Ranges for Hemodynamic Pressures
Pressure
Abbreviation
Normal Value (mm Hg)
Arterial pressure
BP
Systolic 100-140
Diastolic 60-90
120/80 (90/60 in teenage girls)
Mean arterial pressure
MAP
70-105
Central venous pressure
CVP
2-6 (mean)
Right atrial pressure
RAP
2-6 (mean)
Right ventricular pressure
RVP
Systolic 15-30
Diastolic 2-8
Right ventricular end-diastolic pressure
RVEDP
2-6
Pulmonary artery pressure
PAP
Systolic 15-30
Diastolic 8-15
Mean pulmonary artery pressure
MPAP or PAP
9-18
Pulmonary artery wedge pressure
PAWP, PCWP, PAOP
6-12
Left atrial pressure
LAP
4-12
Left ventricular pressure
LVP
Systolic 100-140
Diastolic 0-5
Left ventricular end-diastolic pressure
LVEDP
5-12
TABLE 15-2
Reference Ranges for Heart Rate and Blood Pressure in Children
Age
Blood Pressure Average for Males (Females 5% Lower)

Heart Rate

∗
Average
Range
Neonate
75/50
140
100-190
1-6 mo
80/50
145
110-190
6-12 mo
90/65
140
110-180
1-2 yr
95/65
125
100-160
2-6 yr
100/60
100
65-130
6-12 yr
110/60
80
55-110
12-16 yr
110/65
75
55-100
Range: ±20%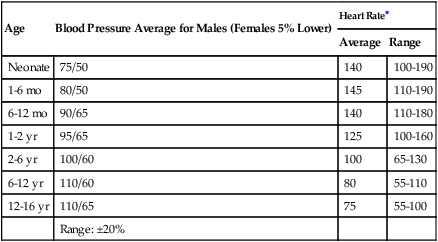 ∗Heart rates rounded to nearest 5.
Data from Rubenstein JS, Hageman JR: Monitoring of critically ill infants and children. Crit Care Clin 4:621, 1988.