76. Sarcoidosis
Definition
Sarcoidosis is a chronic multisystem inflammatory disease characterized by noncaseating granulomas as well as lymphocytic alveolitis.
Incidence
In the United States the overall incidence of sarcoidosis ranges from 5:100,000 to 40:100,000. Among Caucasians the incidence is about 11:100,000, but among African Americans the incidence is about 34:100,000. Internationally the incidence varies with the country as well as the degree of development of the country. For example, in Sweden the incidence is about 20:100,000, whereas in Japan the incidence is about 1.3:100,000. Sarcoidosis has been reported in most countries. In developing countries it is frequently misdiagnosed as tuberculosis. This disease affects men more frequently than women by a 2:1 ratio.
Etiology
The true cause of sarcoidosis is not known. There is evidence of both genetic and environmental causative factors. Sarcoidosis is not a malignant disease, nor is it an autoimmune disease.
Possible Pathogenic Causes of Sarcoidosis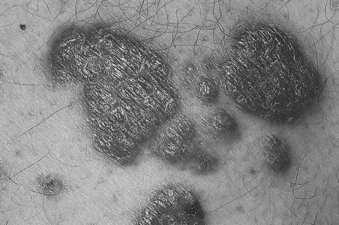 Sarcoidosis. Erythematous annular plaques.
Signs and Symptoms
• Elevated monocyte count
• Peripheral lymphadenopathy
Medical Management
Buy Membership for Anesthesiology Category to continue reading.
Learn more here