Chapter 28 Pneumonia in the Non–HIV-Infected Immunocompromised Patient
Potential pathogens causing lung infection in the immunocompromised patient are listed in Table 28-1. Empirical therapy that is active against all these possible pathogens is not feasible, especially given the potential toxicity of some treatments. Hence, the challenge in managing these patients is to (1) reduce the scope of the differential diagnosis to include the most likely problems and thus allow relatively targeted empirical therapy and (2) identify when and which type of invasive diagnostic test(s) should be used to provide the most useful data. The likely potential causative pathogens can be defined by ascertaining the following:
| Pathogen | Cases (%) |
| --- | --- |
| Gram-Negative Pyogenic Bacteria | |
| Escherichia coli | 6 |
| Proteus, Enterobacter, Serratia, and Citrobacter spp. | 2 |
| Haemophilus influenzae | <1 |
| Klebsiella pneumoniae | <1 |
| Pseudomonas aeruginosa | 8 |
| Acinetobacter spp. | 2 |
| Stenotrophomonas maltophilia | <1 |
| Gram-Positive Pyogenic Bacteria | |
| Streptococcus pneumoniae | 2 |
| Viridans streptococci | <1 |
| Staphylococcus aureus | 12 |
| Enterococcus spp. | 4 |
| Other Bacteria | |
| Anaerobes | <1 |
| Legionella pneumophila | 2 |
| Chlamydia spp. | 2 |
| Mycoplasma pneumoniae | <1 |
| Mycobacterium tuberculosis | 4 |
| Nontuberculous mycobacteria | <1 |
| Nocardia spp. | 2 |
| Fungi | |
| Pneumocystis jirovecii | 3 |
| Candida spp. | 9 |
| Aspergillus spp. | 24 |
| Rarer molds (e.g., Mucor, Penicillium, Fusarium) | 2 |
| Endemic fungi (e.g., Histoplasma, Coccidioides) | <1 |
| Protozoa | |
| Toxoplasma gondii | <1 |
| Helminths | |
| Strongyloides stercoralis | <1 |
| Viruses | |
| Cytomegalovirus | 6 |
| Herpes simplex virus, varicella-zoster virus | 2 |
| Respiratory viruses (respiratory syncytial virus, adenovirus, influenza virus, parainfluenza virus, human metapneumovirus) | 8 |
Modified from Rañó A, Agustí C, Jimenez P, et al: Pulmonary infiltrates in non-HIV immunocompromised patients: a diagnostic approach using non-invasive and bronchoscopic procedures, Thorax 56:379–387, 2001.
The exact type of immune defect is determined by a combination of the disease and the treatment received and, fortunately, can generally be predicted (Table 28-2). The three main categories of immune defect are absolute or functional neutropenia, defects in cell-mediated immunity, and deficiencies in antibody responses (a clinically less severely affected category). Each is associated with a particular range of pathogens (see Table 28-2). Patients with neutropenia are mainly at risk for infection with extracellular pathogens such as pyogenic bacteria and filamentous fungi. Defects in cell-mediated immunity tend to predispose affected patients to development of infections with intracellular pathogens such as viruses and mycobacteria, as well as some unusual extracellular infections such as Pneumocystis pneumonia (PCP). Deficiencies in antibody responses result in a high incidence of infections due to encapsulated bacteria such as Streptococcus pneumoniae and to herpesviruses. Individual patients may have a combination of these immune defects; for example, lymphoma can cause impairment of cell-mediated immunity that can be combined with neutropenia if the patient receives chemotherapy.
| Immune Defect | Cause | Associated Pathogens |
| --- | --- | --- |
| Neutropenia/functional neutrophil defects | | |
Cell-mediated immunity
Antibody deficiency
HSCT, hematopoietic stem cell transplantation.
* Allografts up to 1 month, autografts usually less than 14 days.
† Patients usually have a normal neutrophil count but have defects in their function and/or a poor response to infection.
HSCT, especially for allograft recipients, is particularly associated with lung complications, including infections with a daunting range of pathogens. The immune defects associated with HSCT depend on the conditioning regimen and type of graft, and evolve with time. In phase I, the preengraftment phase (15 to 45 days after transplantation), prolonged neutropenia and breaks in the mucocutaneous barrier increase the risk of bacterial and fungal infections. Herpes simplex virus reactivation also can occur during this phase. In phase II, the immediate post-engraftment phase at around 30 to 100 days after transplantation, infections relate primarily to impaired cell-mediated immunity and include those due to herpesviruses (particularly CMV) and PCP unless the patient is given prophylaxis. During phase III, the late phase (beyond 100 days), common pathogens again include herpesviruses, but there is also a marked increased incidence of infection with encapsulated bacteria such as S. pneumoniae, perhaps relating to impaired humoral immunity. Graft-versus-host disease also is associated with ongoing susceptibility to Aspergillus during phases II and III. For recipients of nonmyeloablative hematopoietic stem cell transplants, substantial differences may be observed during phase I, but susceptibility to infections during phases II and III is about the same. The risk of disease from community-acquired respiratory viruses is elevated in all three phases.
By combining the clinical pattern of presentation with knowledge of the patient's immune defect, a differential diagnosis of likely pathogens can be suggested. For example, infections developing rapidly over 1 to 3 days with a marked rise in serum inflammatory markers such as C-reactive protein (CRP), pronounced fever, and focal radiologic changes are very likely to be due to infection with pyogenic bacteria. In a patient with a defect in cell-mediated immunity, however, widespread ground glass infiltrations in both lungs developing over several days could represent CMV pneumonitis or PCP. In general, the more severe and prolonged the immune defect, the greater the range of possible causative pathogens and the less typical the clinical presentation for a particular pathogen, prompting the need for early invasive investigation if the initial therapy is failing to effect improvement. Furthermore the character of the disease can be dictated by the severity of the immune defect. For example, infections due to filamentous fungi such as Aspergillus progress faster with increasing severity of neutropenia, but may regress and become more focal when the neutrophil count recovers. Table 28-3 shows the common conditions that should be considered for different presentations of lung complications in immunocompromised patients. Many patients will be found to have dual pathologic processes, either involving two separate pathogens or with simultaneous noninfective (fluid overload being the most common) and infective problems, which will be responsible for separate elements of the clinical picture.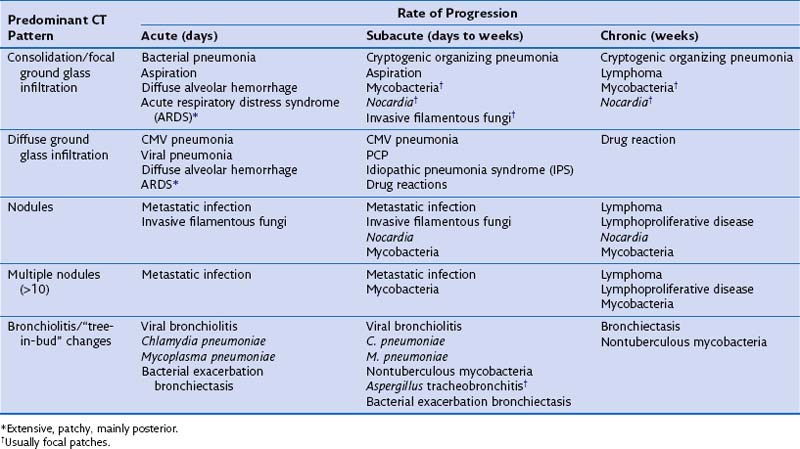 Previous results of microbiologic tests need to be reviewed, because these may provide a strong indication of the cause of the present lung infection. For instance, infected indwelling vascular and urinary catheters can form foci of infection that can metastasize to the lungs, and previous Aspergillus infection may recur during new episodes of immunosuppression. Knowledge of previous and present CMV status identifies patients at risk for development of CMV pneumonitis, and positive sputum surveillance cultures for methicillin-resistant Staphylococcus aureus (MRSA) or Pseudomonas aeruginosa may indicate likely causes of a new pneumonia. In addition, positive samples from other patients also may be helpful, because local epidemics of respiratory virus infections are not uncommon in hospitals, and more rarely, clusters of nosocomial Aspergillus, Nocardia (both of which may be associated with ongoing construction on the hospital site), or Legionella infection can occur.
Other important factors that need to be taken into account include the patient's present antibiotic prophylaxis regimen, travel history, and ethnic background. A patient compliant with co-trimoxazole prophylaxis will rarely develop PCP, and fluconazole prophylaxis predisposes to non-albicans Candida infection. Patients with certain ethnic backgrounds or a pertinent travel history are more at risk of TB, endemic mycoses such as histoplasmosis, or parasitic diseases such as disseminated strongyloidiasis. Finally, the patient's background lung structure and function should be considered, because existing structural abnormalities may make certain pathogens more likely. For example, bronchiectasis could predispose affected persons to pneumonia caused by P. aeruginosa (Figure 28-1), and preexisting lung cavities to Aspergillus infection.