CHAPTER 85 MUSCULAR DYSTROPHIES
Muscular dystrophies constitute a clinically and genetically heterogeneous group of skeletal muscle-wasting diseases.1 The molecular causes of the muscular dystrophies remained elusive for many decades, and the muscular dystrophies were classified into relatively few clinical entities. In the late 1980s, major advances in molecular genetics led to the discovery of the dystrophin gene and its protein product, dystrophin.2,3 Mutations in the dystrophin gene result in dystrophin deficiency, which is the pathogenic determinant of the dystrophinopathies.4,5 Several muscular dystrophies are caused by mutations in other genes that cause defects of proteins localized at the sarcolemma, the cytoplasm or the nuclear envelope. Since the mid-1990s, an increasing number of genes have been associated with different forms of muscular dystrophy (Table 85-1, Fig. 85-1). These findings have led to a profound change in the classification of muscular dystrophies, with a new emphasis on molecular genetics rather than on clinical symptoms (which differentiated diseases on the basis of age at onset, severity, mode of inheritance, and muscle groups primarily affected).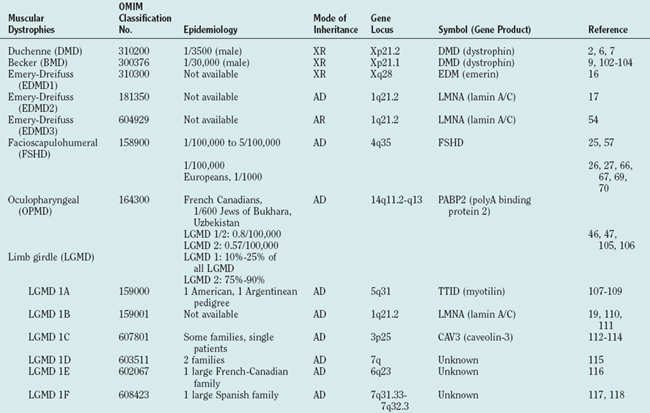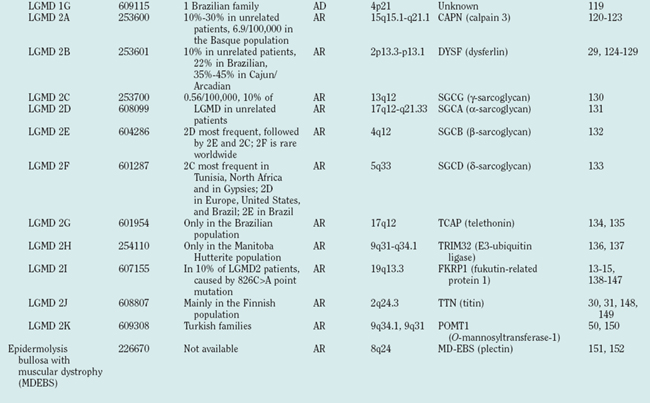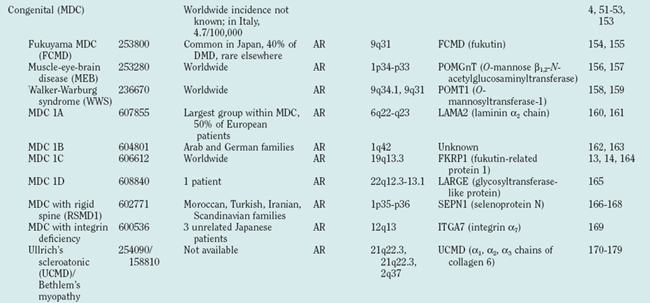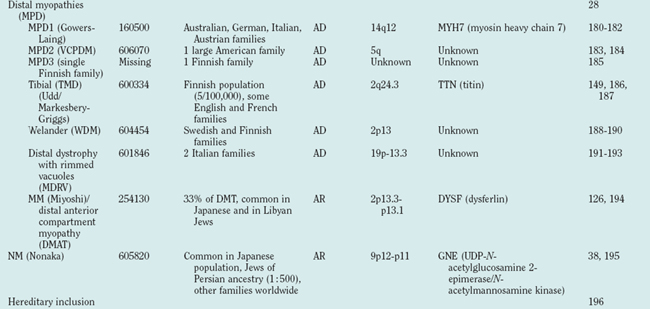 The most common form is the X-linked recessive Duchenne muscular dystrophy (DMD), named after Guillaume Benjamin Amand Duchenne, who described it in 1861.6,7 Positional cloning of the gene altered in DMD8 led to the discovery of dystrophin2 and to improved molecular diagnosis of DMD and of its milder allelic variant, Becker muscular dystrophy (BMD).9
About 50 years after Duchenne, Batten10 published the first cases of congenital muscular dystrophy (MDC). Unlike patients with the DMD/BMD phenotype, patients with MDC present with weakness and dystrophic changes in the muscle biopsy at birth, but symptoms are less rapidly progressive than in DMD.
The term limb girdle muscular dystrophy (LGMD) was introduced in the middle of the 20th century, when it became obvious that there was an additional major group of noncongenital muscular dystrophies that differed from both the X-linked DMD and BMD and from the autosomal-dominant facioscapulohumeral forms.11 Nowadays, the term limb girdle muscular dystrophy has changed from a wastebasket designation to an ever-expanding list of subtypes (18 thus far), for which accurate molecular diagnoses are available. Age at onset usually ranges from early childhood to late adulthood12; however, the same gene defect can cause allelic forms of MDCs and LGMDs, as shown for the fukutin-related protein deficiencies.13–15
The finding that mutations in nuclear envelope proteins also cause muscular dystrophies—referred to as nuclear envelopathies or Emery-Dreifuss muscular dystrophies—came as a surprise when emerin, the protein shown to be mutated in X-linked Emery Dreifuss muscular dystrophy (EDMD1, X-EDMD)16 was also found to be an inner nuclear membrane protein (Fig. 85-2). The importance of the nuclear envelope in neuromuscular disease was bolstered by the discoveries that mutations in the LMNA gene can cause autosomal dominant Emery-Dreifuss muscular dystrophy (EDMD2),17 dilated cardiomyopathy with conduction defect (CMD1A),18 limb-girdle muscular dystrophy type 1B (LGMD1B),19 Charcot-Marie-Tooth disorder type 2B1 (CMT2B1),20 and a variety of other, nonneuromuscular diseases, such as Dunnigan's familial partial lipodystrophy and mandibuloacral dysplasia, or premature aging syndromes, such as Hutchinson-Gilford progeria and atypical Werner's syndrome.21,22 A new phenotype combining myopathy and progeria has been described.23
Facioscapulohumeral muscular dystrophy (FSHD), first described in 1885,24 is a frequent form of muscular dystrophy that has a distinctive clinical manifestation with autosomal dominant inheritance.11 The gene underlying FSHD was mapped to chromosome 4q35 in 199225 and was shown to be closely linked to locus D4F104S1. Although D4F104S1-associated deletions are closely associated with FSHD, the identity and location of the FSHD gene (or genes) still remain elusive, as does the mechanistic basis of the disease.
Oculopharyngeal muscular dystrophy (OPMD) is unusual among muscular dystrophies because of its manifestation in late adult life, typically in the sixth decade. Symptoms include progressive ptosis and dysphagia, followed by involvement of other cranial and limb muscles. OPMD is usually inherited as an autosomal dominant trait as a result of an expanded guanine-cytosine-guanine (GCG) repeat detectable in the poly A binding protein 2 gene on chromosome 14.26,27
Distal myopathies are frequent in the Nordic countries and are being increasingly recognized elsewhere. To date, six different distal myopathy phenotypes have been identified, and there has been considerable progress in the understanding of the molecular pathophysiology underlying the distal myopathies.28 Mutations in membrane-associated dysferlin cause two different distal phenotypes, allelic to LGMD2B,29 whereas mutations in titin can cause either a distal myopathy (type Udd/Markesbery-Griggs) or LGMD2J,30,31 another example of the diversity between clinical and genetic disease definitions.
Hereditary inclusion body myopathies (HIBM) belong to the heterogeneous group of myopathies with rimmed vacuoles. So far, autosomal recessive (HIBM2)32 and autosomal dominant forms33–37 have been linked to different gene loci. Interestingly, distal myopathy with rimmed vacuoles (Nonaka myopathy) has been attributed to mutations in the GNE gene and is therefore allelic to HIBM2.38