CHAPTER 88 Malignant Neoplasms of the Salivary Glands
Malignant neoplasms of the major and minor salivary glands are rare, comprising approximately 3% of all head and neck malignancies.1 The estimated incidence is only 0.9 per 100,000 in the United States, but the rate increases with age, peaking at ages 65 to 74 years.2 Less than 5% of all salivary gland tumors occur in the pediatric age group; however, salivary gland tumors in children are much more likely to be malignant than those of adults.
Of all salivary neoplasms (benign and malignant), the vast majority occurs in the parotid gland and the fewest in the sublingual gland. There is an interesting inverse relationship between the overall incidence of neoplasms by site and the percentage that are malignant (Table 88-1). In a review of 2410 cases of salivary gland tumors,3 73% occurred in the parotid, and of those, only 15% were malignant. On the other hand, minor salivary gland tumors constituted only 14% of the total number of cases but 46% were malignant. Likewise, submandibular gland neoplasms constituted 11% of the cases with 37% being malignant; sublingual gland neoplasms constituted only 0.3% with 86% being malignant.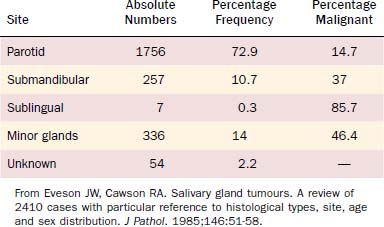 The frequency of the different histologic types of salivary gland malignancy also varies depending on the gland and site. A number of studies have found the most common primary malignancy presenting in the salivary glands to be mucoepidermoid carcinoma.1,2,4 In one of the largest reviews of salivary gland neoplasms (2807 total), Spiro examined 1278 cases of malignant salivary gland tumors1 and reported that 34% were mucoepidermoid carcinoma (Table 88-2). The next most common type was adenoid cystic carcinoma (22%), followed by adenocarcinoma (a mixture of tumors which has more recently been subdivided, as described below) (18%), malignant mixed tumor (13%), acinic cell carcinoma (7%), and squamous cell (epidermoid) carcinoma (4%). When considering the types by anatomic site, mucoepidermoid carcinoma was the most frequent malignancy of the parotid, but adenoid cystic carcinoma was the most frequent of the submandibular and minor salivary glands. One exception to the latter was malignant minor salivary gland tumors arising in the nasal cavity and paranasal sinuses, in which case adenocarcinoma was the most common type as opposed to adenoid cystic carcinoma.
| Histologic Type | Number | Percent |
| --- | --- | --- |
| Mucoepidermoid | 439 | 34 |
| Adenoid cystic carcinoma | 281 | 22 |
| Adenocarcinoma NOS | 225 | 18 |
| Malignant mixed tumors | 161 | 13 |
| Acinic cell carcinoma | 84 | 7 |
| Squamous cell carcinoma | 53 | 4 |
| Other (anaplastic etc.) | 35 | 3 |
| TOTAL | 1278 | |
From Spiro RH. Salivary neoplasms: overview of a 35-year experience with 2,807 patients. Head Neck Surg. 1986;8:177-184.
This chapter discusses the evaluation of patients with these malignancies, histopathology of the more common types, and currently accepted treatment. Both the rarity of these malignancies and the wide variety of histologic types have made their study challenging. In fact, what is known about their clinical behavior and treatment outcomes is based almost entirely on retrospective studies.