143 Malaria and Other Tropical Infections in the Intensive Care Unit
Although the spectrum of possible "tropical" infections in a patient with exposures overseas may initially seem daunting, a detailed history of the travel itinerary, activities, and exposures can often significantly narrow the differential diagnosis (Table 143-1). This must include more than simply recording the countries to which the patient traveled. Exposures of a business traveler staying at hotels and dining in fine restaurants in a major city may differ drastically from those of a student back-packing through rural areas of the same country. General knowledge of the diseases endemic in a given area and their incubation periods and drug resistance patterns is vital (Figure 143-1 and Table 143-2). In addition, most "non-tropical" infections are also common in developing countries. Thus, although the differential diagnosis must be expanded to include tropical pathogens, common illnesses seen in developing as well as industrialized countries must be considered.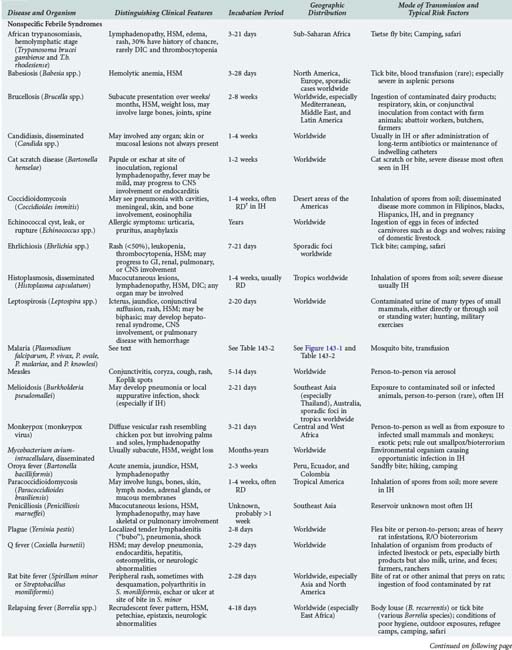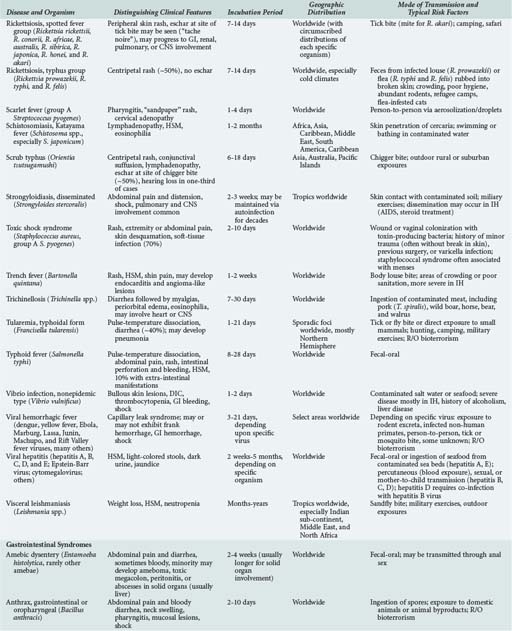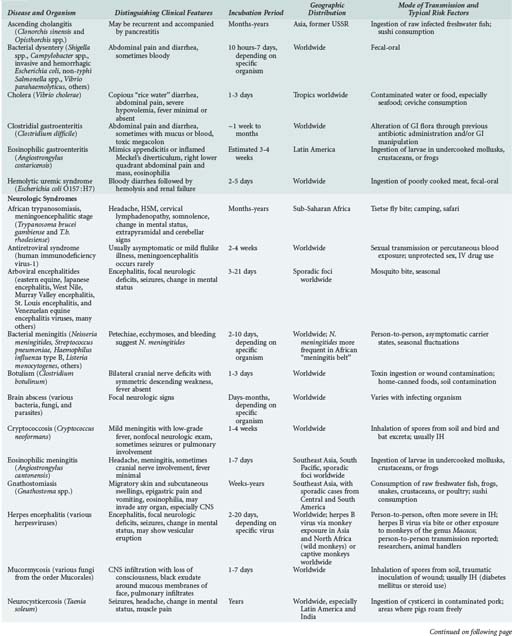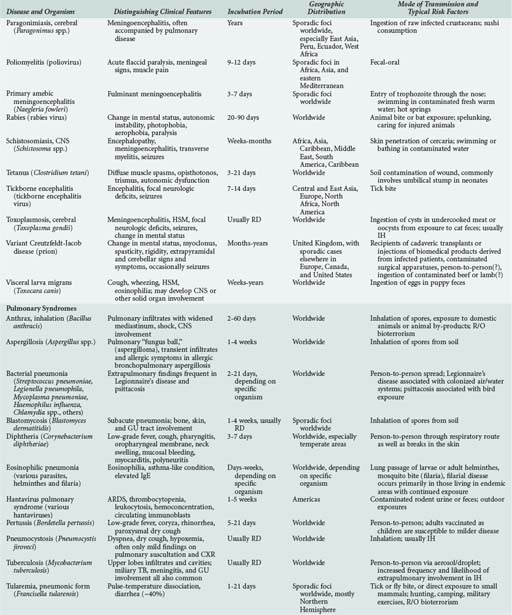 Patients prone to tropical infections can be divided into three groups: (1) nonimmune persons who have no history of exposure to tropical pathogens, primarily tourists and young children, regardless of geographic origin, after the waning of maternal antibodies (around age 6 months); (2) immune or semi-immune persons residing in tropical countries who are repeatedly exposed; (3) those originally from tropical countries but now residing elsewhere who, in the absence of continued exposure, have waning immunity. The degree of immunity may exert profound effects on the presentation and severity of illness. For example, a returning traveler may develop severe malaria at a relatively low parasitemic load, whearas a resident of sub-Saharan Africa with the same degree of parasitemia may be asymptomatic. Genetic differences in susceptibility may also exist, such as resistance to Plasmodium vivax in blacks due to the absence of Duffy factor, which serves as the receptor, or the relative protection from severe malaria of any species afforded to those carrying the sickle cell trait.1,2,3
In returning travelers, knowledge of pre-travel vaccinations as well as prescribed and taken chemoprophylaxis (which often turn out not to be the same) is imperative. Nevertheless, these preventive measures do not confer 100% protection and should not be used to completely discard a given entity from the differential diagnosis. Both physicians and patients frequently err in the prescribing of and adherence to appropriate prophylactic regimens.4,5 Chemotherapy, complete or partial, may prolong the incubation period or alter the presentation of the illness. Those initially from tropical countries are often less likely to seek pre-travel medical advice before making a visit home and also often have considerably more exposures to tropical pathogens during their visit than do short-term travelers from industrialized countries.6
People living in resource-poor tropical countries may be more likely to have complicating health problems but less likely to have them previously diagnosed or controlled. Underlying diabetes, hypertension, malnutrition, chronic anemia, intestinal parasites, tuberculosis, HIV, or hepatitis virus infection may be discovered at the time of the acute illness.7 Infection with multiple tropical pathogens is common in those living in endemic areas. Thus the finding of a given pathogen cannot automatically be assumed to be the cause of the patient's current illness.