Infectious Disorders of the Gastrointestinal Tract
Laura W. Lamps
Introduction
Gastrointestinal (GI) infections are a major cause of morbidity and mortality worldwide. As the number of transplant patients and those with other immunocompromising conditions increases, and as global urbanization and transcontinental travel become more frequent, the surgical pathologist must be familiar with infectious diseases that were once limited to tropical regions of the world or the realm of esoterica.
The goal of the surgical pathologist in evaluating GI specimens for infectious colitis is twofold. First, acute self-limited processes and infectious processes must be differentiated from chronic idiopathic inflammatory bowel disease (IBD)—ulcerative colitis or Crohn's disease. Second, dedicated attempts must be made to identify the specific infecting organisms.1 In recent years, the surgical pathologist's ability to diagnose infectious processes in tissue sections has grown exponentially with the advent of new histochemical stains, immunohistochemistry, and molecular analysis. As these techniques have evolved, our knowledge of the specific histologic patterns of inflammation related to various organisms has also increased.
Most enteric infections are self-limited. Patients who undergo endoscopic biopsies usually have chronic or debilitating diarrhea or systemic symptoms, or they are immu­nocompromised. A discussion with the gastroenterologist regarding symptomatology and colonoscopic findings, as well as knowledge of the patient's travel history, food intake (e.g., sushi, poorly cooked beef), sexual practices, and immune status can aid immeasurably in the evaluation of biopsies for infectious diseases.
Viral Infections of the GI Tract
The type of viral infection and the manifestations of disease vary with the site of infection and the immune status of the patient.
Bacterial Infections of the Gastrointestinal Tract
Bacterial diarrhea is a worldwide health problem. Many bacterial infections of the gut are related to ingestion of contaminated water or food or to foreign travel, especially from an area of good sanitation to one of poor sanitation. Although bacterial pathogens are often recovered by microbial culture, surgical pathologists may play a valuable role in diagnosis. Despite the dizzying array of bacterial infections that may affect the GI tract, many produce a similar spectrum of histologic features and may be generally categorized as follows (Table 4.2):
Table 4.2
Classification of Bacterial Infections of the Gastrointestinal Tract by Histologic Pattern
Minimal or No Inflammatory Change
Acute Self-Limited Colitis Pattern
Pseudomembranous Pattern
Predominantly Granulomatous
Diffuse Histiocytic
Predominantly Lymphohistiocytic
Architectural Distortion
Ischemic Pattern
Toxogenic

Vibrio cholerae

(O1 strain)

Shigella

Enterohemorrhagic

E. coli

Yersinia

Rhodococcus equi

Lymphogranuloma venereum

Salmonella typhimurium

Enterohemorrhagic

E. coli

Enteropathogenic

E. coli

Campylobacter

Clostridium difficile

Mycobacterium tuberculosis

Whipple disease

Salmonella typhimurium

Shigella

Clostridium difficile

Enteroadherent

E. coli

Aeromonas

Occasionally

Shigella

Actinomycosis
MAI (immunocompromised patients)
Focal or mild:

Aeromonas, Campylobacter

Spirochetosis
Occasionally

Salmonella

(especially other

Vibrio

species non-typhoid)
MAI (immunocompetent patients)

Neisseria

spp.
Occasionally

Clostridium difficile

Syphilis (± increased plasma cells)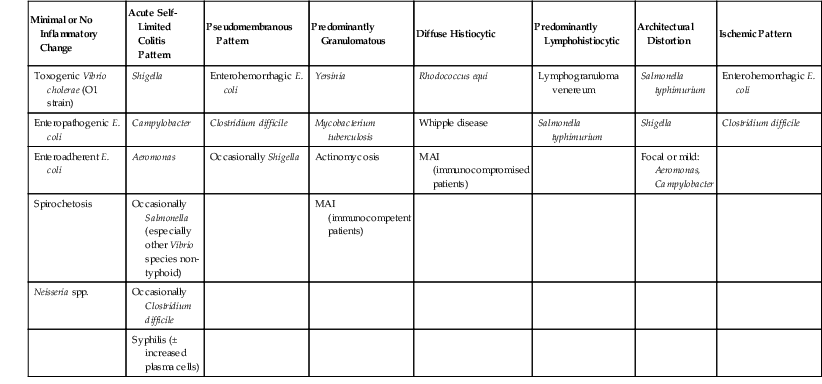 E. coli, Escherichia coli; MAI, Mycobacterium avium-intracellulare.
Acute Self-Limited Colitis
The ASLC pattern is the most common pattern in enteric infections. Typical histologic features include neutrophils in the lamina propria, with or without crypt abscesses and cryptitis; preservation of crypt architecture; and lack of basal plasmacytosis.1,46–51 The acute inflammatory component is often most prominent in the middle to upper levels of the crypts. Lack of crypt distortion, Paneth cell metaplasia, and basal lymphoplasmacytosis help to distinguish ASLC from IBD.1,51 The changes may be focal, as in focal active colitis, or diffuse.
Surgical pathologists should be aware of the infections that are most likely to mimic other IBD, particularly Crohn's disease, ulcerative colitis, and ischemic colitis (see Table 4.2). Because most patients do not present for endoscopy until several weeks after the onset of symptoms, pathologists usually are not exposed to the classic histologic features of acute infectious colitis. This is important because the resolving phase of infectious colitis is more challenging to diagnose. At this stage, only occasional foci of neutrophilic cryptitis and only patchy increases in lamina propria inflammation may be found, and these may, in fact, contain abundant plasma cells and increased intraepithelial lymphocytes, features that are also seen in Crohn's disease or even lymphocytic colitis. It is important to be aware of the patient's symptoms (particularly acute versus chronic onset) and, ideally, the culture results, because the exact diagnosis may be difficult to resolve on histologic grounds alone. The pathologic details of specific bacterial infections are discussed in the following sections.
Major Causes of Bacterial Enterocolitis
V. cholerae (specifically the toxigenic O1 strain) is the causative agent of cholera, an important worldwide cause of watery diarrhea and dysentery that may lead to significant dehydration, electrolyte imbalance, and death within hours.52,53 Most infections result from consumption of raw or undercooked seafood, especially shellfish. Other vibrios, including non-O1 strains of V. cholerae, Vibrio hollisae, and Vibrio parahaemolyticus, also can cause severe gastroenteritis.54 Symptoms of cholera include the abrupt onset of diarrhea, usually profusely watery and rarely bloody, accompanied by abdominal pain, vomiting, muscle cramps, and fever. Disseminated infection is a particularly important risk with immunocompromised patients; patients with underlying liver disease, partial or total gastrectomy, and diseases of iron metabolism are also at risk for more serious Vibrio infections.
Despite the severity of the illness, V. cholerae O1 is a noninvasive toxin-producing organism that cause minimal or no histologic change to the intestinal mucosa. Nonspecific findings such as small bowel mucin depletion, degenerative surface epithelial changes, and a mild increase in lamina propria mononuclear cells have been rarely reported.55,56 Non-toxigenic O1 and other non-cholerae Vibrio species may show an erosive enterocolitis with active neutrophilic inflammation and associated hemorrhage. Useful ancillary diagnostic tests include culture, PCR, and serologic studies.57 A history of travel to or emigration from an endemic or epidemic area also can be invaluable.
Aeromonas

and Related Species

Initially believed to be nonpathogenic gram-negative bacteria, Aeromonas and related species are increasingly recognized as causes of gastroenteritis in both children and adults.58–61 Aeromonas hydrophila and Aeromonas sobria most often cause GI disease in humans. Infection usually is caused by exposure to untreated water but also may result from consumption of contaminated foods such as produce, meat, and dairy products. Infections most frequently occur in the late spring, summer, and early fall, and children are most commonly affected. A mild, self-limited diarrheal illness is most common, sometimes accompanied by nausea, vomiting, and cramping abdominal pain. A more severe, dysentery-like illness occurs in 15% to 25% of patients, featuring bloody or mucoid diarrhea and fecal leukocytes. This variant is most likely to mimic chronic idiopathic IBD endoscopically.