CHAPTER 51 GENETICS OF EPILEPSY
Epilepsy is a heterogeneous group of conditions, with a very broad range of possible causes, manifesting as recurrent, unprovoked, clinical seizures, sometimes with additional neurological or extraneural features. It is the most common serious neurological disorder, affecting 5 per every 1000 people, and is associated with increased rates of mortality and morbidity in almost every sphere of life for affected patients. The types of epilepsy can be subdivided in a number of ways; classification schemes focus variously on seizure types, natural history, or etiology. Although there are many causes of epilepsy, it is likely that an individual's genetic makeup contributes to or modulates, to some degree, the risk of developing epilepsy in response to another insult to the brain, whatever the nature of the insult. Genetic differences between individuals take a number of forms: there are rare variants, called mutations, each of which occurs in less than 1% of the population and usually in a far smaller percentage; there are more common variants, the most common type of which is known as single-nucleotide polymorphism (SNP), a variation occurring at a single nucleotide and seen in greater than 1% (and usually greater than 5%) of the population (Fig. 51-1).
For most people with epilepsy, any genetic contribution to etiology is likely to arise from the additive, individually small effects of SNPs in a number of genes; understanding these effects requires analysis of large numbers of homogeneous groupings of patients and constitutes the field of population genetics. However, this area is only now beginning to be addressed by researchers in epilepsy. Most research to date on epilepsy genetics has concentrated on epilepsy caused by genetic mutations; almost by definition, such types of epilepsy are individually rare and even grouped together are unlikely to account for more than a small proportion of cases of epilepsy. The hope of research on these rare types of epilepsy caused by mendelian genetics is not only to inform disease management in affected individuals but also potentially to cast light on the genetics, pathophysiology, and management of epilepsies more broadly. In fact, this latter aim has yet to be realized, but certainly many epilepsies caused by single gene mutations are now known (Table 51-1) and account for a majority of the disorders covered in this chapter. Most of the genes implicated encode neuronal ion channels that directly affect neuronal excitability, or they function through alteration in ion flux; the finding that channelopathies cause seizures was a surprise initially, but it stands to reason because excitation and inhibition are fundamental neuronal properties, and seizures are generally held to arise from a systems imbalance between excitation and inhibition.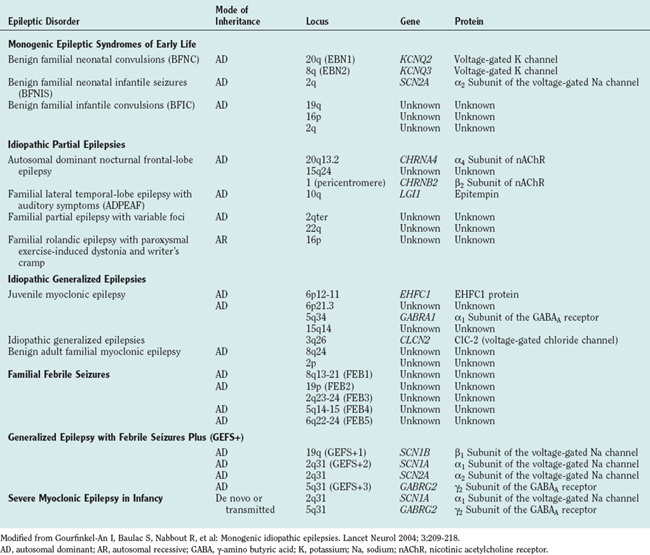 There are more than 200 genetically mediated conditions in which epilepsy is part of a broader phenotype. These conditions are not considered here; this chapter illustrates concepts of epilepsy genetics, drawing from genetic disorders in which the major and often sole manifestation is epilepsy. A glossary is given in Table 51-2.
| | |
| --- | --- |
| SCN1A | α1 Subunit of the voltage-gated sodium channel |
| SCN1B | β1 Subunit of the voltage-gated sodium channel |
| SCN2A | α2 Subunit of the voltage-gated sodium channel |
| GABA | γ-Amino butyric acid |
| KCNQ | Voltage-gated potassium channel |
| CLCN | Voltage-gated chloride channel |
| CHRNA4 | α4 Subunit of the nicotinic acetylcholine receptor |
| LGI1 | Leucine-rich gene, glioma inactivated |
| Gene | A segment of DNA that normally specifies a functional polypeptide or gene product |
| Allele | One of several alternative forms of a gene or DNA sequence at a specific locus |
| SNP | Single-nucleotide polymorphism, where more than one variant (allele) occurs at a locus with a frequency greater than 1% |
| Mutation | Change within a gene or DNA sequence due to base substitution, deletion or insertion occurring at a frequency < 1% and usually much less |
| Autosome | Any chromosome other than the sex chromosomes X and Y |
| Locus | A unique chromosomal location |
| Linkage | The tendency of genes to be inherited together as a consequence of their physical proximity |
| GEFS+ | Generalized epilepsy with febrile seizures plus |
| SMEI | Severe myoclonic epilepsy of infancy |
| JME | Juvenile myoclonic epilepsy |
| BFNC | Benign familial neonatal convulsions |
| ICCA | Infantile convulsions and choreoathetosis |
| ADNFLE | Autosomal-dominant nocturnal frontal lobe epilepsy |
| BFNIS | Benign familial neonatal-infantile seizures |
| ADPEAF | Autosomal dominant familial lateral temporal lobe epilepsy with auditory features |
| ARFGEF2 | Adenosine diphosphate (ADP)–ribosylation factor guanine nucleotide exchange factor 2 |
| BIG2 | Brefeldin A (BFA): inhibited GEF2 protein |
| GPCR | G protein–coupled receptor |