Disorders of Hyperpigmentation and Melanocytes
Harper N. Price, Ashfaq A. Marghoob
Introduction
Hyperpigmented lesions, presenting at birth and during the first few weeks of life, are quite common. Pigmented lesions can range from small and isolated to large and multiple. They can exist independently, or in association with other signs and symptoms, and may lead to the diagnosis of a congenital or genetic skin disease. In some cases, hyperpigmented 'birthmarks' may not be evident at birth but appear weeks to months later. The relatively light color of infant skin can make some pigmentary disorders difficult to appreciate and thus observation over time may be helpful. Also, over time, melanocytes may produce more pigment and differences between normal and hyperpigmented or hypopigmented skin may become more evident. This chapter serves as an aid for clinicians in diagnosing pigmented lesions in the neonatal and infantile period with an approach based on coloration and localization of lesions with a review of diagnostic criteria, associated conditions, and suggested clinical evaluation when applicable (Table 24.1).
TABLE 24.1
Diagnosis using lesion morphology and location
Description of lesions
Location or morphology
Possible diagnoses
Blue-gray/blue-black patches
Torso
Face
Shoulder/neck
Torso, in association with port-wine stain
Mongolian spot
Nevus of Ota
Nevus of Ito
Phakomatosis pigmentovascularis
Labial macules
Perioral
More widespread facial
Face/trunk
Peutz–Jeghers syndrome
Carney syndrome
LEOPARD syndrome
Carney syndrome
Face
Centrofacial lentiginosis
Brown sharply defined patches or plaques
Congenital melanocytic nevus
Café-au-lait macule
Small brown macules
Perioral/mucosal
Widespread, non-mucosal
Peutz–Jeghers syndrome
LEOPARD syndrome
Generalized lentiginosis
Inherited patterned lentiginosis
Central face/widespread
Carney syndrome
Involves mucosa
Axilliary/groin/neck only
Neurofibromatosis
Central face only, nonmucosal
Centrofacial lentiginosis
Clustered in a defined body area or segment. Background skin color normal
Segmental lentiginosis
Mosaicism
Clustered in a defined body area or segment. Background skin color darker
Speckled lentiginous nevus
Single
Congenital melanocytic nevus
Linear hyperpigmentation in Blaschko pattern
Flat
Linear and whorled nevoid hypermelanosis (early)
Epidermal nevus
Incontinentia pigmenti (stage 3)
Goltz syndrome
Conradi–Hünermann syndrome
Raised
Mosaicism
Human chimerism
Epidermal nevus
Incontinentia pigmenti (stage 1, 2)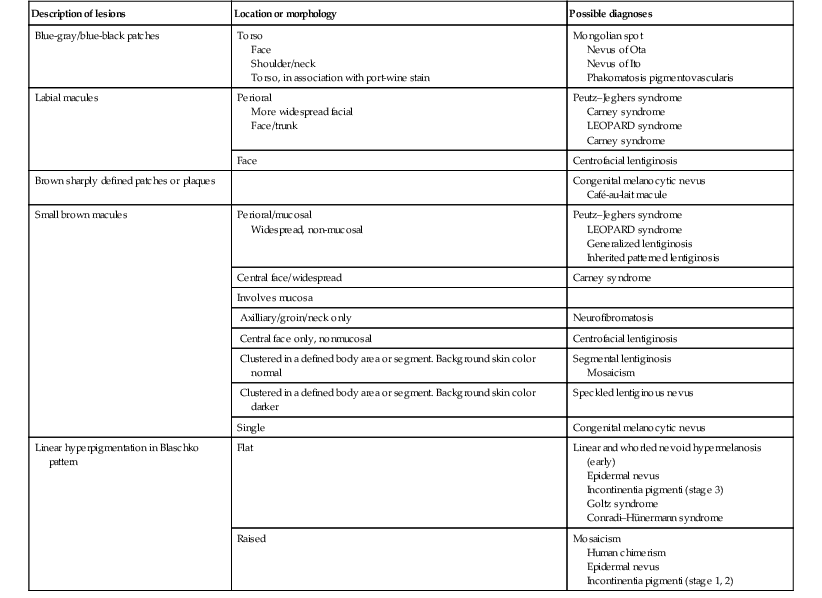 Localized hyperpigmentation – tan-brown
Café-au-lait macules (CALM) are well-circumscribed, oval to round, hyperpigmented hairless macules or patches that may be noted at birth, during infancy or throughout childhood. CALM may have the color of 'coffee with milk' in lighter skinned individuals but in darker skinned persons the color may be more medium to dark brown. The size of CALM ranges from a few millimeters to over 20 cm and can occur anywhere on the body (Fig. 24.1). Morphologically, the borders of CALM have been described as smooth (resembling the 'coast of California') to jagged contours (resembling the 'coast of Maine'), correlating with specific disorders. However, in general, this feature varies widely and it not a reliable diagnostic sign.
The prevalence of CALM varies in the general population with 2.7% of 4641 newborns having one or more macules in a US study.1 There are great differences in prevalence amongst various racial groups, with an increased number of CALM seen in darker skin types.1–4 A higher prevalence (24.2–36%) of CALM has been reported in older children and young adults as compared with infants.2,3,5 The presence of up to three CALM has been reported in 10–28% of the general population.3,6,7 Multiple CALM, especially six or more, should prompt the clinician to consider underlying disorders (Table 24.2).
TABLE 24.2
Disorders associated with multiple café-au-lait macules (CALM) and associated features
Strong association
Weaker associationb
Major features
Major features
Familial inherited CALMa
Multiple (≥2) generations with multiple (≥10) CALM and other NF-1 stigmata (−)
Tuberous sclerosis
Hypopigmented macules, facial angiofibromas, CNS tubers, retinal hamartomas, renal cysts, angiomyolipoma, cutaneous collagenomas, seizures, mental retardation, cardiac rhabdomyoma, periungual fibromas, subependymal giant cell astrocytomas
Neurofibromatosis type I
Skin-fold freckling, neurofibromas, Lisch nodules, neurocognitive deficits, optic glioma, skeletal dysplasia, macrocephaly
Bloom syndrome
Short stature, photosensitivity, susceptibility to malignancy, chronic lung disease, immunodeficiency, cryptorchidism
Neurofibromatosis type II
Acoustic neuromas, meningiomas, cataracts, schwannomas, neurofibromas
Ataxia-telangiectasia syndrome
Progressive cerebellar ataxia, lymphoreticular malignancy, cutaneous/ocular telangiectasia, immunodeficiency, hypogonadism
Legius syndrome
Macrocephaly, skin-fold freckling, developmental disorders
Silver–Russell syndrome
Congenital short stature and low birthweight, craniofacial and body asymmetry, limb anomalies, microcephaly
Watson syndrome
Short stature, pulmonary stenosis, low intelligence, skin-fold freckling
Bannayan–Riley– Ruvalcaba syndrome
Congenital macrosomia, megalencephaly, lipomas, intestinal polyps, vascular anomalies
Ring chromosome syndrome
Microcephaly, mental retardation, short stature, skeletal anomalies
Noonan syndrome
Facial dysmorphism, pulmonic valve stenosis, webbed neck, pectus excavatum, mental retardation, short stature, cryptorchidism, hematologic malignancies
Hereditary spinal neurofibromatosis
Skin-fold freckling, spinal root neurofibromas
Faconi anemia
Bone marrow failure, limb anomalies, mental retardation, microcephaly, predisposition to malignancy
McCune–Albright syndrome
Polyostotic fibrous dysplasia, endocrinopathies
Turner syndrome
Short stature, lymphedema, congenital heart disease, valgus deformity
LEOPARD syndrome (multiple lentigines syndrome)
Multiple lentigines, hypertelorism, pulmonic valve stenosis, EKG abnormalities, sensorineural deafness, growth retardation, genitourinary abnormalities
Multiple endocrine neoplasia syndrome type I
Parathyroid adenoma, pituitary adenoma, pancreatic islet adenoma, lipomas, gingival papules, facial angiofibromas, collagenomas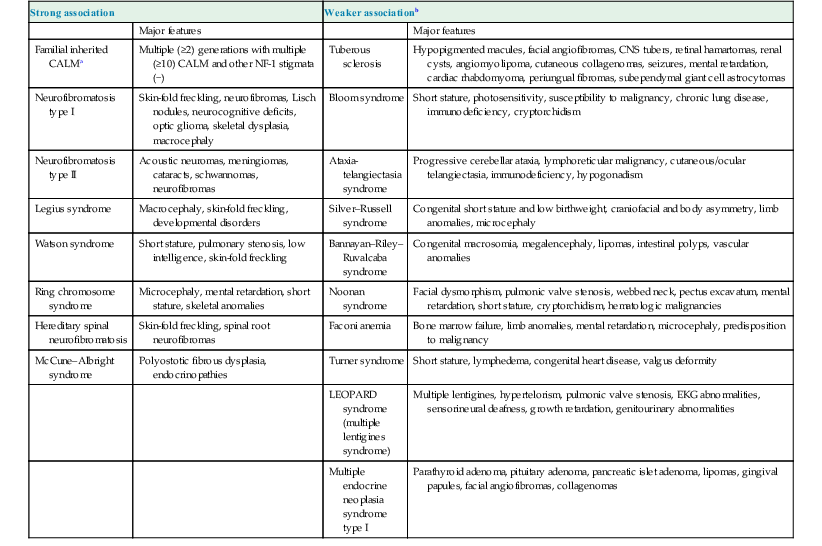 a Arnsmeier, Riccardi and Paller20 proposed that absence of two consecutive generations of neurofibromas and other non-pigmentary changes of NF-1 allows the diagnosis of familial CALM.
b Syndromes listed have been described with CALM but these are not considered part of the diagnostic criteria, and may not be seen in all cases.
Although the diagnosis is generally made through clinical examination, histologic examination of CALM shows increased melanin content in keratinocytes and melanocytes without evidence of melanocyte proliferation. On electron microscopy, giant melanosomes may be seen. While establishing the diagnosis of CALM, these microscopic features are not useful in determining specific systemic associations (such as neurofibromatosis).
The differential diagnosis of CALM includes a congenital melanocytic nevus, speckled lentiginous nevus, lentigo, Becker's nevus and forms of pigmentary mosaicism such as nevoid hypermelanosis. Often the distinction will become evident over time. Individual lesions of urticaria pigmentosa or a solitary mastocytoma may also be mistaken for CALM and can be distinguished by the Darier's sign (the development of urticaria following firm stroking of a mastocytoma) (see Chapter 28).
Treatment of isolated CALM is generally not necessary. Laser therapy, typically with 'Q-switched' lasers (Q-switched ruby, Q-switched alexandrite, and Q-switched Nd : YAG), has been attempted for cases considered extensive or disfiguring, but results are inconsistent and repigmentation may occur.8–11 CALM may also paradoxically darken with laser treatment and result in postinflammatory hyperpigmentation (usually transient).8
Spotty pigmentation – diffuse
Xeroderma pigmentosum (XP) is a rare autosomal recessive disorder resulting in clinical and cellular sensitivity to ultraviolet (UV) light due to a decreased ability to repair DNA damage. XP patients experience cutaneous and ocular photosensitivity and are at increased risk for developing malignancy and pigmentary abnormalities (Box 24.2).
An infant born with XP will manifest skin changes after exposure to UV light, including sunburn after minimal sun exposure. Numerous pigmented macules (0.1–1 cm) will develop on sun-exposed skin, usually by the age of 2 years. These lesions may be brown, gray, or black (although a single lesion will be uniform in color) and may become so dense that they coalesce into larger pigmented patches. The amount of UV exposure correlates with the degree of pigmentation. Clinically, the macules resemble freckles but they are actually solar lentigines and they do not fade over time.149 Hypopigmented or achromic spots develop and are thought to represent mutated melanocytes that have lost the ability to synthesize melanin.150,151 Telangiectasias and atrophy arise with continued UV exposure as the skin undergoes actinic degeneration and these changes may be evident by the teenage years (Fig. 24.10). The skin becomes dry, scaly, and tight appearing. Cutaneous malignancies can arise in the pigmentary stage as well as the atrophic stage and include actinic keratoses, basal cell carcinoma, squamous cell carcinoma and melanoma as well as other rare skin tumors.152–154
Ocular complications are commonly seen in XP patients as the eyelid skin, cornea and conjunctiva are exposed to sunlight. Ectropion or entropion, decreased lacrimation causing exposure keratitis, corneal edema, scarring and vascularization can develop.150 Both benign and malignant neoplasms result, including squamous cell carcinoma and ocular melanoma. An increase in internal malignancies has been reported as well.155 About 20% of patients with XP will develop primary neuronal degeneration resulting in neurologic abnormalities.155–157 These include sensorineural deafness, peripheral neuropathy, microcephaly, cerebral dysfunction (low intelligence, dementia, abnormal electroencephalogram), ventricular dilation and cortical atrophy, choreoathetosis, cerebellar ataxia, dysarthria and abnormal eye movements, and spasticity.152 The age of onset and rate of progression of the neurologic involvement is variable among patients.
XP has been reported worldwide and in all races.150 It can be divided into two major forms: nucleotide excision-repair pathway defects and a variant form (XP-V), in which a defect in the post-replication repair of DNA exists.152 Designation of defects into complementation groups (XPA-G and XP-V) is based on in-vitro cell fusion studies. Different races may have a single dominant complementation group and some groups are made up of only a single kindred. Clinical features are determined by the amount of sun exposure, specific nature of the mutation and complementation group, and other environmental and unknown factors.
Clinical findings at birth in a neonate with XP are lacking and not evident until UV exposure and damage occurs. An infant with significant and early sun burning should prompt further evaluation into photosensitivity syndromes. In addition to XP, other photosensitivity disorders should also be considered (Table 24.4). The differential of multiple pigmented macules includes Peutz–Jeghers syndrome, Carney complex, and LEOPARD syndrome. Histologic findings of cutaneous lesions are nondiagnostic and may show signs of severe photoaging, lentigines or malignancy. Diagnosis confirmation can be done through functional testing to screen cells for abnormalities in DNA repair, but this is available on a research basis only. Commercial molecular genetic testing is available for only a limited number of subtypes and remaining genes may be tested through research laboratories. Testing for prenatal diagnosis on cultured cells from amniocentesis can be performed if a family history of XP exists.
TABLE 24.4
Photosensitivity disorders presenting in the neonatal and infantile period
| | | |
| --- | --- | --- |
| Disorder | Defect | Findings |
| Cockayne syndrome | Homozygous or compound heterozygous mutation in the gene encoding the group 8 excision-repair cross-complementing protein (ERCC8) or group 6 excision-repair cross-complementing protein (ERCC6) | Cutaneous erythema with sun exposure in a butterfly distribution, atrophy, telangiectasias, neurologic impairment including ataxia and progressive deafness |
| Trichothiodystrophy (PIBIDS) | Mutation in helicase subunits ERCC2 and ERCC3 | Photosensitivity, ichthyosis, brittle hair, impaired intelligence, decreased fertility and short stature |
| Congenital erythropoietic porphyria | Homozygous or compound heterozygous mutations in the uroporphyrinogen III synthase gene | Burning pain, blisters often with UV therapy for hyperbilirubinemia. Progressive scarring and disfigurement. Pink urine, red teeth, splenomegaly and anemia |
| Rothmund–Thomson syndrome | Compound heterozygous mutation in the DNA helicase gene RECQL4 | Poikiloderma, alopecia, atrophic nails, congenital skeletal abnormalities, short stature, premature aging, and increased risk of malignant disease |
| Hartnup disorder | Mutations in the SLC6A19 gene | Pellagra-like light-sensitive rash, cerebellar ataxia, seizures, hypertonia, cognitive delay |
| Bloom syndrome | Mutations in DNA helicase RecQ protein-like-3 | Poikiloderma, immunodeficiency, growth and skeletal abnormalities, predisposition to malignancy; and chromosomal instability |